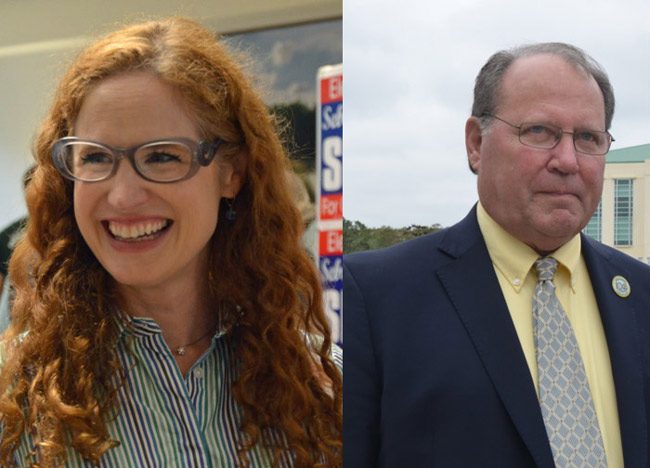 A week ago Abby Romaine emailed Greg Hansen, suggesting the two of them debate. Hansen is a Flagler County commissioner, a governor appointee to fill out the seat held by the late Frank Meeker. Romaine is challenging Hansen in the Aug. 28 Republican primary.
"The voters would benefit from hearing our positions on the issues so they can make an informed choice at the ballot box," Romaine wrote Hansen. She suggested a debate on the radio. WNZF General Manager David Ayres told her she and Hansen would have to buy the time. She suggested to Hansen that the two campaigns split the $200 cost. "This seems to be the easiest, most cost-effective means of hosting a debate on limited notice," Romaine wrote him.
Within the hour, Hansen wrote back: "I would love to debate you, but not on the radio. If you can find a venue where we can invite the public I am all in."
"All in" was a bit premature.
"Because of the recent lies and the slander which you are allowing to be pushed in this election,"Hansen wrote Romaine around noon today, "I rescind my offer to debate you. I do not believe you are capable of an honest debate or campaign."
It's not clear what "recent lies" and "slander" Hansen is referring to. He did not respond to text, email or phone attempts to contact him. Romaine says she's offended by Hansen's charge. "You have just levied serious and salacious accusations towards me that have zero basis in fact. This is completely unacceptable," she wrote him this afternoon.
Hansen may have been put off by unattributed social media postings and a mailer calling him a "liberal" and taking issue with his lobbying past and its connection to a firm that became embroiled in scandal.
An Aug. 3 posting on an obscure new, anonymous Facebook page called "Flagler Politics" (not to be confused with the more established Flagler Politics page, whose administrators are more transparent) features an anonymously authored video, cheaply produced and narrated by a flat female voice, and calls Hansen a "liberal." Hansen a few years ago had been a core member of the now-defunct Ronald Reagan Republican Assemblies, a rabidly right-wing group that splintered off the local tea party for finding it too liberal. Its members can now be found in a newly formed "Trump Club."
But in a political season, a candidate can be caught sneezing to his left and be called liberal, which is what the dot-connecting video, echoed by a mailer that invaded Republican voters' mailboxes in the last few days, does: Hansen eight years ago donated to Steve Israel, a Democratic representative from New York who later served as chairman of the Democratic Congressional Campaign Committee, and who last year after his retirement said on CNN that Donald Trump should "call Nancy Pelosi" to get things done–all of which somehow makes Hansen a liberal.
The message is so preposterous that Romaine herself ridiculed it–and denounced it today in an interview, insisting that she had nothing to do with it or even knew about the mailer. She said she'd seen the message on Facebook though.
"I don't think that he's a liberal, I wouldn't say that," Romaine said, and twice responded that yes, she would denounce the mailer, though she had not seen it in mailer form.
"Someone showed me a mailer about me that said I'm a crazy liberal Democrat, I haven't seen one about Hansen," she said. The mailer about Romaine is equally preposterous–and inaccurate, calling her a "lifelong Democrat" (she says she'd been an independent for a decade before more recently switching to Republican) and "the liberal in our ranks!" because she'd previously been endorsed by Democrats and "praised Obama," bi-partisan qualities that are not usually reflections of heresy except in primary elections, when candidates try to appeal to the most extreme wing of their party. Democrats are currently doing likewise, trying to paint each other as concubines of Trump, corporations and polluters.
"I was a Democrat 20 years ago, and I don't slam people I try to have productive conversations with people," Romaine said. "It's painting me as a nasty person, it's not accurate. To say I'm not a real Republican, that's not accurate, that's a decision I made as an adult using my life experiences and cognitive abilities and I came to that decision on my own, so it's a commitment on my own." She described herself as a moderate, though her switch to Republican was almost certainly inspired by the same strategic impulse that led Palm Coast Mayor Milissa Holland–a friend and supporter of Romaine's–and Eddie Branquinho, the Palm Coast City Council candidate and long-time Democrat, to do likewise: Democrats haven't been winning elections in Flagler County.
But Hansen's criticism of Romaine seems disingenuous in light of the mailer about her. "It sounds like he sent out a mailer about me and this other group sent out a mailer about him that sounds kind of similar, which is kind of ironic," Romaine said. "But I think the real issue is that he doesn't want to debate me, to talk about issues."
Romaine may have been willing to denounce the mailer but she was quick to suggest that Hansen's past as a lobbyist was fair game–a message echoed through those anonymous Facebook pages.
Hansen has refused to answer questions about his years with the PMA Group and the circumstances of his departure from the firm immediately before it was raided by the FBI and shut down a year after Hansen left. The firm's owner, Paul Magliocchetti, pleaded guilty to funneling illegal campaign donations to lawmakers on defense appropriations committees from straw contributors. Appropriations meant big paydays for defense contractors on PMA's client list. Israel, the Democrats to whom Hansen sent a contribution, was on one such committee.
Information about Hansen's lobbying history was locally posted on a Facebook page called Better Government and Leadership that endorses Romaine, Branquinho, former Palm Coast Mayor Jon Netts (who's running for Palm Coast council) and County Commission Candidate Joe Mullins. It is the same page that once endorsed Holland, Nick Klufas and Bob Cuff for Palm Coast council. The page's administrators are anonymous, but it appears to have connections to a political action committee called the Better Government Leadership Fund, a Tallahassee-based PAC with tentacles across the state that's paid for thousands of dollars in political advertising in The Observer and through Marketing 2 Go, the social media company. The local tentacles formed when attempting to counter the take-over of the Flagler Republican Party by the more rabid faction represented by Anne Marie Schaffer, who briefly led the executive committee.
Romaine said she has no connection with any political action committee nor is receiving money from a PAC (as her campaign finance reports so far confirm). But she managed at the same time to disavow her connection with whoever was disseminating the video and other lobbying-related information about Hansen while echoing its message: "To say he's liberal, that doesn't resonate, but what I've read from that employer, that scheme that his employer went to prison over, involved contributing to these senators who at the time the Democrats were in power and were running the defense appropriations committee," she said. "But I'm not talking about that on my campaign, I'm talking about positive things."
She said Hansen reversing course on the debate and blaming it on "lies" was "just a smoke and mirror act so he doesn't have to have a debate with me."
The debate format, mostly coordinated by John Walsh, The Observer's publisher, with input from WNZF and FlaglerLive, was to entail 10 questions from each candidate to the other, without the involvement of media, and was to be moderated by Greg Davis, chairman of the new Flagler Tiger Bay Club, the non-partisan organization.