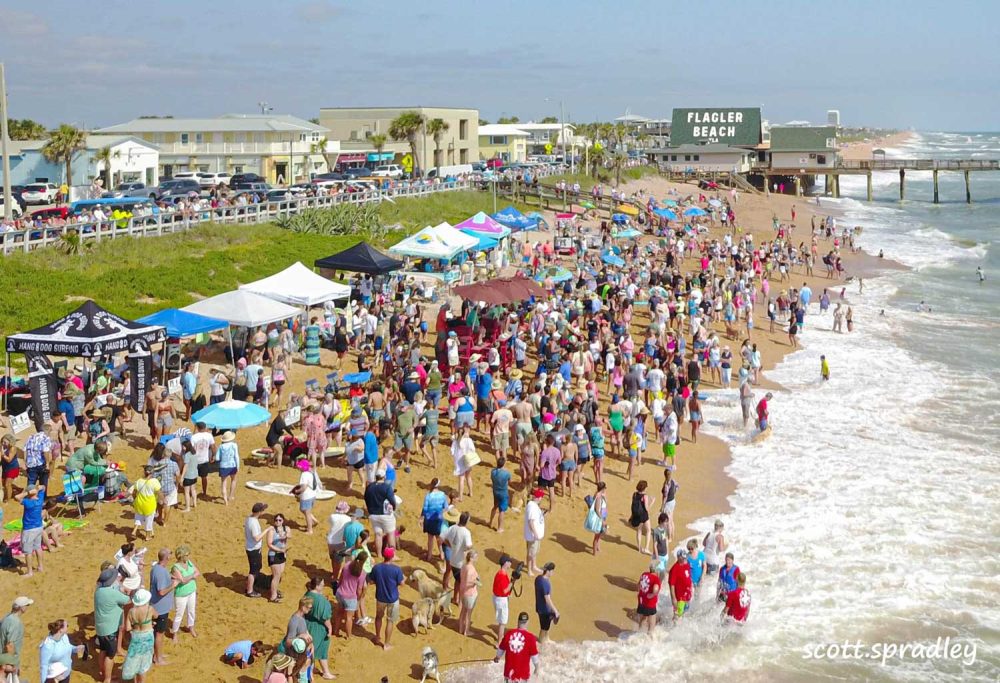 Note: more pictures below.
There were two oceans along Flagler Beach's shore Saturday morning: the Atlantic on one side, and a sea of spectators, dogs, tents, photographers, gapers and surfers on the other, all drawn by what has become the city's biggest draw next to its once and future July 4 events: the Hang 8 Dog Surfing competition.
The waits between heats may have been long and the sun harsh but all that evaporated the moment a dog was on a surfboard, in a rough-and-tumble kind of surf as the tide was rising: the tiny dog known as Wednesday, a star last year, kicked it off, managing several charges with his 13-year-old tandem Jimmy. The beach cheered as if with one enormous lung.
But it was Charlie Brown, the Nadia Comaneci of the waves, who first provoked howls of cheers as he scored a perfect 10, outdoing Mohawk Maui, the defending champion–and Charlie Brown's roomie. Charlie Brown did so despite at one point getting flipped 360 by a big wave.




The dogs belong to Adeline Lamb, who traveled with her husband from Jacksonville Beach for the event–on their 17th wedding anniversary. "Flagler Beach is just a really nice laid back beach town," Lamb said, as her daughter was preparing Charlie Brown for the costume contest.
Lamb and her family represented as if the prototypical reason why Hang 8 had attracted them to Flagler Beach, not just because Jacksonville Beach doesn't have a similar event. "Everybody here is really friendly," she said. "Everybody's always been very welcoming to us, and they enjoy it. They cheer for every dog whether they're good at it or not. It's just a fun thing to do. It's a fun thing to come do and bring your kids and your family. We brought my mom, we have our godmother." The overwhelming majority of spectators didn't have dogs, or dogs in the competition. "It's a great thing for small businesses to be able to reach people that they might not necessarily be able to reach. And I think this is a good opportunity for dogs to get to do something fun, raise money for the cause." Three organizations will be recipients of the event's proceeds–the Flagler Humane Society, Smart Pet Rescue and K9s for Warriors.
Before the morning was out there'd be another tandem heat, two large-dog heats and two or three small-dog heats, and of course the utterly goofy costume contest. Fifty dogs registered for competition, 30 of them in the surfing categories, all of them in the costume contest, which unraveled along a red carpet on the sands, surrounded by a mass of phone-brandishing spectators as Ajay Travis, the famed Port Orange-based human-surfing announcer, called the action.




Here was a doberman decked out in scuba gear–fins, oxygen bottles, breathing hose. Here was another with a miniature A Frame, Flagler Beach pier and fisherman built along the dog's dorsal fin. That dog was the one to beat, pulling as it did on everyone's nostalgia strings for what once was a pier. Naturally, there was the poodle in a tutu, the bulldog just in from Hawaii, the shark-finned dog, and so many more.
Conceived by Suzie Johnston and Eric Cooley, last year's inaugural event drew upwards of 500 spectators. Today, you could easily place the number in the low thousands, doubling or tripling last year's turnout: there was little daylight between spectators, dogs and surf boards on the sands in a two-block stretch around South 5th Street, not counting the equally thronged boardwalk and a line of some 26 vendor tents rising against what's left of the dunes.
"You would have thought they invented dog surfing," the ever-ebullient Carla Cline, said of the organizers. "People that are showing up, contacting them and coming from as far as they're coming, you would have thought that they completely invented dog surfing and no one has ever seen or done this before with the amount of interest people coming in, spectators, all the vendors on the beach. This is more vendors that we have at any event, all the contests."
Ajay Travis, who asked every person he spoke with where they are from, had heard Long Island, N.Y., Port Orange, Connecticut, Miami, Atlanta, St. Augustine, Jacksonville, and of course a very large number from Palm Coast. He loved it last year. He did not have to be asked twice to return this year.
"It was the biggest, coolest event that I've been involved with," Travis said. "I've never seen so many people on the beach. And I've been announcing surf contests, I do major pro events I do up and down the East Coast all the way out, I've traveled all over. And this is the coolest thing I've ever been involved with. And I knew that this year was going to be bigger. It's not letting anybody down. This is amazing. I mean , there was a ton of people last year, but they didn't have the sponsors and the tents. It's insane."




Cooley and Johnston purposefully barred food vendors or food trucks from the event, so thirsty and hungry mouths would funnel to the eateries up and down A1A, as scores did.
Cooley and Johnston, who happen to be city commissioner and mayor of this town of quirks, and a couple (Travis on his mic, putting on a languorous, post-Victorian tone, referred to Cooley "and his lovely lady, the mayor"). They are celebrating the absurdity of dog surfing head on: they make no bones about it, it's "ridiculous," in Cooley's repeated description, and that's what makes it a perfect fit as the town hangs on–like dogs hanging on to surf boards–to its unique character.
They were on the beach at 5 this morning, starting the set-up. By 7, the tents were all up, the vendors already spreading their wares in what looked like a silent battle of the puns: "What the Fin," selling apparel from a South Carolina-based company and flip-flops from The Flip-Flop shop at 214 East Moody Boulevard,  "Sit Happens," the dog-training company that started in Jacksonville and now offers services in Palm Coast and Flagler ("no bribery, no punishment" in its methods, says owner Danny Bungard, "it's relational training"), "A new leash on life," the tent hosting K9s for Warriors, "Cuddle Pet Grooming," and so on. There were also tented representatives from Palm Coast Parks and Recreation and the Florida Department of Transportation.
Before the beach was overrun Tracy Miley had staked out a spot with Lucy, her goldendoodle, and both gazed at the ocean as if it was their first time. For Lucy, it was: the four-and-a-half-month old pup had never crossed the bridge from Miley's Palm Coast home to the beach before. She wouldn't be surfing just yet. "We're here in moral support of all the other athletes," Miley said.
Near the dog-kissing booth built by the county's general services and refined with elegant signs and logos by the tourism bureau's Candi Breckenridge stood Chief Stoke–Flagler Beach Police Chief Matt Doughney–who would be the day's referee. "I'm not putting them on a pitch clock," he said of the dogs, "probably with dogs I'll be a little more lenient, expand the zone today."
The judges, perched like justices of the sands on a trio of rust-red lifeguard chairs high above the crowds, consisted of Kyle Wilson, Greg Hansen (the county commissioner and last year's referee), Paul Chestnut and Dan Worley.
At 7:37, DJ Vern kicked off the music with Rebelution's 'The Sky's the Limit," with a lineup of reggae ahead. "Because of the dogs and us being surf 97.3," Vern Shank, who also manages the city's First Friday events, said, "our radio station is always that kind of stuff anyway, the music that associates itself with the ocean and anything about it."




The stretch of beach kept filling up, the sun kept getting hotter, the surf a bit stronger, and higher tide than originally calculated: it was coming in, not going out.
"I wish the waves were a little smaller," Cooley said at one point, freshly back from coordinating the heats with frothing, crashing waves up to his waist.
"Not usually what you hear at a surfing contest," Tiffany Wiggen said. Wiggen was one of the leading volunteers: unlike last year, the event had mobilized its share of help. But overall Cooley liked the way the event had unfolded, and there seemed to be no complaints, not even much errant poop: poles of poop bags had been positioned along the beach.
There was to be prizes, there was to be an afterparty, and there was to be days of social media reverberations, not least from Chris and Heather Yeloushan, a Tampa couple. She's a social media influencer, and together they travel the country with dogs Willy and his brother Jax and post their every other move on a long list of social media sites like this one. This morning, Willy and Jax were posing for a couple of dozen cameras, wearing shades.
"People love dogs," Cline said. For those hours this morning in Flagler Beach, there were no disagreements, no debates, and nobody much cared who won or didn't quite win. Like the dogs, they were in it for the joy of it. That's where it started. That's where it ended.