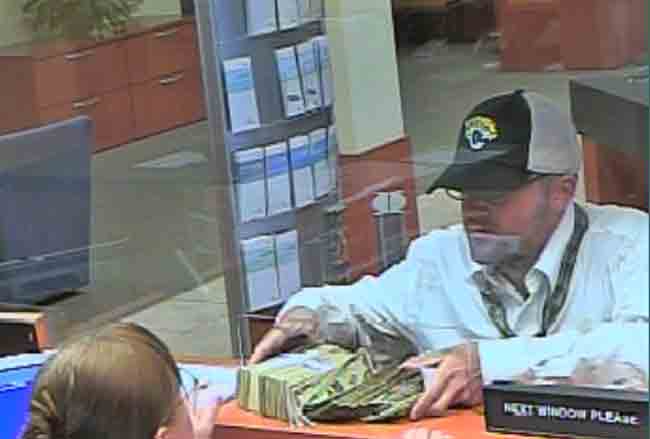 Sept. 3 update: the suspect may have been the same suspect who robbed a St. Johns bank on Sept. 3. See the story here.

Flagler County Sheriff's deputies and Ormond Beach police are looking for a man believed to be involved in an attempted robbery at Hancock Bank in Palm Coast and an actual robbery at SunTrust Bank in Ormond Beach Friday afternoon.
The man entered Hancock bank at 300 Palm Coast Parkway Northeast a little after 4 p.m. and demanded money from the teller. He displayed no weapon, nor did he suggest that he had one. When he was told she had no money, he fled the bank.
About 20 minutes later a man fitting the very same description pulled off a heist at SunTrust Bank at 1470 W Granada Blvd. in Ormond Beach where he proceeded directly to one of the bank tellers, said he wanted to make a withdrawal, then said the bank was being robbed. He was specific as to how he wanted the cash removed and given to him.
As in Palm Coast, he did not display a weapon nor did he imply that he had one. He left the bank with an amount of money police did not disclose, though surveillance images show him taking possession of a considerable stash.
He may have been driving a silver vehicle, Ormond Beach police reports.
At either bank, the man made no attempt to cover his face, which has several distinctive characteristics, most caught on surveillance cameras. He is described as a white male, 25 to 30 years of age wearing dark pants, a white dress shirt with a loose black and white tie and a multi-colored Jacksonville Jaguars cap. He also had a band aid on the right cheek of his face and a light partial beard with no chin hair. And he wore glasses.
Anyone with information is asked to call the Sheriff's Offices at (386) 313-4911 or Crimestoppers at 1-888-277-8477. You may remain anonymous and you could be eligible for a reward of up to $1,000.