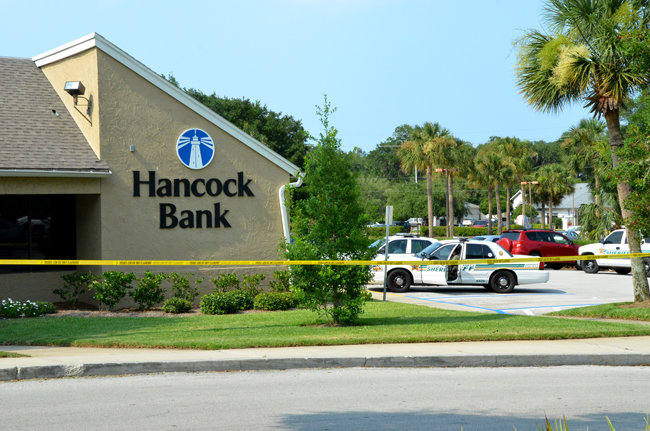 An armed robber held up tellers at Hankock Bank in Palm Coast's Palm Harbor Shopping Center at 2:57 this afternoon and got away with money. It's not known how much. No one was hurt in the heist.
The robber was working in tandem with at least one other person, who drove a white, two-door Oldsmobile, possibly an SUV. The robber dove into the back seat while making his getaway, and the vehicle hit a curb quite violently on its way toward Florida Park Drive, according to Flagler County Sheriff's Spokesman Kevin Byrne. The tire may have been damaged or flattened. It's not known which direction the robbers took on Florida Park Drive.
The robber is a white male with fuzzy hair. He wore a dirty-white baseball cap, a long-sleeved shirt, and dark blue jeans, white sneakers and mirrored sunglasses. He ordered tellers to put up their hands when he entered the bank.
The sheriff's office has notified all other local banks of the robbery.
"We're still at the scene," Byrne said, "and we pretty much have the area saturated between there and the surrounding areas–Old Kings Road, Palm Coast Parkway."
Investigators will be reviewing the surveillance tapes. Callers may report any information regarding the case to the sheriff's office at 386/313-4911.