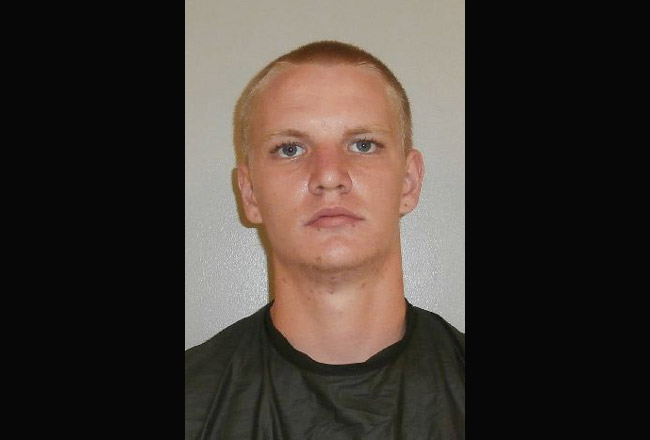 Not long before sunset Wednesday evening, Kenneth Stancil, a 19-year-old resident of 12 Portland Place in Palm Coast, was seen sitting in a black Lincoln in the 200 block of 16th Road East in the Hammock section of Palm Coast. It's a public parking lot leading to a public recreation area near the Hammock Beach Resort.
The Lincoln wasn't Stancil's his car. It belongs to Sandra Laden, 65, of Palm Coast. Laden was in the area with her husband Gary, 64, and others, including Linda Barczak, 63, of Palm Coast.
According to a police report, Laden and Barczak then saw Stancil jump out of the Lincoln and into a silver Ford, and take off. Laden was yelling at him and began flagging him down in the parking lot when, according to the report, Stancil struck Laden with the Ford and fled. Laden was struck on the right hip and the upper leg.
The women immediately called 911, and told dispatch that there was a passenger in the fleeing Ford, too.
A Flagler County Sheriff's Deputy observed the Ford in the area of Jungle Hut Road and Hammock Dunes Parkway. The Ford then headed toward North Oceanshore Boulevard, turned again and appeared stuck at Yacht Harbor Village, a gated community. The deputy made a traffic stop. The occupants were removed from the car.
By 8:10 p.m., Barczak and Laden had both independently identified Stancil, in whose pockets deputies found $58 in cash, a phone charger, an iPad charging cord, and a pedometer. The passenger in the car was Tylor Whitaker. Both men were read their rights, but only Stancil was arrested.
Laden was treated at the scene by Flagler County Fire Rescue paramedics then taken to Florida Hospital Flagler. She and her husband identified the items found on Stancil as theirs. The property was returned to her before she was taken to the hospital. The Florida Highway Patrol is still investigating the crash, as it involved a car hitting a pedestrian.
Stancil, who was arrested last November on criminal mischief and petit theft charges, was charged with strong-armed robbery, aggravated battery on a person 65 or older, burglary of an automobile, and petit theft. He remains in jail Thursday on $28,000 bond.