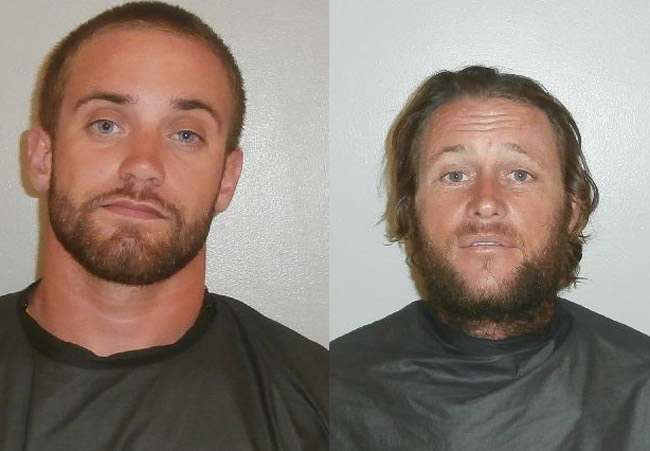 Police and public safety agencies were busy this weekend responding to the consequences of two individuals in unrelated incidents that had one thing in common: drunkenness.
In the first case, on Friday afternoon, authorities were alerted to a sailboat in the Intracoastal Waterway, going around in circles, with its operator asleep on its deck.
Officer Darryl Thornhill of the Florida Fish and Wildlife Conservation Commission (FWC) was dispatched along with officer Eric Meade, after Flagler County Sheriff's deputies and Flagler County Fire Rescue and Palm Coast Fire Department units had responded.
The man piloting the 34-foot sailboat—or not piloting it, as the case may be—was Hamish MacDonald, 34, a London-born resident of Fort Lauderdale, according to his booking report, who found himself on the deck of a property at 74 River Trail in Palm Coast's Grand Haven subdivision Friday.
"He had the odor of alcoholic beverage coming from his facial area and his eyes were bloodshot," investigators reported. McDonald was field-tested for sobriety. He failed every test. He was arrested for boating under the influence.
At the Flagler County jail, his breath samples tested at .214 and .199, well above the legal limit of 0.08. He posted $1,000 bond and was released.
It's not the first incident in Intracoastal waters for MacDonald. Less than six weeks ago, he was sailing near the St. Augustine Inlet when he decided to get into a 13-foot skiff and approach the beach. Strong waves capsized the boat some 500 to 700 feet from shore, according to FWC. MacDonald later claimed that he may have been the victim of a waterspout, though none was recorded by the National Weather Service.  An FWC patrol boat rescued him. He was not injured. He got back to his sailing vessel and boated on.
Boating under the influence is punishable by a fine of at least $500 for a first offense (but no more than $1,000), and a maximum of six months in prison.
The second incident took place late Saturday night, starting at Palm Coast Lanes, the bowling alley on Old Kings Road just north of the Staples shopping center.
Shane Hefner, a 23-year-old resident of South Daytona Avenue in Flagler Beach, was at the bowling lanes' bar, and he was not happy.
He told a cop that he got annoyed with the bartender after she refused to serve him alcohol, then intentionally spilled a drink across the bar, made some verbal comments to the bartender and proceeded to walk out.
He got in his vehicle and started driving—a 1999 Chevrolet pick-up. A Flagler County Sheriff's deputy stopped the vehicle  at Walmart. Hefner was at the wheel, along with a passenger, Dalton Roy Edwards.
In her statement to police, the bartender said Hefner called her names "and threw a pint beer glass at her, just missing her leg." The bartender wanted to press charges.
Hefner agreed to submit to sobriety tests, which he did not perform well, according to his arrest report. He was unable to keep his balance while listening to instructions, performing an improper turn , losing count, and touching the side rather than the tip of his nose. But his breath sample, provided at the county jail, returned a result of 0.082 the first time, and 0.072 the second time. The legal limit is 0.08.
He was charged with aggravated assault with a deadly weapon and driving under the influence. He posted $1,500 bond and was released.