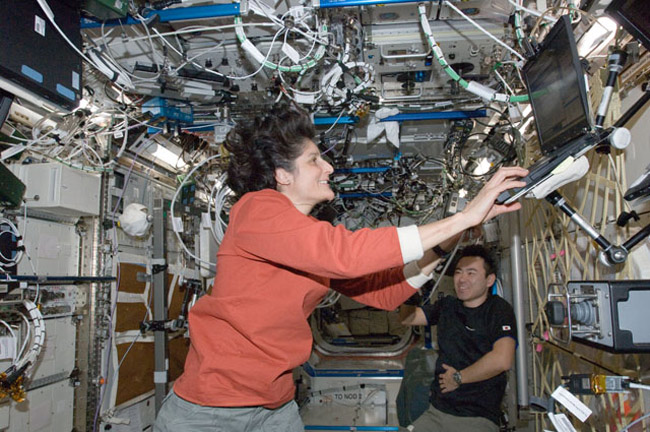 So, Suni Williams, what do you and your family sacrifice to be able to travel in space? Over.
"Well," Williams, one of the most decorated astronauts in the world, replies, "the biggest thing we sacrifice is seeing each other. You know, we don't really get to choose when we go to space, so you might miss birthdays, weddings, anniversaries, and even if somebody gets sick at home you don't really have a choice about when you're coming home. So if something happens to somebody back on earth, I can't necessarily go see them. So I think that's probably the biggest sacrifice. We do have internet phone and video conferencing, so we do get to see them, but we know we won't be up here for long so we are all enjoying the time that I'm up here,  and I'm relaying some of my stories to them, so that's making it better. Over."
---
Audio: The Full Hook-Up With Suni Williams on ISS[media id=306 width=350 height=250]
It could have been an exchange on Charlie Rose, who likes to have conversations with history-makers—Williams, an Indian-American (that is, India) holds the record for longest space walk by any woman, most space walks and longest time in space, among other records.
Instead, and because they don't say over on Charlie Rose, it was the first of close to two dozen questions posed by Flagler County elementary, middle and high school students, in a live hook-up with Williams just after 1 p.m. today, when the International Space Station's orbit was passing right above Central Florida, about 210 miles up.
And the 10-minute hook-up was achieved with nothing more than two VHF ham radios: one at Indian Trails Middle School, and one aboard the International Space Station. Yes, they have one up there, because in the end, when all else fails, it's their most reliable means of communication.
No live video screens, no flashy 21st century technology. And no less riveting for the hundreds of people, most of them Flagler County school students, faculty and a few administrators, who got the chance to be part of the hook-up.
It all happened in front of a packed gym at Indian Trails Middle School, Williams's voice coming across as cracklingly clear as through any standard phone connection, thanks to the work of Bob Matson, Mike Lee and their Flagler Palm Coast Amateur Radio Club. Almost all 24 students picked to pose questions to Williams got to do so before the connection was suddenly, but not unexpectedly, lost: the station travels at almost 5 miles per second (that's 17,000 miles per hour). Its orbit during today's call had it whirling in a southeasterly curve from above Vancouver down across Montana, the Great Plains, the Mississippi River's midsection then on down to the South and Florida's east coast. By the time the gym was emptying out about 10 minutes after contact with Williams was lost, she was already glimpsing white-pouring vapors from Amazon jungles.
But by then she'd addressed all sorts of curious subjects, from what it takes to keep toned on the space station—and to keep the heart from shrinking—to the business of recycling urine for drinking water, not having to wash clothes (they just wear new stuff after a few weeks), spending Saturdays cleaning the station, Sundays off, dealing with slow internet connections and watching the occasional football game. Some 35 students had been chosen to ask the questions submitted from all of Flagler County's schools—10 questions from each school, winnowed to two from each.
They'd spent many hours rehearsing with the ham radio club. By the time the live action was a go, they managed the questioning with scientific efficiency, anchored by radio club member Ridge Gardner, who handled the link with the station. Each student posed his or her question, finished with a blunt over, and Williams, clearly well practiced in the skill, fielded the questions with scientific precision mixed with—forgive the pun, but none other should do—a down-to-earth demeanor and humor. She can be nutty: In 2007, she was scheduled and registered to run the Boston marathon. But she was on the space station instead. She ran it anyway, hooked up to her treadmill up there.
She brings the same earthy qualities to her quite extensive blog from space. "Space is just really cool," she wrote just after midnight today. "I love it here, just like most folks who get to come here. It is just so cool how we adapt and become so comfortable up here. You can be standing one moment and with just a little effort, flip upside down and be hanging – 'look ma, no hands!' It is just an amazing place to be. Not to mention the view … why would anyone want to leave?"
At no point as she spoke with Flagler's students did it feel as if she were talking down to them so much as elevating them to her level of fascination, in the most lucid terms.
One student was concerned about how the station was protected from space debris. "Well," Williams said, "the space station does get hit by what we call micro-meteorites, small things, and we do see evidence of little divots where it's hit and made like a little crater, because they're going very, very fast. Big meteors or meteorites we avoid by doing debris-avoidance maneuvers, maneuvering the space station and actually doing a reboost so we get a higher altitude to miss them. Over?"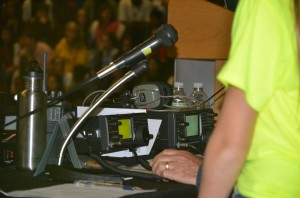 One thing Williams did not mention today: Exactly six minutes before the scheduled link-up with the students at Indian Trails, at 12:54 p.m., the International Space Station made its closest approach  with a significant piece of "space junk" that had American and Russian officials concerned enough to consider sending Williams and her two fellow crew members in their Soyuz vehicles for safe haven.
"After further consultation between U.S. and Russian flight controllers," NASA said in a statement today, "a decision was made to forego a planned debris avoidance maneuver to steer the International Space Station clear of a piece of space junk of unknown origin. The decision was made after ballistics specialists received late tracking data on the unknown piece of space debris that put its miss distance from the station at 1.7 miles, in the 'green' regime, a safe distance away from the complex, and much further from the station than previous tracking passes displayed."
The crew, NASA said, was never in danger, "and Expedition 33 Commander Suni Williams and Flight Engineers Yuri Malenchenko and Aki Hoshide spent the morning continuing preparations for their return to Earth."
Williams sounded not one bit fazed by the episode as she spoke with students. Inevitably, she was asked if she'd ever seen a UFO.
"Oh, I can't tell you if I have," she dead-panned. "No, I'm joking. I've never seen a UFO here. I hope that there is something else out there at some point in time. We just have to explore a little farther than lower orbit. Maybe we'll find something some day."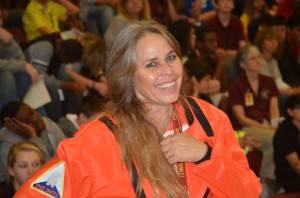 The questions were well crafted, too, including one from a fifth grader who asked who has the rights to discoveries on the space station. (It's a shared thing.) And then, as coherently as she'd sounded from space, Williams suddenly flashed out and was gone, without warning. So it goes. The students who didn't get to pose their questions did so anyway, and the gym erupted in a round of applause, followed by the Indian Trails band's rendition of "Star Wars."
Members of the radio club were elated. It was a brilliant concept, really: the club's membership of about 60 is decidedly old and getting older. Like NASA, it needs a refresher, a way of engaging a younger generation.
"One of the first things I said was guys, I want the club to continue," Matson, the club president, said, recalling the moment he got elected president of the club. "But look around. We're not going to be here in five or 10 years. We're losing a member about every year. I says we have to get new blood. Not just to continue the club, but amateur radio is a great endeavor for young people because it encompasses all of the STEM objectives—science, technology, engineering and math. I said so let's branch out to schools, do something for them that will give the children, the students, a reason to be interested."
Matson knew of NASA's hook-up program. It's been around since a 1983 Space Shuttle flight, when astronaut Owen Garriot took his ham radio with him on the eventually ill-fated Columbia and spent seven of the mission's 10 days chatting it up with hams all over the world, including many classrooms. Ham radios have since been as standard a feature on space flights as has become the GPS in cars.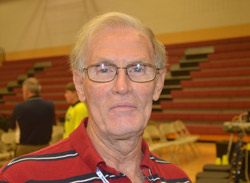 NASA loves the hook-ups, because it's one of the last remaining ways for the doddering agency to make itself relevant, especially in young people's eyes. The International Space Station itself has become old news: it celebrated its 12thanniversary of continuous operation just two weeks ago, with visits from 204 people, 1.5 billion miles traveled through 57,400 orbits. It's no longer serviced by the United States, which ended its space shuttle program, so any travel there is done by the Russians, with help from the European Space Agency. American astronauts like Williams are hitching rides. And all those 462 tons of stuff will be ditched into the Pacific Ocean when the station's life finally runs out, sometime in 2020.
Meanwhile, it remains one of NASA's most continuous ways of reminding the public, and taxpayers, that it still exists. "Although there is no set rule for how large the audience must be," NASA says of its ham radio links, "NASA is looking for large-scale events that impact the community." And do small wonders for NASA marketing.
Matsen had also read somewhere that Indian Trails' Dana Hausen, a science teacher, was on the hunt for scientific-minded groups or organizations that would be willing to steer a project through her school and with her students. Hausen is always looking to go where no teacher has gone before. It was the perfect connection. The radio club was already working with three dozen home-schooled students. The club branched out to Hausen and Indian Trails. "She was very, very receptive with things we were doing with our radio club," Matsen said.
Matsen, always keen with a carrot,  had originally promised the homeschooled children that if they would continue with the club's classes, he would make sure that they'd be able to talk to the International Space Station. But he needed a large venue to do it, in compliance with that NASA recommendation. He spoke with Indian Trails Principal Vern Orndorff. It was a go. The application was submitted to NASA almost a year ago. Today was the pay-off.