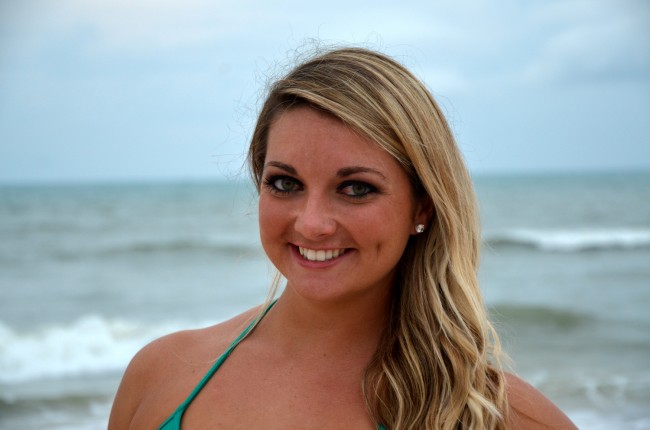 Haley is 20 years old with blonde hair and hazel eyes and stands at 5 feet 2 inches tall. She is the daughter of Steve Watson and the late Dollie Sue Watson.
This year Haley will be a senior at Daytona State College where she is obtaining her business degree.
Haley is sponsored by Sully's Surf Shop. She enjoys traveling, surfing and fishing. She is the founder and President of May Day Memorial Charity Foundation, which is a non-profit organization that raises awareness of heart disease. Haley is currently a professional surfer and has recently been accepted into the National Association of Professional Women. As a professional surfer Haley travels a lot, but being born and raised in Flagler County, Haley has special love for her home town.

The Complete Miss Flagler County Pageant Image and Portrait Galleries
2013
Little Miss Flagler County 2013 Contestants, Ages 5-7
Little Miss Flagler County 2013 Contestants, Ages 8-11
Miss Junior Flagler County 2013 Contestants, Ages 12-15
Miss Flagler County 2013 Scholarship Pageant Contestants, Ages 16-23
2012
Meet the 2012 Miss Flagler County Contestants: The Overview
Little Miss Flagler County 2012 Contestants, Ages 5-7
Little Miss Flagler County 2012 Contestants, Ages 8-11
Miss Junior Flagler County 2012 Contestants, Ages 12-15
Miss Flagler County 2012 Scholarship Pageant Contestants, Ages 16-23
2011
Meet the 2011 Miss Flagler County Contestants: The Overview
Little Miss Flagler County 2011 Contestants, Ages 5-7
Little Miss Flagler County 2011 Contestants, Ages 8-11
Miss Junior Flagler County 2011 Contestants, Ages 12-15
Miss Flagler County 2011 Scholarship Pageant Contestants, Ages 16-23
2010
Meet the 2010 Miss Flagler County Contestants: The Overview
Little Miss Flagler County Contestants, Ages 5-7
Little Miss Flagler County 2010 Contestants, Ages 8-11
Miss Junior Flagler County 2010 Contestants, Ages 12-15
Miss Flagler County 2010 Scholarship Pageant Contestants, Ages 16-23