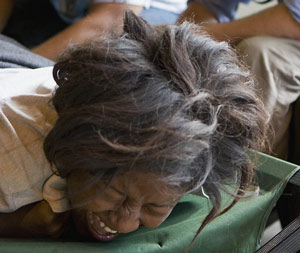 At 4:53 p.m. Eastern Standard Time (9:53 p.m. UTC), an earthquake measuring 7.0 on the Richter scale struck 15 miles west-south-west of Port au Prince, the Haitian capital. In geological terms, the earthquake struck "in the boundary region separating the Caribbean plate and the North America plate.," according to the United States Geological Survey. In human terms, the earthquake demolished the Haitian capital, killed tens of thousands and left hundreds of thousands homeless in a country that ranks 149 out of 182 on the United Nation's Human Development scale.
Haiti's plight predates its latest tragedy by decades (read a column about what Americans owe Haiti). Short of a more systemic international effort that goes beyond earthquake relief, the days' and weeks' aid flowing to Haiti won't staunch the country's greater bleeding.
Here's an image gallery of the devastation. The photographs are the work of the United Nations' Stabilization Mission in Haiti, a mission that began in 1994. You can click on the images for larger views.

[nggallery id=4]