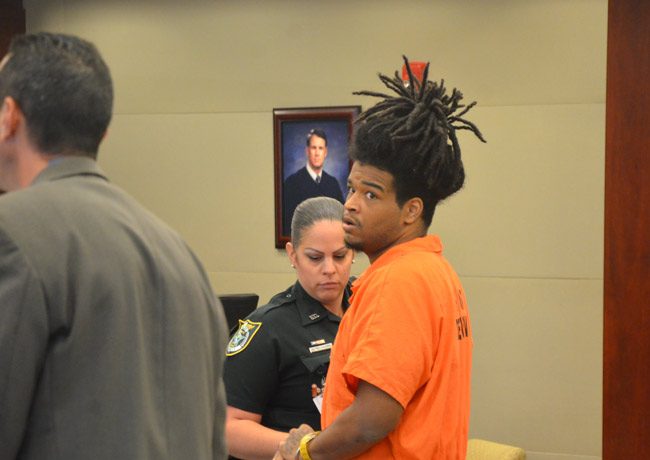 Facing a mountain of evidence and grave charges, Philip Haire Jr. is maintaining his innocence and does not want to deal.
Haire, 21, faces life in prison over 10 charges charges, including three attempted murder counts for allegedly shooting at his own father and a Flagler County Sheriff's sergeant at Haire's home on Palm Coast's London Drive, then carjacking a man on U.S. 1.
Haire has been at the Flagler County jail since the May 1, 2017 incidents. He was offered a deal in August. He rejected it. On the approach of trial in mid-November, he was offered another deal today. "If he wants today we'll allow him to take 25 to [30] years range, it's only available today," Assistant State Attorney Jason Lewis said before Circuit Court Judge Terence Perkins, with Haire sitting a few feet from him in his orange jail suit. (Lewis had said 35 years initially then corrected himself to 30, with a 20-year minimum mandatory.)
Haire's attorney, Jeremy Buckmaster of Daytona Beach, told the judge that he recommended to Haire to take the deal.
Haire declined.
The judge asked him to stand before him so he could be clear about Haire's intentions. Haire, walking with difficulty–he's been partially impaired since getting shot on London Drive when he was 17 in a separate incident–stood at the podium.
"I'm required with no discretion to sentence Mr Haire to life in prison, so what I want to make sure is that he understands that that's the position the state is going to take," Perkins said, asking Haire if he understood all that had just been said.
"Yes sir," Haire said.
"You have the absolute right to reject their offer," Perkins said, "but if you're convicted it's mandatory life."
"Yes sir."
"Do you need more time to talk to your lawyer about that?" Perkins asked him.
Haire did not. "Reject," he said of the offer, and took his seat.
That was just in the first few minutes of a two-hour hearing this afternoon, and the major blow to Haire's case was yet to come: the judge later ruled against a defense motion to allow a psychologist's testimony at trial that would point to Haire's "diminished mental capacity" at the time of the alleged incidents. That means an expert witness will not be allowed to testify to Haire's state of mind at the time of the alleged shooting.
The motion was an attempt to argue that Haire was not in his right mind–that he was suffering the effects of Post-Traumatic Stress Disorder and bi-polar disorder–even though he was not insane. It's a middle ground between insanity and competence that, if accepted as evidence of a Haire's behavior, could have diminished the severity of the charges: rather than attempted first-degree murder, a jury could have convicted him on lesser charges, possibly mitigating the life terms he was facing to something less drastic.
As part of that motion Buckmaster had Daytona Beach psychologist Lisa Potash take the stand. Potash had met with Haire twice and examined some of his record. She provided insights into Haire, some of them publicly known, some of them not. His ability to function in his teens was directly affected by his mother's illness, Potash said, then he was shot near his home when he was 17, leaving him paralyzed for a while and forcing him to relearn to walk, toileting and feeding himself. Until then he'd been motivated by football and hopes of playing the game professionally. "The day I was shot my life ended," Potash said he told her.
By then he'd been diagnosed with bi-polar disorder, was Baker Acted and was supposed to stay on a certain medication, but didn't. "It's very hard not to draw on my experience with military veterans and also from people who suffer from PTSD," Potash said, describing Haire after he was shot.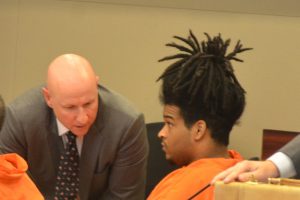 After he was jailed following the shooting incident involving his father–he'd texted his family ahead of time, saying he was coming for his father–he was rebellious at the county jail, then "there seemed to be a bit of a metamorphosis in that his demeanor had changed significantly, and he proudly told me, I saved a life," Potash said. Haire was referring to last February's incident at the jail when inmates helped stop a fellow-inmate from hanging himself, Haire among them. The inmates were later commended by the sheriff.
But given his history, "it made no sense that this young man would shoot at his dad. Victims are not usually described as the defendant's hero, and when I asked Philip who's your hero," Potash said, "he said my dad." Being equally protective of his mother and sister, she said, "It doesn't make sense that he would shoot at his own home, it didn't fit." And he had no recollection of the incident.
But by taking the approach that Haire was acting out of diminished mental capacities, it was essentially conceding one of the only–and slim–elements of doubt in the case: that it was him in the car and holding the gun that shot at his father and at the cop in May 2017.
Potash may have had painted a sympathetic portrait of Haire, but she never explicitly said that he had not had any actual intent to harm his father, according to what the judge heard. (Haire's attorney argued otherwise, but the judge disagreed.) And her testimony withered and became ineffective under cross-examination by Lewis, the prosecutor, who showed Potash's preparation and familiarity with numerous documents and evidence in the case to have been tenuous or non-existent. She had not reviewed threatening text messages Haire had sent before shooting at his house–cops were at the house because he had sent threatening messages–nor had she reviewed a statement Haire had made to deputies after the shooting or other key evidence, though as Haire's attorney noted, she was not acting as an investigator, but a psychologist.
As Lewis grilled her about her knowledge of Haire's history of violence with his father, Haire got up from his seat, mumbling something unclear at first and not complying with four bailiffs' orders to sit back down. "I want to leave," he was then heard saying more clearly, the exchange between Lewis and Potash about his altercations with his father having seemingly rattled him. The judge called a recess to allow Haire to speak with his attorney. Twenty minutes later court resumed, Haire still in his seat, calmer.
Buckmaster used the incident to his advantage, asking Potash about it (tyhe judge overruled Lewis's objection). "He was triggered," Potash said, "I believe he was triggered by the content of the discussion and his response was not unusual."
Buckmaster argued to Perkins that it would be "a clear injustice" if Potash's testimony was not allowed at trial, and that the jury would be left "scratching its head" without the context of Haire's mental state. Without that context, it would not be a fair trial, the attorney argued.
But Lewis had come prepared with a mound of case law, much of it Florida Supreme Court decisions, arguing that "diminished mental capacity" is not a defense in such cases.
"It could be said that many, if not most, crimes are committed by persons with mental aberrations," the Florida Supreme Court ruled in 1989. "If such mental deficiencies are sufficient to meet the definition of insanity, these persons should be acquitted on that ground and treated for their disease. Persons with less serious mental deficiencies should be held accountable for their crimes just as everyone else. If mitigation is appropriate, it may be accomplished through sentencing, but to adopt a rule which creates an opportunity for such persons to obtain immediate freedom to prey on the public once again is unwise."
Perkins, basing himself on that ruling, denied the defense's motion.
He also denied another defense motion to "sever" the 10 counts into two sets, setting up two trials. The defense wanted to try the carjacking and related charges separately from the shooting at Haire's house. Lewis argued that the two incidents are one and the same, taking place within minutes. Based on facts presented today, the judge agreed, and severing the charges was denied.
The trial is scheduled for the week of Nov. 12.