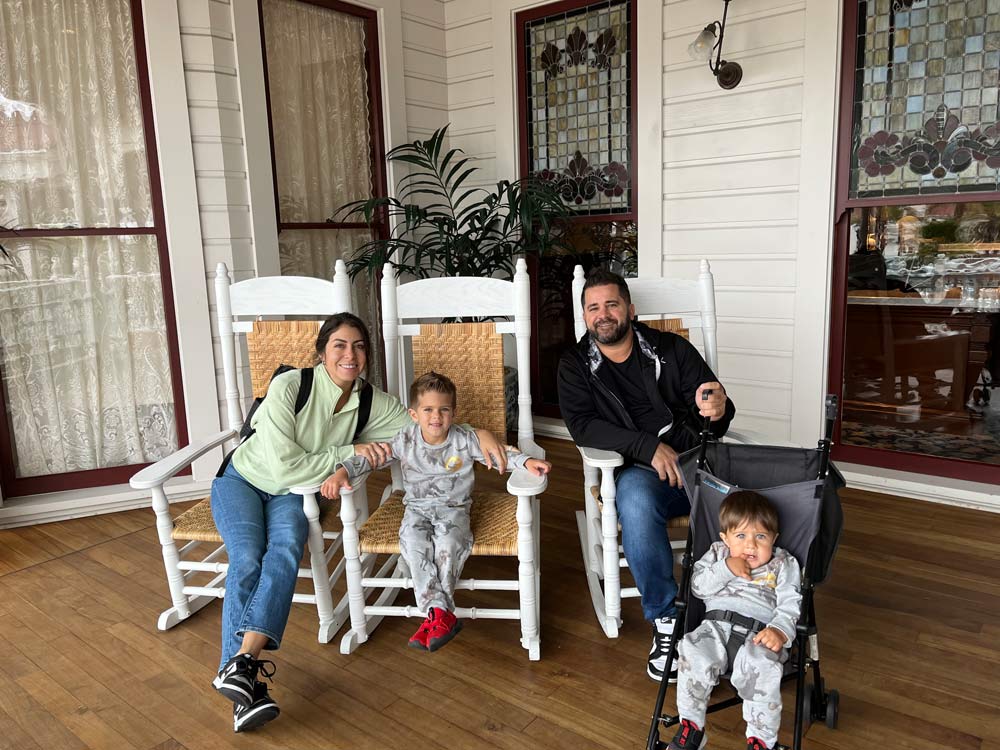 By Hailey Lulgjuraj
I grew up in Flagler Beach and ten years ago met my husband Tony Lulgjuraj at his restaurant,
Oceanside Beach Bar & Grill
. Together we have two young sons, 1 and 4 years old.
This April, I was diagnosed with stage 2
HER2+ 

breast

 

cancer
 after having no family history whatsoever.
The first time I felt a lump was in September 2022, as a 29 year old. I alerted my doctor and underwent a mammogram and ultrasound. The radiologist insisted the lump was benign. The following year in April, I felt a lump on the same side, in my underarm. I asked for more imaging and a biopsy. This is how I stumbled upon my diagnosis of aggressive, metastatic (spreading)
breast
cancer
, and found myself thrown into very aggressive 
cancer
treatment at the Mayo clinic in Jacksonville.
Through my treatment, I continued to work full-time at my corporate job, and insisted I'd not allow 
cancer
to disrupt my normal daily life. Most of the time, I succeeded at that idea. But there were some days I simply could not get out of bed. One day over the summer while receiving a chemo treatment, I received a text from someone who I don't know very well personally. But she knew I was connected to Oceanside.
Carli Weida was inquiring if I could get her in contact with Oceanside management because she had an idea of putting on a
breast
cancer
event at the restaurant, through her event-coordinating business, CW Elite Events. She had no idea I was battling my own diagnosis with that very disease. The timing seemed meant to be. My husband and I immediately reacted, "yes, let's do it!"
I myself had seen the financial havoc that
cancer
 treatment wreaks on one's household. An opportunity to fundraise and give back to the community for those going through similar treatment, with tougher financial situations, definitely resonated with me. Immediately, we got to work.
Just one week ago, I completed my full course of chemotherapy infusions and a double mastectomy. I invested $7,000 toward renting a device that allowed me to keep some of my hair. The process was brutal, and frustrating. But I am grateful for a second chance at life.
It has been a transformative experience. I am channeling my gratitude towards our first annual "Tides of Hope" benefit. It will be held this Saturday (Oct. 28), from 4 to 8 p.m. at Oceanside Beach Bar & Grill, at 1848 S Ocean Shore Boulevard, Flagler Beach. We hope to raise as much money as possible, and are donating all proceeds to
The Donna Foundation
in Jacksonville, which works directly with Florida families living with
breast
cancer
 and needing financial assistance while undergoing treatment.
So far we have raised over $3,500 in t-shirt sales and monetary donations from local businesses. Please come check us out, and visit our Facebook page "
Tides of Hope benefit
" for more details on how we will raise money, including through a silent auction, t-shirts, and raffles.

Hailey Lulgjuraj is a Flagler Beach resident. Reach her by email here.