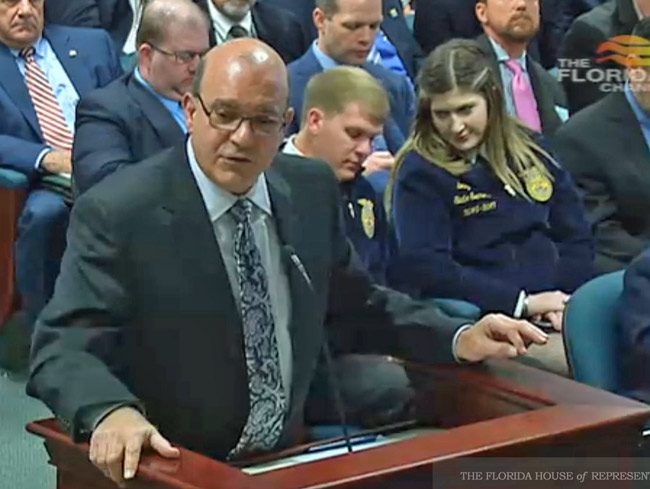 In a defeat for Flagler County government, a divided House Agriculture and Property Rights Subcommittee voted 9-6 today in favor of a proposal that would again scrap local government authority to regulate short-term rentals. Again, because just two years ago, after a campaign by Flagler government, counties and cities won that right back, which they had lost in 2011, when the state "pre-empted" that local authority.
Under the current proposal, in the sum-up of a legislative analysis, "a local government may not restrict the use of vacation rentals, prohibit vacation rentals, or regulate vacation rentals based solely on their classification, use, or occupancy. As a result, local governments will be precluded from creating regulations that would distinguish vacation rentals from other residential properties."
Rep. Mike La Rosa, a St. Cloud Republican who had supported the 2014 law, is sponsoring the reversal. The 2014 law, he said, "was decent policy, and a good compromise, and was in good faith."
But since the bill passed, he claims, "we've seen an obscene amount of ordinances with local government, which basically in my opinion is a property right taking." That includes, he said, "crazy fines" that inhibit property owners from renting their houses. He cited an example of a $20,000 fine for a first violation, up to fines of $100,000, allowing the local government to put a lien the property.
La Rosa is portraying the issue as a matter of property rights. But judging from the business interests in play, the issue is closer to a matter of property owners who live in neighborhoods run over by company-owned or company-managed short-term rentals. That industry is bankrolling the push to revert to pre-2014 conditions. The bill and its Senate companion still have several hurdles before reaching the floors of the respective chambers for full votes.
The vote followed 75 minutes of discussions and pleas, for and against the proposal, including several challenges to the bill from committee members and opposition from Flagler County Attorney Al Hadeed. The 2011 law "was to help homeowners who were in the clutches of the recession, and allowing them to rent their homes in order to avert foreclosure," Hadeed said. "But the reality is that it opened up an industry, it opened up real estate syndicates that went in and bought and essentially constructed mini-hotels in the middle of single-family neighborhoods. Now, of course when those began to appear, our constituents complained to us—please, do something about this."
Hadeed then unloaded the story of short-term renters at night "filming a pornographic movie" with bright lights next to home-owners' properties, of buses unloading inebriated revelers, "frat-house style." The porno-film story was oddly not heard until now, though Hammock homeowners for three years before the 2014 law shared numerous stories and complaints with local officials. Hadeed stressed, however, that "vacation rentals are an important part of our tourism industry, but people took advantage" before the new law had gone into effect.
Flagler government doesn't want to return to those conditions. If Hadeed had sensationalized his presentation with extreme examples, so had La Rosa.
---
"What I'm saying is treat vacation rentals the same as all other properties."
---
La Rosa did not initially cite the actual governments from whose ordinances he was quoting, when referring to exorbitant fines. He did not specify whether the fines he cited were examples of actual levies from actual violations or merely potential fines listed in such ordinances: the difference can be significant as most governments place some distance between notices of violations (with warnings) and actual fines levied over those violations. He did not mention that code enforcement fines are routine in cities beyond vacation rentals, for such things as un-mowed grass and other code violations, as residents of Palm Coast—to name one city—well know: those fines can and do on occasion rise into the thousands.
"What I'm saying here is not that these are all horrible things. What I'm saying is treat vacation rentals the same as all other properties," La Rosa said, whatever the nuisance detected.
A committee member pressed him to be more specific and cite actual cities' fines. "It wasn't my intention to call out cities by name," La Rosa said, but agreed, citing Miami Beach, "$20,000 for their first violation," rising to $40,000 then $60,000 if the violation is repeated, up to $100,000 within 18 months.
But again, La Rosa was providing a misleading context for the fines. When he described the sort of violations neighborhoods are familiar with, he spoke of noise, garbage, excessive cars—the sort of violations that worry neighbors of vacation rentals in Flagler County.
But the fines he was citing from Miami Beach had nothing to do with any of that. He never said what they did have to do with: illegal advertising, and illegally hosting short-term renters in single-family homes, apartments or townhouses. In fact, Miami Beach tallied every single one of violations that resulted in fines between March and August 2016. There were 106 such fines levied. But every one of them was for false advertising or for illegal renting in properties not sized for short-term rentals, and overwhelmingly, the rentals were conducted by agencies. All but a handful were $20,000 fines. There were no $100,000 fines. (See the full list of fines here, and Miami Beach's ordinance here or here.)
His next example was, he said, the "City of Marco Island, $500 per day. $500 civil citation."
Not quite: Marco Island's ordinance states that what fines are permissible are for "up to $500.00 per day," with the city manager making determinations that are appealable to the city commission. (A representative from Holmes Beach in Manatee County, who opposes the La Rosa proposal, told the committee that of Holmes Beach's ordinance is less to police and fine property owners than to work with them to be in compliance. "That's what zoning is all about, it's about compatibility of uses," she said. A quarter of the homes there are in the registered short-term rental program.)
La Rosa did not provide additional examples. He was challenged on his proposal's reversion to the 2011 law, keeping localities from regulating their neighborhoods according to their needs. But with each challenge, La Rosa said he was not opposed to local regulations—as long as they were applied "across the board," to all properties, without singling out short-term renters. But that, in essence, would equate to no regulation, since no local government could realistically institute a system that would apply a regulatory sweep across all properties just to detect short-term renters.
There's no question that the mosaic of short-term rental ordinances have led to a backlash from renters, with 82 claims under a property-rights law filed in the city of Ana Maria lone, amounting tp$30 million in claims. But the majority of challenges have been led by large companies that either own or manage properties exclusively for short-term rentals—which don't have to abide by the same regulations as hotels and motels, one opponent of the bill said. La Rosa's bill, he said, might eliminate distinctions between vacation homes and other homes, but only to create a double standard between homes used as hotels and actual hotels.
Eric Pool, speaking for the Florida Association of Counties—which opposes the proposal—said the 2014 law enables counties and cities to provide "nominal oversight" of the industry to balance out the unregulated landscape short-term renters had enjoyed since 2011. "Now we're not asking to go back to pre-2011, we're simply asking that the state of the law stay as it is. We don't think that it needs to be cranked back. If there is an issue about $20,000 fines, that's egregious. Let's address that problem. But to go back to pre-2011, we don't think it's necessary."
Jennifer Green, who represents HomeAway Vacation Rentals, an advertising platform that focuses on short-term rentals, framed the issue in terms of tourism exclusively: "The fact of the matter is," she said, "people want to come to Florida." So the question is, she told the committee, "do you want to do anything to stifle tourism in Florida? The secondary issue is, do you want to pick a winner and a loser when it comes to property rights?"
Tourism has not been hurt by the 2014 regulations on short-term rentals, neither in Florida nor in Flagler County: Gov. Rick Scott has been boasting of record-breaking tourism in the state year after year. Flagler County's tourism tax revenue was up 9 percent the first year after the 2014 law went into effect, and 2.8 percent last year.
Heather Beaven, who owns a house in Flagler Beach and another on London Drive in Palm Coast, said the only way she can keep the latter—which is valued a shade more than half the $250,000 she paid for it in 2006—"is through vacation rentals and-or long-term rentals," she said. "The vast majority of the people that I've had in that home have been there for three months or longer, and they're coming either to look at the area so they can purchase a home or they're coming to wait until their home is built." She said she has no familiarity with "the kind of anecdotes" told about vacation renters, "so to close down any more of Flagler County for short-term rentals in a county that survives off tourism makes no economic sense whatsoever."
It's not clear what Beaven had in mind when she spoke of closing down "more" of Flagler County to short-term rentals: there's no such plan. The issue is limited to regulatory authority