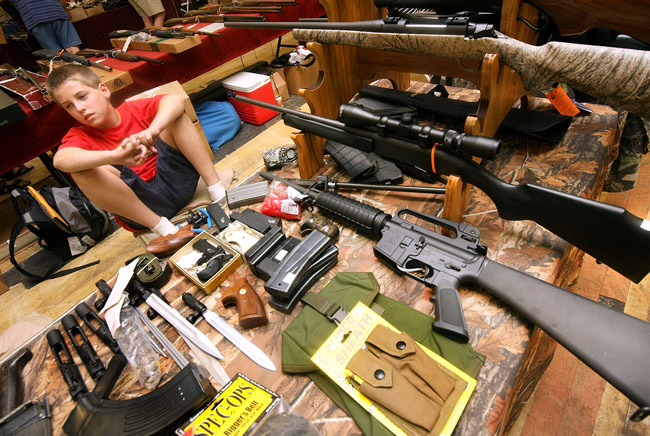 Background checks of purchasers would be required on all gun sales in Florida under a bill two Democratic lawmakers have filed in an effort to close the so-called "gun show loophole."
Rep. Lori Berman said Wednesday that about 40 percent of gun sales are at gun shows or done on the Internet, allowing the buyer to complete the purchase without going through any background screening as would be required at a storefront gun dealership.
"We support the right of people to have guns, but we don't believe that you should be able to sell or transfer your gun without making sure that the person who is purchasing the gun is legally entitled to," said Berman, D-Lantana.
Measures aimed at tightening restrictions on gun sales or use haven't typically been successful in the Legislature. The measure will be opposed by the National Rifle Association.
"This is supposed to be a free country, and law-abiding people are not supposed to be encumbered by every imaginable kind of restriction that a legislator who doesn't like guns makes up," said Marion Hammer, the lobbyist for the NRA affiliate in Florida.
Hammer said the proposal has another problem – because in cases where the buyer fails a background check, if the gun can't be returned to the seller, the dealer must turn it over to a sheriff. She called that "confiscation with no compensation."
The bills (HB 1343, SB 1640) would ban the sale of guns to convicts, fugitives, veterans who were dishonorably discharged, and people addicted to drugs or committed to mental institutions. One party in all gun sales would have to be a licensed dealer under the measure.
The Senate version of the measure is sponsored by Sen. Maria Sachs, D-Delray Beach.
It's not the only bill filed in the Legislature that would create additional requirements related to gun use. Democratic Sen. Audrey Gibson of Jacksonville filed a bill (SB 1678) earlier this month that would require anyone wanting to buy ammunition to have gone through an anger management course.
The bill would make it a misdemeanor to sell ammo to anyone who hasn't successfully completed a two-hour class on anger management techniques. In an interview, Gibson cited the shooting death of an unarmed Jacksonville teenager in a recent fight over loud music as an example of the need for the proposal.
She acknowledged that the bill itself is making some people angry.
"If you're angry about taking a two-hour anger management class, maybe you might want to take it," Gibson said.
The House version of that legislation (HB 1229) is sponsored by House Democratic Leader Perry Thurston of Plantation.
–Margie Menzel, News Service of Florida