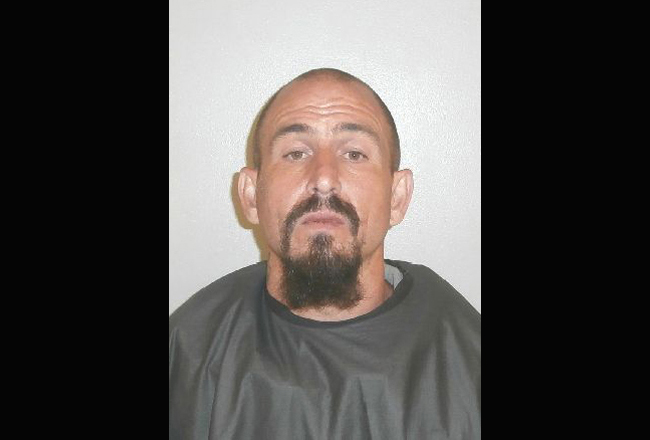 Sunday evening (Oct. 13), 51-year-old Joseph Dodgen, a resident of Birch Street in the Mondex (also known as Daytona North) was riding his truck with Ocean Gregory, his 38-year-old niece and a resident of Hazelnut Street, and Jessica McBryde, a 24-year-old resident of Cherry Lane.
They were riding on Hazelnut Street when, according to an arrest report, Joshua Spencer, who lives at 1525 Hazelnut Street, confronted them and accused Dodgen of "doing donuts" with his truck in front of Spencer's house. Spencer had flagged down Dodgen then, according to Dodgen, said he would "put his redneck ass down," pulled a .357-caliber pistol, and allegedly struck him in the mouth twice with it.
Dodgen claims Spencer also threatened to set the truck on fire. As Dodgen drove the truck down Hazelnut, he claims Spencer fired the gun once in the truck's direction.
McBryde told police that after being accused of doing donuts on Spencer's property, Dodgen asked Spencer if his "cheese fell off the cracker," at which point Dodgen was–according to McBryde–struck on the face. When McBryde told Spencer she'd be calling police, she says Spencer struck Dodgen in the face again, and fired the gun as the truck was pulling away.
Spencer told police that he's a convicted felon, and that he doesn't own any firearms (It is illegal for convicted felons to own guns.) He denied that there'd been an altercation in front of his house, but said that the alleged victims were trying to get him in trouble with police because, he said, they're "crack heads." Police sought to speak with Spencer's wife, but she was uncooperative, according to the arrest report, beyond saying that there were no guns on the property.
Deputies interviewed neighbors to determine whether shots had been fired. One neighbor told police that she'd heard two shots. The arrest report also notes that there had been numerous weapons complaints in the area of 1525 Hazelnut Street, including one in May, one in September, and two in October (on the 10th and the 11th).
Spencer was arrested and charged with one count of aggravated battery with a deadly weapon (a second degree felony), three counts of aggravated assault with a deadly weapon (third degree felonies) and one count of firing or throwing a deadly missile at a vehicle or a holding (a second degree felony). He was booked at the Flagler County jail, posted $14,000 bond and was released.