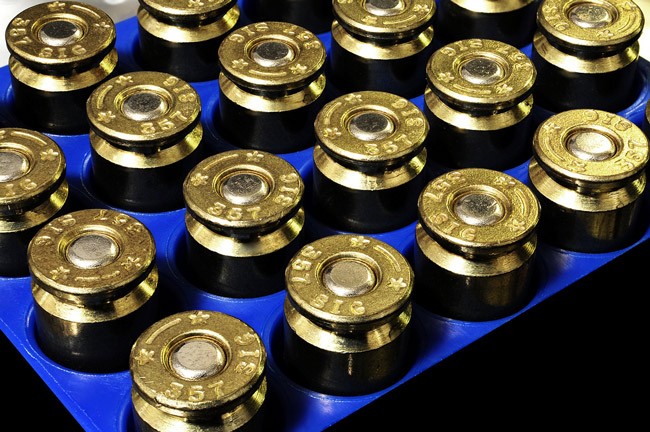 Guns and ammunition remain in a proposed Independence Day sales-tax holiday on hunting gear that is part of a wide-ranging tax cut package that advanced Tuesday in the House.
In supporting the $690 million tax-cut package (PCB FTC 15-05), the House Finance & Tax Committee rejected efforts by Democrats to remove firearms and ammo from a proposed one-day sales tax holiday for July 4. Also, it rejected a separate amendment to remove a tax exemption on admissions and membership fees for gun clubs.
The tax package, which is expected to next go to the House Appropriations Committee, awaits a Senate counter offer.
"I think we've got a great broad-based tax package that's going to help millions of Floridians, all 20 million of them," said House Finance & Tax Chairman Matt Gaetz, R-Fort Walton Beach.
Rep. Jose Javier Rodriguez, D-Miami, sought to remove firearms and ammo from the Independence Day tax holiday. He said the proposal sends mixed messages, as law enforcement will be telling people at the same time not to fire guns into the air.
"It's not an exaggeration to say that it really is a bad policy when we have law enforcement expending resources to address a public safety issue and in our tax code he have the exact opposite incentive and we're encouraging people to purchase ammunition for the holiday," Rodriguez said.
---
A Miami lawmaker says the proposal could help increase tourism by promoting hunting and fishing in the state.
---
But Rep. Frank Artiles, R-Miami, said the proposal could help increase tourism by promoting hunting and fishing in the state.
In addition to rifles, shotguns, spearguns, crossbows, and bows, the July 4 sales-tax event would cover camping tents and fishing gear.
"While I understand my Democratic colleagues don't like firearms and ammunition, the reality is that fish hooks also kill fish," Artiles told Rodriguez. "But apparently fish are not important to you."
National Rifle Association lobbyist Marion Hammer called the Fourth of July tax holiday "tremendously appropriate."
"On Independence Day honoring our founding fathers, who used firearms and ammunition to purchase our freedom, is not only symbolic, it is a tribute to the patriots who carried firearms and ammunition against our enemies and built our new nation," Hammer said.
The committee, in being asked to consider 15 amendments to the tax plan, agreed to a couple of minor changes, including one that would maintain a tax credit for groups such as Habitat for Humanity and Building Homes for Heroes when those projects are within areas of former enterprise zones.
Lawmakers are allowing the reauthorization of enterprise zones to die at the state level, Artiles said.
The Senate, which continues to review individual bills offering tax cuts and business incentives, has held off on introducing a tax package as Florida continues to negotiate with the federal government over funding for the Low Income Pool program. The program helps pay for health care for low-income and uninsured patients.
Katie Betta, a spokeswoman for the Senate President Andy Gardiner, said in an email Tuesday that no timetable has been set for the Senate's tax-cut package.
The House tax-cut proposal is $17 million larger than a $673 million package requested by Gov. Rick Scott. Both packages are highlighted by a Scott proposal to reduce taxes on cell-phone and pay-TV bills by 3.6 percentage points.
The House package also includes such moves as eliminating sales taxes on college textbooks and cutting a tax on commercial-real estate leases from 6 percent to 5.8 percent.
The package also would lead to a three-day period starting July 31 when back-to-school shoppers would be able to avoid paying sales taxes on clothes and other school-related items. Also, the House has proposed a small-business tax holiday two days after Thanksgiving.
–Jim Turner, News Service of Florida