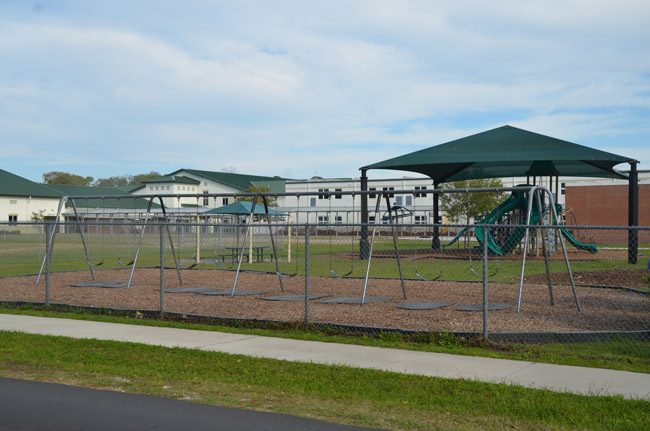 A police report detailing the incident that caused a lockdown at Bunnell Elementary School Wednesday afternoon reveals that a gun was almost certainly involved just past the fence of the school's playground off Magnolia Street and that the gun was pointed at a student on the playground.
But while one individual was arrested, the weapon has not been found, nor its nature determined. Indications are that it was either a handgun or a BB gun.
And further details about the alleged assailant's young life point to chronic instability at home, repeated moves within and out of the county, and a long disciplinary record that includes repeated in and out-of-school suspensions, according to people closely familiar with his history. He was suspended from school this last time reportedly for creating a significant disturbance in the cafeteria, and weeks ago had reportedly been involved in an incident involving a knife. The incident was investigated, no knife was found and the accusation was deemed unfounded, a district spokesman said.
The individual arrested is a 13-year-old sixth grader at Bunnell Elementary, suspended from the school since last Friday. He has since been released. The Department of Juvenile Justice detention facility in Daytona Breach reviewed his case but would not take him Wednesday, ordering him released to his mother and issuing a court date.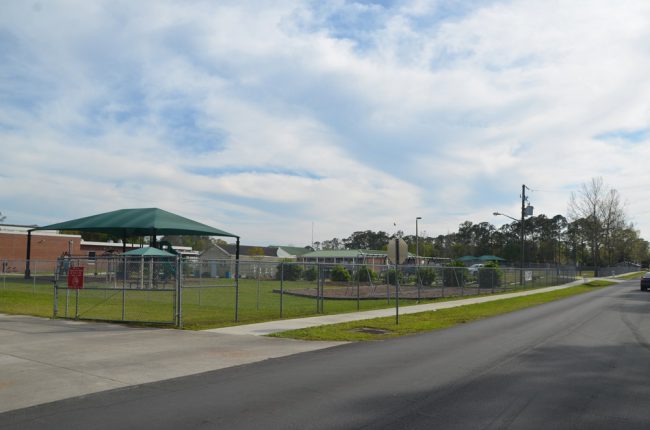 His mother, Nicole Russo, 35, now has this in common with her son: a charge of aggravated assault. Her son faces that charge following Wednesday's incident, in which he's accused of pointing a weapon at another child. She was similarly charged in 2011, when she was accused of taking a baseball bat to her ex-husband's girlfriend at a Bunnell business as she yelled out obscenities in the presence of one of her children. She pleaded to disorderly conduct. She'd had other issues with the law, including two felony charges when much younger, and has faced several evictions and domestic relations, according to court records.
Russo told police on Wednesday that since her son's suspension, he'd been very angry "yelling at her when she asks him to take out the trash." She could give no specifics about his anger, a police report states. When told that her son had been reported to have a gun at the time of the incident, she "responded by saying she has a pellet gun in her closet and when she asked her older son to check for the pellet gun, her son told her it was not in the closet." (It's not clear why she would have asked her son to check in the closet before being told that a gun incident was being investigated.)
Police believe another individual was involved in the incident. His name was reported as "Mike," though that's all police knew as of this morning.
"There is another individual we know the first name of, that we are seeking out to possibly recover a firearm, because it wasn't at that scene that was searched," Bunnell Police Chief Tom Foster said this morning. He described Russo's son as having "behavioral problems."
The mother of another student contacted the Bunnell police investigator about Wednesday's incident to report that her son had been threatened with a gun. She gave the officer permission to interview her son, who explained that he had been playing in the school's rear playground, by the fence that runs along East Magnolia Street. The child told the investigator that he saw Russo's son (whom he identified by his first name), along with another male known as "Mike," riding their bikes up and down the sidewalk. (The Russo residence on South Moore Street is only a few blocks away, across State Road 100.) The child told police that he saw Russo's son stop, pull a gun out of his pants' pocket, and point it at him.
The child said he walked away, told other students then told a teacher. He could only describe the alleged weapon as a "long pistol." That testimony was provided by phone to the investigator.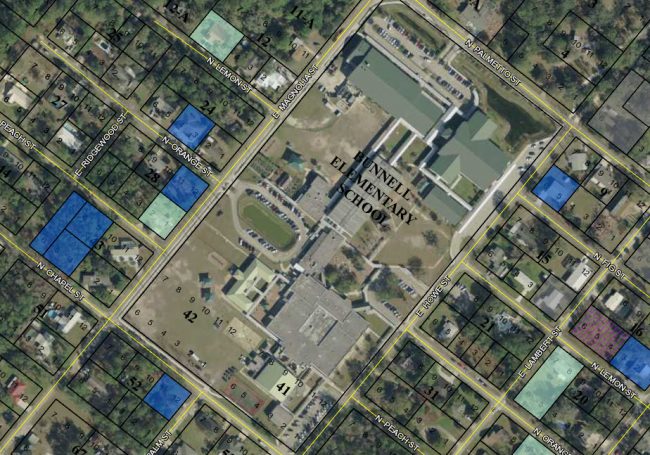 A Flagler County Sheriff's deputy met with a Bunnell Elementary student who had witnessed the incident in person. Because of redactions, it's not clear in the report if it's the same child who'd spoken by phone to Bunnell police or a separate witness. That child's statement is more explicit, and quoted word for word in the report: "Me and [one or more children] were hanging out at the back of [campus] at Bunnell Elementary, [the alleged assailant] was riding up and down the road. [Some of us] went to get a bottle of water and then [the alleged assailant] pulled up on a bike and pointed a gun at me. He pulled the gun from his pocket. The gun appeared to look like a revolver style gun. It was silver with a black handle. He ran and hid behind a truck. I ran to my friends and we told on him."
The Bunnell police investigator sought permission from Russo to speak with her son, which she granted as long as she was present during the interview. She spoke with her son first—the interview took place at the Sheriff's Operations Center, not far from the school—but as soon as the investigator walked in the room and read the boy his Miranda rights, the boy refused to speak, and the interview ostensibly ended before starting. The officer left the room.
He returned later to place the boy under arrest. As he was explaining the charge, the boy said, according to the police report—in a faint voice—"It was a BB gun." But there was no explanation as to the whereabouts of the gun. When sheriff's deputies located the boy during the frantic search Wednesday, after the Code Yellow was declared at the school, they found him in the area of East Howe Street and North Orange Street, right in front of the school (on the other side of campus from the playground), but a search of the area produced no weapon.
The boy was then transported to the Flagler County jail, where he was to be booked and transported to the juvenile detention facility in Daytona Beach—until the Department of Juvenile Justice declined to take him.
During a pre-arranged news conference on school security held with Superintendent Jim Tager at Buddy Taylor Middle School this morning, Sheriff Rick Staly revealed that there had been what could in future be a critical security lapse at Bunnell Elementary during the incident: a law enforcement officer was actually on the 20-acre campus when the incident developed, but could not be reached on his radio, because the radio signal doesn't reach into many parts of the school, just as it does not in many of the district's schools. Staly used the example to stress the importance of the county's ongoing plan to upgrade the county's emergency communications system with a new network that should resolve those issues. But that resolution is not due for another few years.