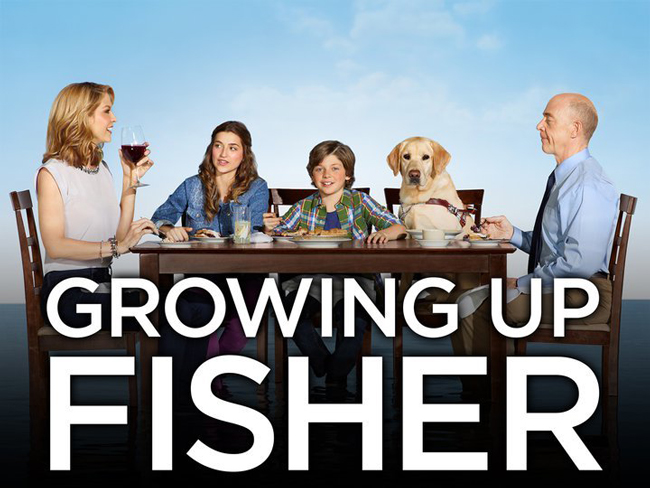 By Kathi Wolfe
I'm legally blind. Like most blind people, I don't take cars for test drives, chop down trees with a chainsaw, or keep my blindness a secret.
You wouldn't know this from watching the new NBC show, Growing Up Fisher, a TV show about a blind lawyer named Mel and his family.
I was thrilled when I heard "Growing Up Fisher" was in the works. The sitcom, which takes place a generation ago, features J. K. Simmons as Mel, Jenna Elfman as his ex-wife Joyce, Ava Deluca-Verley and Eli Baker as his two kids Katie and Henry, and his guide dog Elvis. Jason Bateman is the voice of Henry, now an adult, who narrates his family's story.
DJ Nash, Fisher's creator, loosely based the program on the true story of his blind father.
Growing up visually impaired, I noticed that people with disabilities rarely showed up on television. Today, though nearly one in five people in the United States has a disability, there are still hardly any disabled characters on TV. In 2013, there were only eight characters with disabilities on all scripted TV primetime shows, according to the Gay & Lesbian Alliance Against Defamation (GLAAD) report "Where Are We on TV?."

While it does feature one of the few blind characters on TV, I'm far less enthused now thatGrowing Up Fisher has been on the air. Though this isn't, I'm sure, Nash's intent, the show perpetuates misconceptions of blind people.
People usually can tell if you can't see where you're going or if you lack the vision needed to read a book. Being completely blind would be next to impossible to conceal.
Yet, on Fisher, Mel, an attorney, who's been blind since he was 12, had managed to keep his blindness hidden for decades. He graduated from Harvard Law School and served numerous law clients for years without revealing that he couldn't see. He's so ashamed of his blindness that he didn't "come out" as blind until his divorce.
Even in the 21st century, discomfort, fear, and ignorance fuel prejudices toward people with disabilities. Because of this, some blind people, particularly those who came of age 40 or 50 years ago, might want to be closeted about their disability.
Regardless, most of us — bolstered by technology (such as large-type computer software), mobility aids (white canes or guide dogs) and protections offered by the Americans with Disabilities Act — want to be "out" about our blindness.
I get that Growing Up Fisher is a sitcom featuring one blind character, not a documentary. And that it doesn't depict the experiences of all blind people. But it's hard for me not to cringe when Mel does things that most blind people in real life would rarely, if ever, do. He hits cars in crosswalks with his white cane, checks his guide dog into a restaurant cloakroom, chops down trees with a chainsaw, and takes his clients' cars for rides.
Many people haven't met folks like me. TV helps to form our perceptions of those who are different from us — whether they are people of color or people with disabilities. I worry that Growing Up Fisher's stereotypes will exacerbate misunderstanding of the blind community.
If it stays on the air, I hope the show will get in touch with the reality of the lives of blind people. If that happens, Mel would become a role model for people with and without disabilities. Otherwise, Growing Up Fisher won't be must-see TV.

Kathi Wolfe is a writer and poet. Her most recent poetry collection "The Green Light," published by Finishing Line Press.