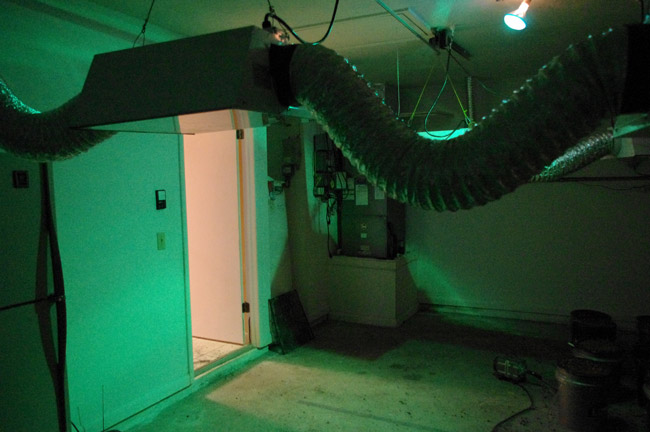 Update: all but one of the charges against Kevin Fitzgerald were dropped, except for possession of marijuana of over 20 grams, for which he served probation. In 2013, he was charged with probation violation. He faced a charge of assault in 2013, which was also dropped. Michael Menear was placed on probation for manufacturing marijuana, also faced a probation violation charge and had his probation extended two years.

The smell of infidelity gave it away.
The man's wife had become suspicious that her husband, Kevin Fitzgerald, was seeing another woman. Somehow she discovered her husband's F-250 truck at 111 Birchwood Drive in Palm Coast. She then started her own investigation at the house. According to police reports, she found "documents with her husband's writing and another woman's account information in a trash can on the side of the residence," an ageing, 1,400 square-foot one-level house surrounded by greenery that was homesteaded last year, but not this year, according to property records.
The woman called her husband and confronted him about what she was discovering. Kevin, according to his arrest report, "sounded panicked and told her he was on the way" so they could talk about it. After hanging up, the woman heard ventilation fans running near the garage door. She "started to snoop around the house," the report states. "With this information and knowledge of her husband's cannabis habit [the woman] suspected the house was a grow house."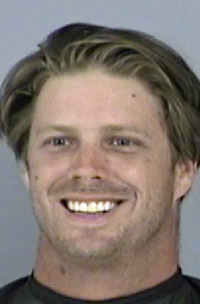 She'd later tell cops that she'd found a broken glass panel by the door knob to the back porch, through which she was able to unlick the door and walked in. Inside, she found a picture of her husband with a woman—Shannon Best, a part-time resident at the house—sitting in his lap at Universal Studios. Meanwhile, she could smell pot. She opened the door to the garage and found several marijuana plants. She took pictures, she told cops, then opened another bedroom door and found more plants. She photographed those, too, according to the report. And called her husband again to confront him about what she was seeing. He was on his way.
The woman then called her mother, telling her that if she didn't hear from her by a certain time, "to call the sheriff's office." The woman herself also called the sheriff's office to report the grow house.
Then or shortly after, her husband, who's 35, and Michael Menear, 38, of Prosperity Lane in Palm Coast,  arrived. (Kevin Fitzgerald's arrest record lists his address as 16 Ivey Lane in Flagler Beach, but that address, according to property record, while owned by the Fitzgeralds, is a vacant lot.) The two men immediately began ripping out plants and loading them in Kevin Fitzgerald's truck, according to the reports. The woman "grabbed a bag of packaged cannabis and threw it in the woods until deputies arrived."
She said there was no violence between her and her husband, though the police reports state that the original deputy responding to Birchwood Drive was doing so because of a possible physical disturbance. By then, of course, the woman had already called the cops, and responding to a "possible" disturbance may have a been a pretext, since deputies knew that a grow operation had been reported, and knew what to look for.
According to the reports, the trio at the house was in the front yard when cops arrived, "in a verbal confrontation." A deputy asked Kevin for his identification, when Kevin was at his truck. Doing so, the deputy smelled marijuana and saw equipment in the truck that was "consistent with grow operation equipment." The cop called for narcotics investigators, two of whom "entered the residence through the open back porch door to secure the residence for a possible search warrant." Cops also noticed the tracks of dirt from the garage through the house, leading to the front door, and, in the garage, "several empty pots and ventilation system." A detective noticed the same in a bedroom, where the carpeting had been removed. All the doors and windows were secured, and the detectives exited the house.
Kevin Fitzgerald, according to his arrest report, told a detective that "he was growing cannabis in the residence." The house, he said, was in his friend's name—Shannon Best, who was in Colorado at the time. (The house ownership is actually under the Blumel Trust and Marguerite Melvin of Northvale, N.J., according to property records.) Detectives contacted Best by phone. She gave permission for the house to be searched without a search warrant.
Menear meanwhile initially told cops that he was never in the grow house, but later said he had gone in and helped Kevin pull the plants and load them on his truck.
In all, deputies netted 91 marijuana plants that had been removed from the house. "At full potential, these plants would have yielded 15 pounds of marijuana with a street value of $37,000," a sheriff's news release states.
Both men were arrested at 3:30 p.m. Wednesday. They each face a charge of cultivating marijuana, and Kevin Fitzgerald faces a charge of possessing more than 20 grams of marijuana (a third-degree degree felony). He posted $5,000 bond. Menear posted $2,500 bond.
The number of plants is material to their charges: cultivating less than 25 plants is a lesser felony than cultivating more than that amount, which could result in a 15-year prison sentence.
"I anticipate additional charges may be filed as the detectives complete their investigation," Sheriff Don Fleming said.
In February, the sheriff's office busted another grow house—a smaller operation at 20 Princeton Lane in Palm Coast. There, 24 "starter plants" were discovered. Luis Urra, the 39-year-old Palm Cast resident arrested for that operation, has a pre-trial hearing in Flagler County Circuit Court in mid-July.
…