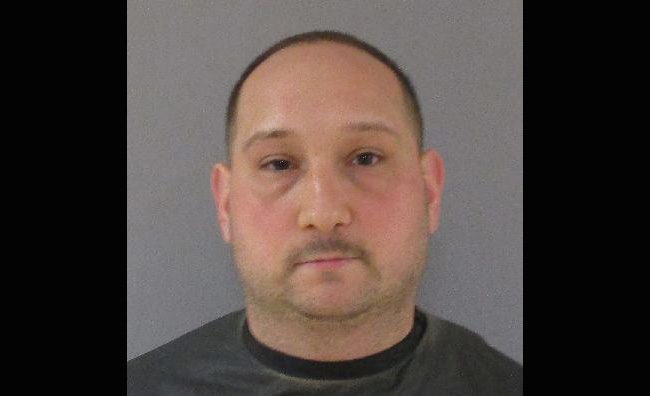 Andrew Gross, a 36-year-old resident of 5 Red Barn Drive in Palm Coast, had a couple of arrests in Volusia County before–for aggravated battery with a deadly weapon, obstruction, possession of a narcotic–but until today, he'd not been arrested in Flagler County.
Then this happened: at about 11 this morning, a woman called 911 to report that her neighbor allegedly broke into her home–the home from where firefighters had advised her to evacuate, because it had been severely damaged by Hurricane Irma, and power lines were dangling nearby.
The house belongs to a 70-year-old woman. She told deputies that she returned to the house today to check on her daughter's puppy, which had been crated in a back bedroom. She tried to open the front door but had trouble doing so, which she thought was odd. Once she managed to open the door, she found a man standing in her living room near the hallway–wearing latex gloves. She recognized him as her neighbor: Gross.
He had actually come over to the house the previous evening during the storm, when the woman's daughter subsequently felt he was "casing" the house: the two women had no relationship with Gross, and the younger woman thought it was odd he'd come over. (That very evening Jim Payne, an anchor on WESH 2 News, which was also simulcast on radio, went on a long disquisition about how even neighbors who are strangers to each other should go to each other's houses if they feel so compelled).
"What are you doing in my home?" the homeowner asked him.
"Just checking on the damage," a startled Gross replied, according to his arrest report. But then he fled through a back door–smashing through two glass panels, breaking them and falling on the ground as he went.
The woman yelled out for her daughter, who had remained in the car. The two women then surveyed the scene and discovered that Gross had allegedly used a cinder block or a paver to break one of the glass-paneled doors. The daughter went to 5 Red Mill and persistently knocked on the door until Gross responded, and "admitted to being inside the home," according to his arrest report.
When Gross noticed police near the property, he quickly retreated back into the house, according to his arrest report, then hesitantly came out when cops asked him to. When asked why he'd gone into his neighbors' house, he said he'd heard a woman speaking inside and thought she was asking for help, so he went as far as the backyard, but when he asked the older woman if she was OK, she began yelling at him, so he left. He denied entering the house.
Missing from the house was a $50 bill from the woman's dresser, 30 prescription pills missing from the master bedroom, a diamond gold wedding band, an engagement ring and other jewelry items, the lot valued at about $7,500. The woman, the arrest report states, "wished to pursue charges against the male, because she is already down on her luck and for him to do this is unacceptable."
Detectives were securing a search warrant for Gross's home at the time of the arrest.
Gross was charged with burglary during a state of emergency and grand theft during a state of emergency, both felonies, and was booked at the Flagler County jail, where he remains this evening on $5,000 bond.
It is the second serious crime recorded during the height of the emergency related to Hurricane Irma. On Sunday evening, three people were arrested in Flagler Beach and charged with curfew violation and other misdemeanors, and one of them was charged with burglary after allegedly entering a vehicle.