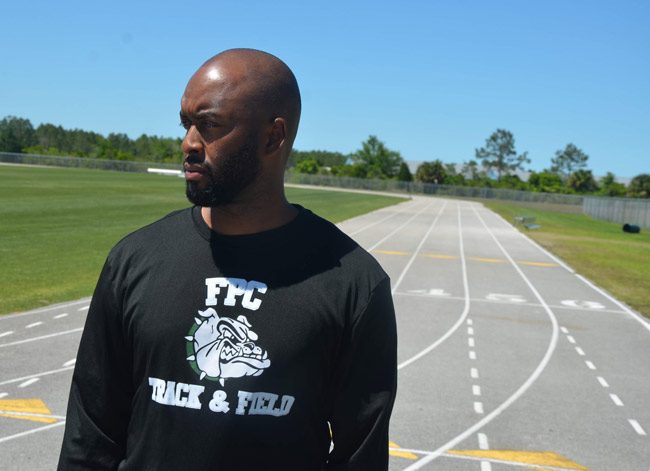 Derrick Griffin is a 35-year-old Navy veteran who spent 11 years in the military, including deployments to Iraq in some of its most violent years. He was there in 2004, was deployed in Fallujah, one of the war's deadliest cities, and is the recipient of a Purple Heart. He was, as students are reminded on numerous occasions recognizing veterans throughout the year, among the men and women who volunteered to defend the nation's liberties.
Two weeks ago Griffin discovered the limits of those liberties at Matanzas High School.
Griffin, the parent of two children at Old Kings Elementary with a third on the way, is a paraprofessional working with exceptional student education students at Indian Trails Middle School. He's also a track coach, assisting ITMS's Katie Hoover in training some 50 middle school students through the sheriff's Police Athletic League, or PAL. The team trains at the track at Matanzas High School.
Two weeks ago at the track, two Matanzas track coaches–Tim Kane and Jeremy Schaefer–booted Griffin off the track. The reason: he was wearing a Flagler Palm Coast High School shirt.
Kane and Schaefer didn't speak to him. Not that time. They spoke to Hoover, dragging her back in from a run she'd been on with her students. They told her Griffin could either change shirts or get off the property, though there's no district policy, no regulation, no rule, controlling what school shirts PAL coaches or anyone using school facilities and not connected to the school may or may not wear.
"That is not in school board policy," Earl Johnson, a senior district administrator, said, "that's not in our dress code that you can't wear a different school's shirt on a property. That's not in policy."
Griffin actually wore a Matanzas shirt once a week at the track anyway, as part of his "rotation" of four shirts that included Matanzas's, FPC's, a state track shirt and a fourth shirt.
That day two weeks ago Griffin didn't want to make a scene. Nor did he think, as a grown man and a professional coach training students in a successful after-school program that had nothing to do with Matanzas, that he should be told what to wear by people who are not his employer, not his colleagues, and not his drill sergeant (the last person to tell him what to wear).
"Because of her relationships with the school and all of that, I didn't want to mess up her future relationship with that school," Griffin said, "so I complied and said I'm not taking off my shirt, because this is wrong, but I will leave. I didn't even get to finish my practice with my sprinters. I had to leave mid-practice, and I went home. I was upset." Hoover was not left alone: Esteban Soto, another assistant, was with her coaching the students.
---
Two days earlier, the school superintendent had spoken of school unity as represented by a fallen student.
---
Griffin called Ryan Andrews, the athletic director at Indian Trails and an assistant principal, and reported the issue. "He was like, are you serious? He was like, that's ridiculous," Griffin said. "That should not be happening."
Andrews confirmed speaking with Griffin. "I support our coaches," he said. "Our coach is a fantastic guy, he served in the military and I think we definitely have to come to some sort of conclusion here." He said he wants "everybody to be treated fairly." Griffin says he also left a brief phone message through a school secretary for Matanzas Principal Jeff Reaves, telling him it "involved a situation that happened at the track." Reaves says he never got the message.
Griffin's conduct was never questioned, not even by Matanzas coaches or the principal: he never said anything untoward, never acted without professionalism. Hoover speaks of Griffin in glowing terms. "He has always conducted himself with the utmost professionalism and respect, he's been a role model for our athletes," Hoover said. "He's been an amazing coach. I have been proud to coach with him for the first season that we coached at Indian Trails."
One Family?
Griffin was booted off the field the last week of the season. Just two days earlier, Superintendent Jim Tager had stood before television cameras and other reporters and spoken of Matanzas and FPC being unified by Curtis Gray, the 18-year-old student shot and killed on April 13 who'd been a student at both schools and had this year transferred to run track at FPC. Tager described him as "a peacekeeper to keep groups together." Tager, coaches from both schools and Matanzas's principal, Jeff Reaves, repeated the unity theme at a memorial for Gray last Sunday. By then, Reaves knew all about the Griffin incident–and justified it.
It was not the first time the FPC shirt had been an issue at the school. But it had not been a recurring issue, either: there'd been a similar incident in January. Then nothing until the end of the season, according to Griffin.
Schaefer did not respond to an inquiry about the incident. Kane deferred it to Zach Rigney, the athletic director, who spoke to a reporter on a conference call with Matanzas Principal Jeff Reaves with him, the day after Reaves, when first questioned about it, said he was not aware of the issue, and himself deferred inquiries to Rigney.
By then, Reaves and Rigney provided a somewhat different account than that provided by Griffin, Hoover and Esteban Soto, another assistant coach in the PAL track program. Reaves and Rigney did not dispute that Griffin was asked to change his shirt. But they claim that it was Hoover who gave him the choice to change or leave campus.
That's not what Hoover said happened, nor what Soto or Griffin say happened, and it suggests, incredulously, that Hoover on her own, in the last week of practice, would have interrupted her own run with students, returned to Griffin, and told him to either change or leave, though she has nothing but praise for her assistant coach.
"Two head coaches approached me and asked me to convey that to him," Hoover said. "They said that he'd been given a shirt by the Matanzas athletic director and was expected to wear Matanzas clothing when on on Matanzas' campus, and not FPC clothing." Hoover added: "That was the first time that I had heard of a clothing requirement in an after-school program beyond just wearing appropriate clothing for the weather."
Reaves and Rigney say Griffin was spoken to "five or six times" about the shirt during the season. They did not say by whom, other than Rigney saying he was among those who spoke to him.
From Requests to Demands
The first encounter about the shirt took place the first week of the season, in January, when Griffin says Rigney presented him with a shirt and asked him to wear it. "That happened the very first week. It was tense, but it was kind of–you didn't know if it was jokingly or, you know," Griffin said.
"I just asked him if he was working for PAL or Indian Trails," Rigney said, "he said he was, I said hey man, I've got a Matanzas shirt, could you wear that around my kids."
Griffin took the shirt and said he'd be happy to wear it along with his other shirts. "I threw it into the rotation," Griffin said, "and throughout that whole season nobody ever said anything to me about my shirt. I still wore my shirt, I just threw the Matanzas in there."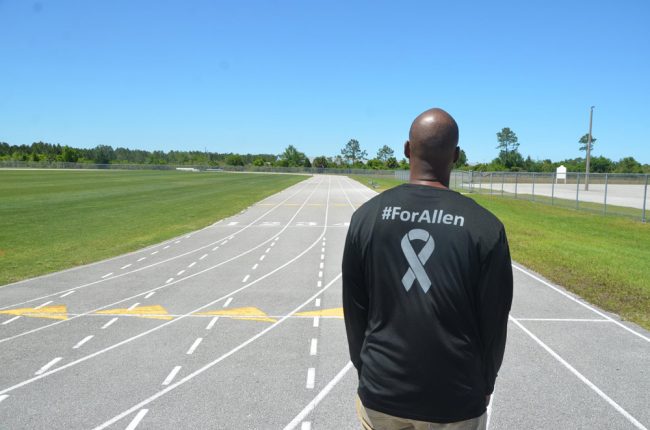 The week before the end of the season, Kyle Johnson, whom Griffin took as another Matanzas track coach, "was walking toward me kind of aggressively, he was holding a Matanzas shirt," Griffin said, "while I was in the middle of my track practice in the middle of the field, and he was like, you need to take off that shirt. I looked at him, I was just like, take off my shirt? I'm not taking off anything. So he was just like, no, you need to take it off. I'm an adult, I'm a grown man. Nobody's going to tell me what I need to do and how I need to do it. He's holding this shirt like you need to take this shirt off and put this shirt on. The tone changed, because at that moment, this is totally disrespectful. One, it's in front of my track runners, so if you want to handle anything professionally, we could have addressed this off line. But he was trying to make a statement." (Johnson did not respond to a message relayed to him through Rigney.)
Griffin refused to change. "I said I don't run for your school, I don't work for your school, I don't work for any high school, I work for Indian Trails, I'm getting paid through PAL so we can wear what we want," he told Johnson. "He was like, I'm going to make sure you don't wear that shirt anymore here. He said the athletic director told you and all the other coaches told you that that's disrespectful to this school. I told him you guys are looking at it the wrong way, because what if this was one of my track runners wearing this FPC shirt because their brother or sister, their mother went to FPC? Would you come at them the same way? He walked off."
"I don't think it should have been handled in front of the kids the way it was because the kids were upset," Soto, who witnessed the incident, said. "We had our kids in a huddle when he walked up and started talking like that right in front of the kids." Soto said he could see both points of view, but could not understand the way it was handled. "We're there for the kids, I'm 100 percent for the kids."
"Too Childish For Me To Comment On"
The next day, Griffin said he talked to the head coach of the track team on the field and complained about Johnson's manner and tone. The head coach, who was never confrontational in that conversation, apologized, he said. "He said [Johnson] was out of line and he won't do that again," Griffin said. "He was like, you have to understand how this shirt is looked at at this school. This is Matanzas. I said how you guys are looking at it is totally different from how it should be. I said we're in Palm Coast, one, I said two, I can understand your argument if I worked for Matanzas and you're like, hey, you work here, you teach here, you coach here, what are you doing with an FPC shirt on? I can totally get that. But I work at a middle school, I coach at a middle school, and I've worn both these shirts. You never say anything when I wear the Matanzas shirt, but it's a problem if I wear the FPC shirt." He asked about any policy about that. "That's coming from the AD," the head coach said, referring to Rigney, the athletic director. "The AD said no FPC gear is allowed here. That's what the head coach told me that the AD said. At that point I knew this was all BS."
Steve DeAugustino, the athletic director at FPC, was nonplussed by the situation. "If I'm on an FPC team and I'm playing for FPC I would expect that they would wear FPC attire," DeAugustino said, "but PAL is not restricted to serve one school or the other. I personally would be grateful the man was volunteering his time to work with kids in whatever sport." (PAL coaches aren't volunteers, but almost: they're paid $30 per season per student participant. In Griffin's case, he agreed to split even that fee in half so there could be another assistant coach, reducing his stipend to, at most, around $750 for the season.)
DeAugustino said at most the wearing of the FPC shirt on Matanzas grounds could be seen as "in poor taste," but given the aim of the PAL program, I don't know why that would be an issue," he said. "Personally I wouldn't make anybody–hearing this it's almost too childish for me to comment on. You're helping kids wanting to run track, OK?"
DeAugustino said the rivalry between the two schools has been healthy, especially between the students, who always display good sportsmanship–take pictures together after games, hang out. "They all know each other," he said. But, he stressed, as Earl Johnson, the district administrator did, that beyond the standard dress code, which applies during the school day, there is no district policy controlling what may be worn in afterschool activities.
Fear of "Recruitment"
But Rigney and Reeves said they were not going by Flagler County School Board policy. They said they were going by state policies–policies 36 and 37 in the Florida High School Athletic Association rulebook. When interviewed last week, they said the reason Griffin had to change was because they were trying to avoid the appearance that Griffin's shirt could send the message that he was "recruiting" for FPC–not recruiting the students on the Indian Trails team, with whom he worked exclusively, but recruiting Matanzas High School track students across the field, with whom he had zero interaction, but who could theoretically see his shirt.
---
"I didn't want to have the appearance or the perception that he was recruiting for FPC."
---
"Wearing an FPC shirt to Matanzas with our athletes, it's kind of a gray area, I didn't want to have the appearance or the perception that he was recruiting for FPC," Rigney said.
"Not that he was, but you want to avoid the appearance," Reeves said.
In a 30-minute interview, Griffin had never mentioned anything about the issue arising from fears of recruiting. He never mentioned the word. Never said anyone from Matanzas–not the coaches, not the athletic director, not the principal–ever spoke to him about their concern with recruiting, appearance or otherwise. Nor did Hoover. Nor did Soto.
That's because neither Rigney nor anyone else ever told Griffin that that was the reason they wanted him to change his shirt. Rigney says Griffin was asked "multiple times" to change his shirt. But Rigney himself says he was never told why.
"No I didn't have a conversation as to why," Rigney said. "I didn't have that conversation with him no. I did not."
Why not? Rigney said he didn't have an answer. Nor did Reaves.
"I can't answer that question to you," Reaves said, "but you have multiple conversations with someone and asking them to change when you're on their campus, and choosing not to, we can't have the appearance of recruitment. And again, I'm not saying that he was. But we wouldn't want to have that appearance."
Nor could they answer why this was an issue since Griffin wasn't even an FPC coach or affiliated with FPC in any way regardless–only that he had previously worked there as an assistant track coach (where he was admired and beloved by students, according to those who knew him there). It's not as if they didn't know that he wasn't with FPC: Rigney says he'd asked Griffin where he worked in their one and only conversation.
The appearance of the Reeves and Rigney account is that recruitment was never the issue, since Griffin was never once told about it, but that it became the only rationale Reaves and Rigney worked out and could offer by way of explanation once faced with questions about how Griffin was treated, a day after Reaves was first asked about it, and hours after Rigney was asked for any communications, electronic or written, pertaining to his decision: there were none, the district's search of records revealed, and the district's attorney said.
And the policy in question goes nowhere near justifying Rigney's claims or fears of recruitment. It addresses "improper contact" and lists prohibitions, but in every case the contact is wilful and explicit through direct written communications to specific students, "Visiting or entertaining the student or any member of his/her family," making direct contact with the student or family to pressure a choice, distributing promotional materials that ranks a school as better than another, and so on. There's no such thing as even the "appearance" of recruitment through telegraphing the benefits of another school by the mere wearing of a shirt, even on the same field with other students–though Griffin was only incidentally in the presence of Matanzas students, and not in contact with them. It was the same situation as if Griffin were coaching on one field at the Indian Trails Sports Complex, wearing an FPC shirt, and Matanzas students were training on an adjacent field: no "recruitment" could be inferred.
There was never an explanation to Griffin, nor an apology, of course. "Could we have probably explained it to him along the way, I wouldn't disagree," Reeves said, "but I'm not going to knowingly violate a sanctioned sport requirement." Except that, knowingly, there was no violation, nor a discussion of a violation or the appearance of a violation.
The PAL track season is over. Several students in the program qualified for state competition. As for next year, it's not clear what Matanzas's approach will be if the same situation recurs, though Reaves isn't leaving much doubt: "When PAL and whoever use our facilities, we'll have conversations with them up front to make sure there's no issues in the future," he said.
Reaves said the matter has nothing to do with the rivalry between the two schools, and scoffed at the possibility that the incident may have been a reflexion of an inferiority complex, given FPC's successes. "We're pretty close head to head in all our athletics. We're pretty competitive and we'll remain so," Reaves said. "There is no inferiority complex." He described competition as healthy in a "culture that's rich and spirited for competition."
Griffin sees it differently. The shirt incident to him "sends almost a bullying atmosphere to students," he said, referring to his own athletes who witnessed one of the encounters and who, he said, may now have a bad taste about Matanzas.
"It wouldn't be a rivalry if Matanzas happened to be on the winning end of the stick," Griffin continued. "I believe if it was reversed, if Matanzas was a dominant track team and I wore FPC shirt, would they be telling me to take it off? No. They'd probably be like, look at him in that shirt, like why are you wearing that shirt, because they suck, not like, get him out of here, because when you're winning you don't care about the little things that go on around you. I think their rivalry is not conducive to promoting what's very important in this town, and that should be education and good sportsmanship, and that day good sportsmanship was not shown."