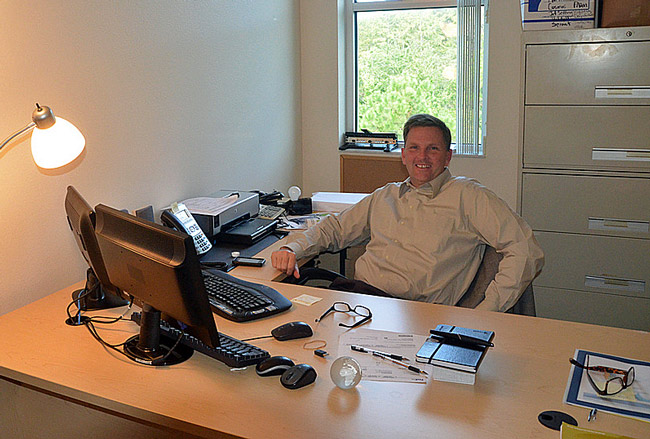 The uncertainty dogging Greg Rawls for the last two years is over: the former executive director of Enterprise Flagler–the public-private economic development partnership Palm Coast and Flagler County killed last summer–and the current manager of Flagler County's new economic development department, is leaving. He's accepted a job with the Creek Indian Enterprises, which runs three Creek casinos in central and southern Alabama and has an economic development arm that oversees investment of the tribe's non-gambling dollars. The tribe is based just north of the Florida border at the northwestern edge of the Panhandle.
Rawls's future in Flagler County had been in question since support for Enterprise Flagler began fraying two years ago, as the partnership was proving of little value to Palm Coast while the county was looking to have a similar organization it could more readily control. With Enterprise Flagler's dissolution, Rawls moved to the county's new department, where he earned $67,500 a year, and helped the department's new director, Helga van Eckert, familiarize herself with the county. Van Eckert in January was hired from Perth Amboy, N.J.'s economic development agency, to head Flagler's $450,000 department.
"Well, it's been an honor here to work for the board here and help getting it established, getting Ms. Van Eckert up to speed and serving three years at Enterprise Flagler," Rawls this morning told the nine-member economic development council that advises his department. "I'll be working with the tribes on diversifying their revenue streams, stuff like that, and help them with business development. I have some regrets of leaving, I love this community, it's a great community, we've got great people involved, but I think for my next step in career development I need to accept the position. I'm supposed to start September 16th there."
A big difference between the Creek Indians and Flagler County's economic development department: the Indians can be as secretive as they wish in their operations, and usually are.
"Is it an unlimited budget Greg?" Barbara Revels, who chairs the jobs council, asked him.
"It's a very large budget," Ralws said.
"I bet it is, I bet it is." Revels said.
Rawls compared the agency to ITT and its efforts, at the founding of Palm Coast, to develop a sustainable community, but also to invest in ventures beyond their geographic location.
"So maybe they'd look to fund a venture in Flagler County?" Revels asked.
"Absolutely. I've actually talked to a couple of members already," Rawls said.
The Poarch Creek Indians, who number just 3,000, are among the remnants of the Creek Nation that stretched over what's now Georgia and Alabama before its members were illegally removed and decimated by white colonists' version of economic development. Beside gambling, the tribe today runs a travel plaza on I-65, a hotel, a machine manufacturing company that contracts with the U.S. military, and other businesses. PCI Gaming, the gambling arm of the tribe, three years ago opened a quarter-billion dollar resort casino in Alabama after buying greyhound tracts in that state and in Florida.
That's relevant–as may be Rawls's hiring–in light of the Florida Legislature's attemps, unsuccessful so far, to allow for mega-resort-casinos in the state. In April, the Florida Supreme Court gave the Legislature authority to allow gambling anywhere in the state, including Vegas-like casinos or gambling resorts.
Last year, PCI Gaming teamed up with a Florida developer to offer horse racing and poker in a 100-acre megadevelopment in Gretna, a small, poor Florida town of less than 2,000 people 30 miles northwest of Tallahassee.
Gambling is not the sort of venture Revels had in mind when she mentioned possibilities of Creek tribe investments locally, though talk of the Indian tribe's detailed business ventures did not come up at this morning's council meeting. Rather, Revels focused on Rawls's work since 2007.
"All of those years that he's talked about at Enterprise Flagler, I always found him to be extremely responsible and responsive, and very intelligent, go-getting," Revels said.
"It's a wonderful position for him, I'm very excited for him, but his gain is our loss," van Eckert said. Moments later, van Eckert noted, in an unrelated discussion, that a company prospecting in Flagler had acquired property locally and would be starting work here soon. "We'll be doing some form of release very soon on that," van Eckert said.
Meanwhile, the county has posted a job opening for a project manager in van Eckert's department, but with a salary range of $32,864 to $45,000, well below the salary Rawls was pulling. The posting ends Sept. 14.