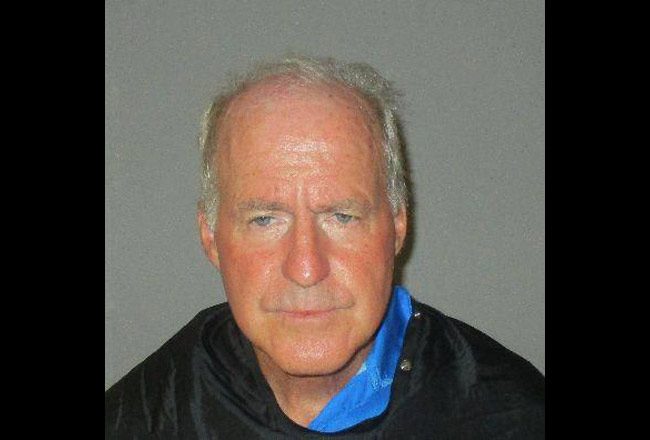 For the third time in four months, Gregory Greenway, a 67-year-old resident of Porto Mar in Hammock Dunes, was arrested, violating his probation, after leading Flagler County Sheriff's deputies and an emergency helicopter on a pursuit through Palm Coast Saturday morning (Nov. 17).
The charges he faces are the most serious of his three arrests: three felonies and three misdemeanors, including false imprisonment, aggravated assault, fleeing and eluding and driving on a suspended license.
Deputy Bret Wood was conducting traffic enforcement on Palm Coast Parkway by the I-95 overpass at 8 a.m. Saturday when he saw Greenway at the wheel of a red Cadillac allegedly speeding. The deputy followed Greenway, who maneuvered, pointed at Greenway as if to suggest that he was going to pull over, and drove past several cross streets until he got to Lupi Court, where he made a right and went to the end of a cul-de-sac. Wood thought Greenway was stopping.
Greenway did not. As Wood, who was on a motorcycle, approached him, Greenway accelerated and drove off. The deputy attempted to pull him over again, siren and lights flashing. Greenway drove on to Belle Terre Parkway, speeding until Bridgehaven Drive, where he made a u-turn and drove south, again making a U-turn at Parkview Drive, "still driving erratically and at a high rate of speed," according to his arrest report. By then others were in pursuit as well, but the pursuit was called off, following policy.
Eyewitness reports led deputies to station a patrol vehicle at the 293 exit off I-95, where they deployed stop sticks. The Cadillac maneuvered around them and continued to flee. There, too, and thanks to previous encounters with him, the deputy identified the driver as Greenway.
Flagler County Fire Flight, the emergency helicopter, launched to assist in the search. The Cadillac was followed to 20 Porto Mar in Hammock Dunes, where Greenway's apartment, #504, is listed. Several deputies headed to the address. Greenway did not come to the door, though a witness, a board member at Hammock Dunes, told the deputies of seeing Greenway go into the apartment. Minutes later Greenway came to the door holding a golf club, according to his arrest report. He said he wasn't coming out if the deputies didn't have a warrant.
Deputies then heard Greenway speak to a woman inside the apartment who was requesting of him several times to let her leave. He allegedly stopped her from doing so for about 15 minutes, and threatened her with the club: one of the deputies was able to see the confrontation through a side window by the door, according to the report.
The woman would later tell deputies that she'd been sleeping when Greenway woke her up and allegedly told her he was fleeing law enforcement–and did not want to go to jail for a speeding ticket. She subsequently went into the bathroom to gather her belongings and attempted to the leave the residence. Some 20 minutes after deputies had been at the door, Greenway "aggressively grabbed [the woman's] arms, restricting her freedom of movement and pinned her against the front door," the report states. The woman was heard screaming to him to stop touching her and to let her out. "We overheard a physical altercation ensuing on the door," the deputies reported.
The board member had provided the deputies with a master key. "Due to the exigent circumstances," the report states, the deputies made entry. Greenway was taken to the ground and handcuffed. He told deputies he'd fled because he didn't have a license and didn't want to go to jail for speeding.
"What started as a potential reckless driving charge turned into false imprisonment and aggravated assault because this guy didn't want to simply pull over for a traffic stop," Sheriff Rick Staly said. "Numerous lives were put in jeopardy all because he knew he broke the law and was on probation and didn't want to go to jail. You see how well that worked out for him! If you run from us, we are going to get you. Our deputies did a great job spotting a dangerous driver, tactically observing him as he fled and apprehending him before he could hurt someone."
On Aug. 6 Greenway was arrested for drunk driving, at the wheel of the Cadillac. The charge was reduced to reckless driving, adjudication was withheld, and he was sentenced to six months' probation on Sept. 26. So he was on probation when he was arrested on Nov. 17. He is also contending with two third-degree felony grand theft charges since Aug. 15. That case is making its way through court, with a docket sounding–the last step before trial–scheduled for Nov. 27.