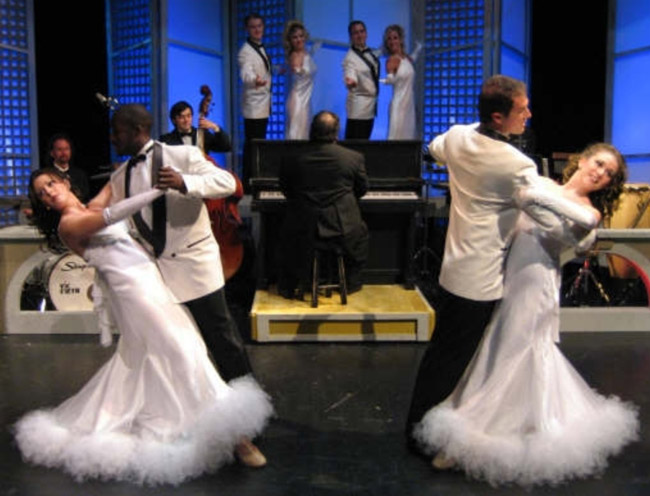 The Great American Songbook, taking the Flagler Auditorium stage tonight, is the sort of period show ideally tuned to local demographics: older ears waxing nostalgic for the days when Frank Sinatra, Ella Fitzgerald, and Judy Garland—as opposed to Rihana, Taylor Swift and Flo Rida—ruled the charts, when songs were heard on AM radio and long playing vinyl records instead of iPods and mp3s. And when the occupant in the White House was always an older white male who invited black musicians for entertainment once in a while, to look hip with the times or to provide a diversion from them, as when Herbert Hoover invited Duke Ellington in his last depressive year as president, or when Lyndon Johnson had James Brown over in May 1968, as Vietnam was demolishing his presidency.
At the Flagler Auditorium
---
The Ten Tenors on Broadway at the Flagler Auditorium for two back-to-back performances, Saturday April 5, at 3 and 7:30 p.m. Tickets are $42 for adults and $32 for students. For more information, visit the auditorium's website or call 386/437.7547.
Click On:
---
There's no definitive canon to the Great American Songbook, the nation's soundrack from the 1920s to the 1960s. But to paraphrase Justice Potter Stewart on porn, you'd know it when you hear it, with ever-present standards by George Gershwin, Ellington, Cole Porter, Rodgers and Hammerstein.
"I think obviously each song has a different message, but the general message of all the songs is that we have something to be proud of as American musicians and writers," says Greg Woodruff, producer and production manager. "And it's worth keeping it alive."
To give one song for each era, the show kick off with "Sentimental Journey," originally composed by Les Brown and Ben Homer. The show then hops around Tin Pan Alley, where—on Manhattan's West 28th street–publishers and songwriters once clustered. That period started around 1885 and led up to the early Depression years with such greats Sinatra's "The Lady is a Tramp" from 1937. And on from there: "Chatanooga Choo Choo" (1941), "Georgia on My Mind," "It Had to Be You." Motown is next—"Stop in the Name of Love," Frankie Valli and the Four Seasons' "Oh What a Night." You'll also get Blues, Jazz, and Swing, and whatever it is you call the music Barry Manilow makes in Vegas and Manilow-wannabes do in Branson.
The stage is set with bridges symbolizing the jump between the different eras and places. Costumes change as time periods do, going from jeweled gowns and tuxes of Tin Pan times to Motown temptations-style, sequined dresses. Detailed backdrop buildings show the passage of time with lighting that changes color to accommodate the mood and place.
The pace starts off on the slower side, or with "a real easy feel about it," Woodruff says. "Motown begins to really liven it up and it's sizzling by the Jersey Boys' section." At this point, the audience gets pretty participatory, generally following the lead of the performers on stage who will get them clapping along.
"One thing that people are generally surprised to see when they see America's Great American Songbook is, they expect a lot of low-key trios, but in addition to that we give them a lot of high-energy dancing."
Naturally, the show's audience tends to be Medicare-card-carrying, or at least AARP. "But you can see inside them a kind of youthfulness when they experience the songs of their youth," Woodruff says. At the end of one performance, when audience members have a chance to talk with some of the performers, an older man took the hands of one of the performers and started dancing right there.
The music is for more than just baby boomers and pre-baby boomers, Woodruff says. "It's so timeless. That's why today, you're able to find older artists like Tony Bennett on stage performing these songs with Christina Aguilera."
Taking this point further, he says, "The music we showcase is the building blocks for everything that's come after. What type of music are we going to be able to look to in the future? These are the hands of our country's history."
The Jersey Boys' and Vegas section weren't part of the original show after its inception a year-and-a-half ago, Woodruff says. "Even though it worked and was received well in the different venues where we took it, we decided we wanted to update—to continue to try and reach wider audiences." The Jersey Boys section has become the collective favorite of Woodruff and the rest of the crew. When it comes to the Vegas section, they chose that one, Woodruff says, because that's where a lot of the latter artists of the Songbook compendium, like Elton John and Bette Midler, for example, marked their talents and immortalized their names; he says.
There's a good chance they'll continue to update, Woodruff adds. "We can always build upon what we've created again." And, with that, the Great American Songbook will continue to thicken, presumably down to Rihana, Taylor Swift and Flo Rida when they, too, hit the assisted-living circuit.

"The Great American Songbook," in performance for one night only, Friday, Jan. 11 at 7:30 p.m. at the Flagler Auditorium. Tickets are $29 for adults, $28 for youths. Call the Auditorium box office at 437-7547 or visit the auditorium's website.