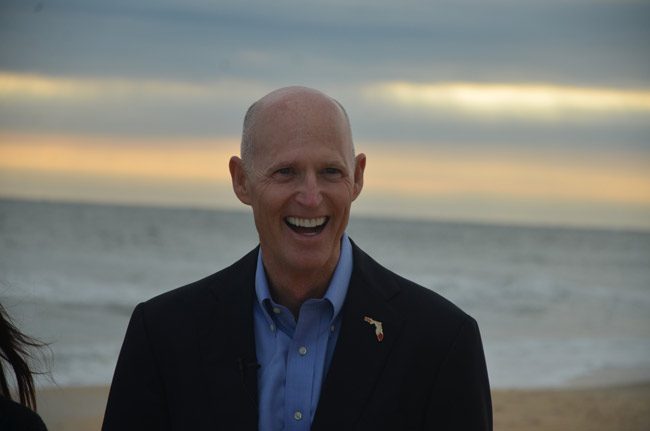 Gov. Rick Scott named a new chief of staff Monday in a potential prelude to an anticipated run for the U.S. Senate.
Brad Piepenbrink, who was Scott's political director during the governor's 2014 re-election campaign, was named to replace longtime "trusted and loyal advisor" Jackie Schutz Zeckman, who left Sunday to pursue "other opportunities," according to a statement released by Scott's office.
Schutz Zeckman left the office once before to work on Scott's 2014 re-election bid.
The chief of staff announcement was made within minutes of social-media postings from the governor saying he will make a "big announcement" in two weeks. Speculation has long swirled that Scott plans to run against U.S. Sen. Bill Nelson, D-Fla, this fall.
"Join me the morning of April 9th on Facebook Live, as I make a big announcement.," a tweet from @ScottForFlorida said.
Joshua Karp, a spokesman for American Bridge, a Democratic campaign organization, quickly shot back that Floridians will reject "the wealthy insider."
"During Rick Scott's time in office, his net worth has gone up by millions while a majority of Florida counties have failed to recover from the recession," Karp said in a statement.
Meanwhile, in another sign of the Senate race ramping up, the National Republican Senatorial Committee released a web ad Monday linking Nelson to 2016 Democratic presidential candidate Hillary Clinton.
Piepenbrink, who is paid about $131,000 a year and most recently served as deputy chief of staff, is the two-term governor's seventh chief of staff.
Since November 2014, Piepenbrink's role has been to oversee policy development involving the environment, health care, transportation, law enforcement and emergency management.
"He was also a key component of my successful re-election efforts and has been critical to carrying out my agenda to make Florida the best state for families and job creators," Scott said in a prepared statement.
Piepenbrink has had three stints in the governor's office.
He joined Scott after the 2010 election, serving nearly three years as a special traveling assistant before joining the Florida Department of Education as a deputy chief of staff.
Piepenbrink returned to the governor's office five months later as a director of external affairs, only to leave that post after five months to join other members of the governor's office who went to work on the re-election campaign.
The former Florida Gulf Coast University student body president also served as a regional political director for the Republican Party of Florida in 2010, as a legislative aide to former state Sen. Garrett Richter, R-Naples, and as a policy analyst in the Florida Senate Majority Office.
Schutz Zeckman, paid about $166,000 as chief of staff, began working for Scott in September 2011, starting as deputy press secretary and later press secretary.
"She has been dedicated to implementing my agenda throughout my time as governor and I know she will continue to do great things for our state," Scott said.
Schutz Zeckman was chief of staff for less than a year. Last spring, she replaced Kim McDougal, who is now a senior director of government affairs in the politically connected law firm of GrayRobinson in Tallahassee.
Schutz Zeckman temporarily left the governor's communications office in 2014 to work on Scott's re-election campaign with Melissa Stone, who became chief of staff following the election.
After the election, Schutz Zeckman returned to the governor's office, serving as chief spokeswoman.
–Jim Turner, News Service of Florida