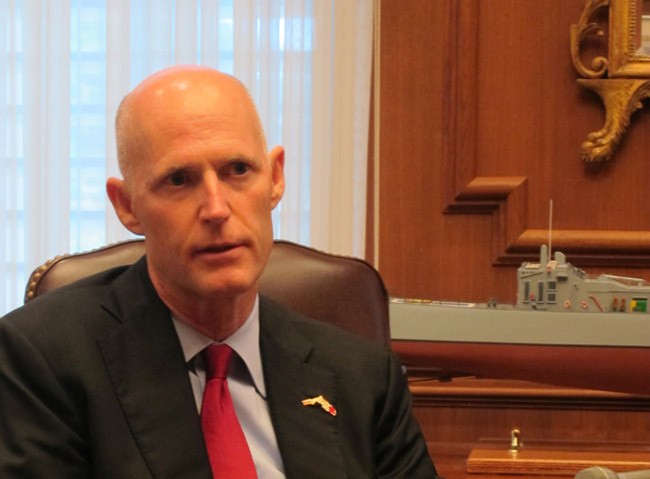 Lawyers for the state asked Thursday for a federal judge to immediately bar the U.S. Department of Health and Human Services from considering whether the state has expanded Medicaid as the agency weighs a decision on $2.2 billion in funding for hospitals and other health-care providers in Florida.
In the filing, the state asks the U.S. district court in Pensacola to issue an injunction "requiring (federal officials) to reconsider the renewal of federal funding for Florida's Low Income Pool program without regard to whether Florida opts into Medicaid expansion."
Federal officials have not officially decided whether to renew the Low Income Pool, or LIP, program, which is set to expire June 30, but said Wednesday that, at first blush, "the proposal currently posted for public comment in Florida falls short of the key principles HHS will use in considering proposals regarding uncompensated care pool programs, and the size of the proposed LIP appears larger than what matches the principles."
A disagreement between House and Senate leaders over how to handle LIP and Medicaid expansion in the state budget led to a breakdown in the regular legislative session, which ended without a spending plan for the year that begins July 1.
The Senate wants to spend $2.8 billion in Medicaid expansion funds to help lower-income Floridians purchase private insurance, saying that could help in negotiations with the federal officials over $2.2 billion in LIP funding, which mostly sends money to hospitals and other health providers that care for large numbers of low-income residents.
Federal officials say that because Medicaid expansion could ease some of the costs of LIP by providing insurance to more people, what the state does with regard to Medicaid should be considered when coming up with the scope of the LIP program. But Gov. Rick Scott and the Florida House fiercely oppose taking any action on a coverage expansion funded by the federal Affordable Care Act, commonly known as Obamacare.
The state has argued that Florida officials agreed in a new LIP model not to include costs for patients that would be covered by Medicaid expansion.
The lawsuit relies on part of a 2012 U.S. Supreme Court ruling that upheld Obamacare. In that case, NFIB v. Sebelius, the court ruled that the federal government couldn't coerce states into expanding Medicaid by requiring any state that didn't do so to give up all of its Medicaid funding.
Lawyers for the state argue that the same coercion is at play in the LIP standoff. In the latest filing Wednesday, they say court action could come too late if a judge doesn't rule quickly.
"The impending June 30 expiration date for existing federal funding leaves the state and its healthcare providers with little choice but to start taking irreversible actions now to cope with the loss of federal funds that are being withheld for impermissible reasons. … In short, Florida needs judicial relief, and it needs that relief now," the filing said.
Lawmakers are set to convene a special session June 1 to finish negotiations on a spending plan.
A spokesman for HHS said the agency doesn't comment on litigation, but referred a reporter back to a statement issued Wednesday after a meeting between Scott and Sylvia Burwell, the department's secretary.
"Regarding Medicaid expansion, Secretary Burwell reaffirmed that whether a state receives federal funding for an uncompensated care pool (like LIP) is not dependent on whether it expands Medicaid, and that the decision to expand Medicaid, or not, is a state decision," the statement says.
Meanwhile, a coalition of business groups supporting the Senate's Medicaid plan reiterated a call for Scott and the House to go along.
"For more than a year, the state of Florida has known it was facing serious health care funding challenges," said the coalition, known as A Healthy Florida Works. "Yesterday's comments from Health and Human Services (HHS) Sec. Sylvia Burwell stated that the expansion of coverage is the 'best way to secure affordable access to health care for low-income individuals.' We couldn't agree more."
–Brandon Larrabee, News Service of Florida