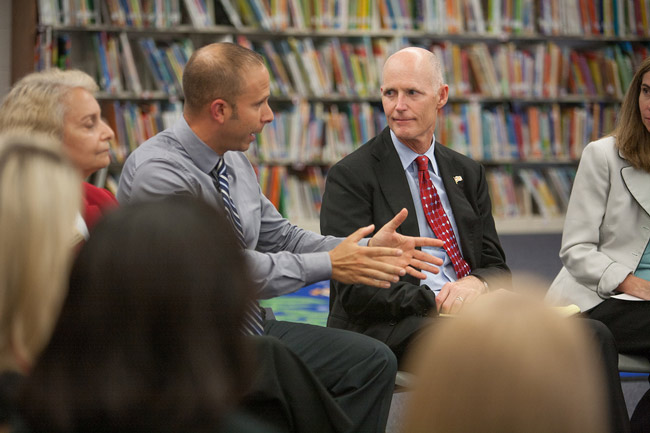 Gov. Rick Scott will push lawmakers to avoid cutting the education budget this year, the governor said following a dinner with union officials late last week. And if there's enough money, he'll again push for an increase.
Scott, who championed the restoration of $1 billion to this year's education budget after signing a 2011 budget that cut the same amount, told reporters that he promised union officials with the Florida Education Association that he will call on lawmakers to at least hold the line on spending for schools.
"In our dinner tonight, I told the FEA that as we continue to develop our education agenda we are going to, at a minimum, sustain current state funding for education in the next budget and depending on the state's economic outlook, aim to increase education funding where we can improve student outcomes."
Scott had dinner at the Governor's Mansion Friday night with representatives of the union as the culmination of a week focused on education, during which the governor visited several schools.
"Our goal is to better prepare students for college and careers and our policies in the next budget and the next legislative session will be designed around that," Scott said.
The dinner was noteworthy because the teachers union and most state Republican leaders have not been very friendly over the last few years. In fact Scott signed legislation last year that put in place a merit pay system that the union opposed in a high profile battle between the FEA and the GOP.
Scott's promise to try to increase, or at least maintain current education spending, may put him at odds with his own party in the Legislature. Sen. Don Gaetz, R-Niceville and the incoming Senate president, said earlier this week that he didn't see enough money in the outlook for incoming taxes to be thinking about boosting education spending.
The $1 billion increase has proven popular, even if it was a restoration of earlier cuts. School districts have seen their overall budgets decreased significantly in the last several years.
Scott will release his proposed budget in January and lawmakers will convene in the regular session in March.
–David Royce, News Service of Florida