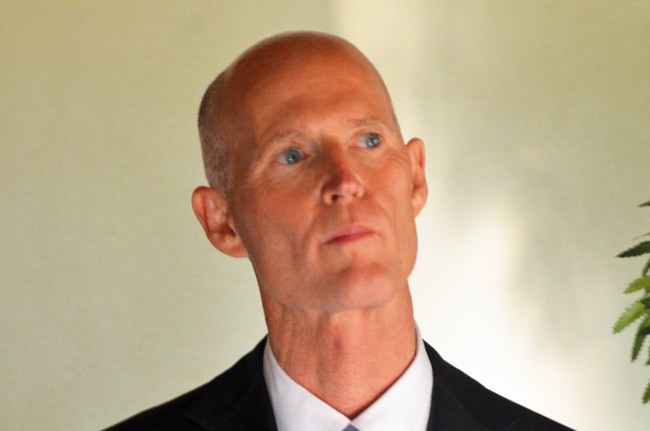 Gov. Rick Scott's disclosed net worth as of Wednesday was $146.8 million, an increase of $14.1 million from the start of his re-election year.
According to a newly-filed financial-disclosure report posted online Wednesday, the majority of Scott's money — $128.8 million — is cached in the "Governor Richard L. Scott 2014 Qualified Blind Trust." The four-page report provides a glimpse at Scott's net worth as of Dec. 31, 2014.
Scott's assets also include his $15.5 million home and boathouse in Naples; a 60-acre residential property in Montana worth $1.5 million; $610,023 in a retirement account; and a combined $190,983 in a pair of bank accounts. The value of the Naples property has grown by about $2.3 million over the past year, while the Montana land went up by nearly $100,000.
Scott, who reportedly spent $13 million last year on his re-election, stated he generated $9.8 million last year from his blind trusts. Unlike last year, however, Scott did not disclose the assets of the blind trust in the most recent report.
In May, the Florida Supreme Court declined to consider a challenge to a 2013 law that allows elected officials to use blind trusts to shield their financial assets. Scott used a blind trust during his first term in office, but ended it last year and listed his financial assets as he qualified for re-election. After the disclosure, Scott put his assets in a new blind trust.
Elected officials are required to file the annual financial disclosure by July 1 each year.
Agriculture Commissioner Adam Putnam, whose wealth is tied to the family-owned Putnam Groves, continues to be the financial pacesetter among the Florida Cabinet.
As of Dec. 31, Putnam's net worth stood at $8.28 million, up from $7.85 million the previous year. The former U.S. congressman was worth $6.8 million when first elected to the statewide office in 2010.
Putnam's 20 percent share of Putnam Groves accounts for $3.15 million, up from $2.96 million a year earlier. He listed the value of his home in Bartow at $174,000, down $3,000 from a year earlier, and his residence in Tallahassee, valued at $260,000, remained unchanged.
Putnam reported $478,448 in income last year, $123,867 from his state salary and $301,192 was from Putnam Groves. The remainder of his income came from investments and his share of a beach house, valued at $2,200.
Attorney General Pam Bondi, whose report was posted on June 18, had a net worth of nearly $1.4 million as of Dec. 31, up from about $1.24 million the year before.
Bondi's net worth was bolstered by an $810,000 personal residence and a $342,000 partial interest in a condominium. She reported about $129,000 in income, all from the state.
Chief Financial Officer Jeff Atwater has filed his financial-disclosure report but the paperwork had not been posted to the state Commission on Ethics website late Wednesday afternoon.
A year ago Atwater, a banker and former Senate president, had a net worth of $1.86 million.
–Jim Turner, News Service of Florida