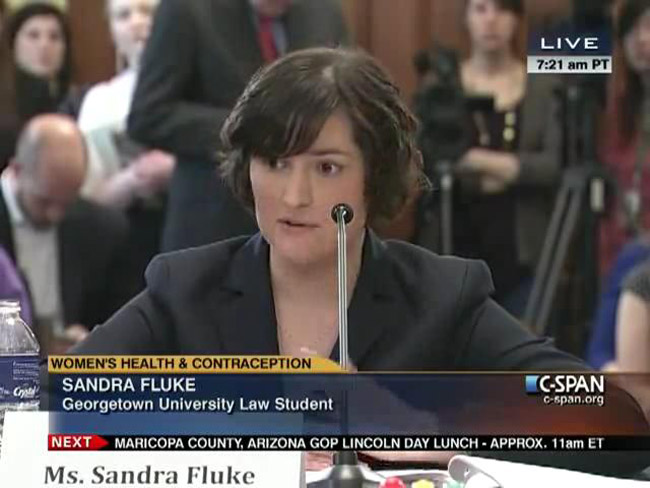 From the Susan Komen scandal to Rick Santorum's neo-Medievalist attitudes about women to Virginia's attempted mandatory insertion of ultrasound probes inside abortion-seeking women's uteruses, the staging of an all-male panel on reproductive rights by a Republican congressional committee to Rush Limbaugh's assaults and insults against Sandra Fluke, the Georgetown University law student pressing for contraceptive coverage by all insurers, it's been a dismal few months for Republicans, who are losing the woman vote fast, and with it their electoral prospects in November, even at the congressional level.
A story in the Post about the Republicans' various assaults on women generated 5,000 comments, among them this: "Thank heavens women in America have wakened back up and understand radical republicans are trying to talibanize women. President Kennedy established Affirmative Action, an attempt to promote jobs for women and minorities and give them equal opportunity, during his short career. President Johnson continued the effort. President Reagan cut off funding for Affirmative Action and called it reverse discriminiation, which is why I didn't vote for him the second time. The GOP hates women and thinks they should stay home barefoot and pregnant. Women, who are 50% of Americans, do not agree, nor do the men who love and honor them. Time for the pary of neathandrals to go the way of the dinosaurs." And this: "War on women. War on workers. War on immigrants. War on teachers. War on public servants. War on diplomacy. War on science. War on truth. War on democracy. What the Republicans are actually conducting is a plain old war on people, in favor of the artificial "people" known as corporations. The things corporations do not need — education, health care, food, housing, clothing, retirement, etc., are the things Republicans are trying to eliminate from our society. Why women vote Republican sometimes may be a mystery, but the bigger mystery is why anyone would."
the Post: "The fragile gains Republicans had been making among female voters have been erased, a shift that has coincided with what has become a national shouting match over reproductive issues, potentially handing President Obama and the Democrats an enormous advantage this fall. A number of polls show that Obama's approval among women has risen significantly since December, even as it has remained flat among men. The same trend, which began before the controversy in recent weeks, is also showing up further down the ballot. When a Wall Street Journal-NBC News survey asked in the summer which party should control Congress, 46 percent of women favored Democrats and 42 percent preferred Republican control. But in a survey released Monday, compiling data since the beginning of the year, that figure had widened considerably to a 15-point advantage for the Democrats, according to polling by the team of Democratic pollster Peter Hart and Republican Bill McInturff. Fifty-one percent favored Democratic control; only 36 percent wanted to see the Republicans in charge." The full story.
The assaults have the conservative columnist Kathleen Parker worried: "Republicans might wish nothing more than to stuff birth control pills back into the bottle, but Democrats aren't about to let them. The narrative already has a title: 'The Republican War on Women.' Cue theme from 'Psycho.' One can hardly blame Democrats for taking advantage of a perfect storm of stupefying proportions. The only thing Republicans failed to do was put a bow on this mess." Referring to the list of disastrous missteps listed in the first paragraph here, Parker went on: "Individually, these anecdotes would have been problematic, but combined their effect on female voters is that of a Tyrannosaurus rex approaching a Gallimimus herd. (Picture the stampede scene in 'Jurassic Park.') War has been declared, and there's hardly any way to change the impression among a growing percentage of women that the GOP is the party of knuckle-dragging Neanderthals."
Parker goes on to claim that Rush and the Neanderthals don't speak for her or her version of the GOP. But that's the tired sound of Republican moderates throwing up their arms, like Olympia Snowe did when she announced she was quitting the Senate, before conceding, as even Parker did, what nail is being drilled in their coffin: "The GOP long ago made its bed with social conservatives, a large percentage of them Southern evangelicals, and now must sleep with them. After marriage, of course. In Laurens County, S.C., where the local GOP recently tried to create a purity tribunal to screen and monitor aspiring Republican candidates, this is more than a punch line."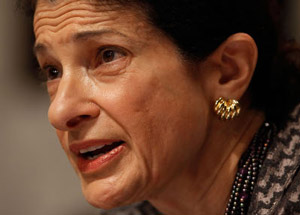 Frank Bruni, the more liberal Times columnist, echoed Parker's lament a few days ago in a piece on Snowe's "sad retreat." He wrote: "Just because you choose a team shouldn't mean you're suddenly and miraculously on board with everything in its playbook, on down the line: the abortion position, the contraception position, the tax policy, the immigration policy, the attitude toward same-sex marriage, the attitude toward gun control. But that's what's expected. That's the message gleaned from the relative homogeneity of a party's leading candidates, who squeeze themselves into tidy, unyielding boxes and insist that we do likewise. Rare is the Democrat of plausible national ambition who tangles in a tough, meaningful way with labor unions or environmentalists, groups that President Obama has been loath to cross. Disappointing them jeopardizes the campaign infantry and financial contributions they provide, and as the sway of interest groups rises, the fealty of politicians to the ones in their corner grows with it. Rare is the Republican of plausible national ambition who doesn't kowtow to religious conservatives, a spectacle on florid display during the Republican primaries […]."
Snowe herself wrote in an OpEd: "Before the 1994 election, 34 senators came from states that voted for a presidential nominee of the opposing party. That number has dropped to just 25 senators in 2012. The result is that there is no practical incentive for 75 percent of the senators to work across party lines. The great challenge is to create a system that gives our elected officials reasons to look past their differences and find common ground if their initial party positions fail to garner sufficient support. In a politically diverse nation, only by finding that common ground can we achieve results for the common good. That is not happening today and, frankly, I do not see it happening in the near future. For change to occur, our leaders must understand that there is not only strength in compromise, courage in conciliation and honor in consensus-building — but also a political reward for following these tenets. That reward will be real only if the people demonstrate their desire for politicians to come together after the planks in their respective party platforms do not prevail. […] I see a critical need to engender public support for the political center, for our democracy to flourish and to find solutions that unite rather than divide us. […] I am convinced that, if the people of our nation raise their collective voices, we can effect a renewal of the art of legislating — and restore the luster of a Senate that still has the potential of achieving monumental solutions to our nation's most urgent challenges."
The Daily Beast recently hosted the third annual Women in the World Summit, including this panel entitled "Where Are the Women at the Top?" featuring New York Times executive editor Jill Abramson, Shelby Knox, the gay rights and sex-ed activist from Texas, Ann Kornblut, the White House correspondent for the Washington Post, Cheryl Mills, a deputy Hillary Clinton and ex-senior vice president at NYU, and of course Gloria Steinem. Watch: