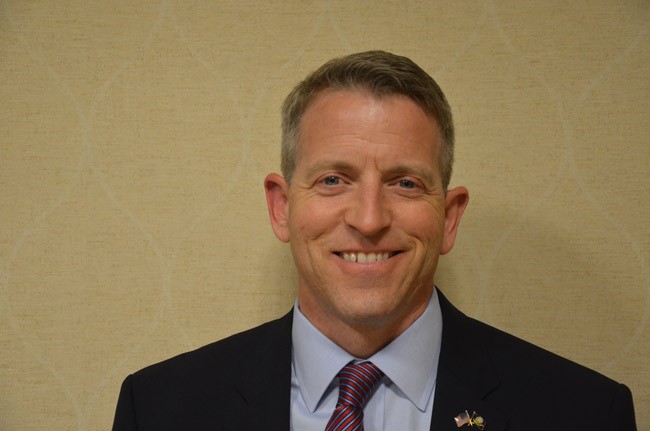 Paul Renner easily beat what little competition he had from two fellow-Republicans to win the GOP primary for State House District 24 Tuesday, which includes all of Flagler and slivers of St. Johns and Volusia counties.
In the Senate race, Travis Hutson easily won Flagler County, Putnam (where he took 69 percent of the vote) and Volusia counties, and was running neck and neck with Ronald Renuart, his chief opponent, in St. Johns County, Renuart's only true stronghold, making it almost impossible for Renuart to overcome Hutson's advantages in the other counties.
Palm Coast's Dennis McDonald ran a distant third in the Senate primary.
With all precincts reporting in Flagler, Hutson beat Rennuart there with 63 percent of the vote to Renuart's 21 percent. McDonald took 16 percent. Turnout was very low: just 4,841 Republicans voted in the closed primary, or just 18 percent of the Republican electorate (and 6.6 percent of all registered voters).
In Volusia, Hutson took 56 percent of the vote to Renuart's 28 percent and McDonald's 15 percent. In Putnam, Hutson took 69 percent of the Republican vote to Renuart's 17 percent, with McDonald doing almost as well there as he did in Flagler, with 14 percent of the vote.
In St. Johns County, with half of the county's 46 precincts reporting by 8:30 p.m., Hutson was ahead with 45 percent of the vote there to Renuart's 44 percent, with McDonald pulling in 11 percent. The numbers showed even then that there was no mathematical way Renuart could win even in the unlikely possibility that he'd take a larger share of remaining votes. In fact, as the evening wore on and more precincts' results came in, Hutson's lead only grew: he ended the night with 45 percent of the 15,271 votes cast to Renuart's 44 percent. Dennis McDonald finished with 16 percent: slightly better than he did in his home county.
Overall, Hutson won 52.2 percent of the vote (or 13,417 votes out of 25,691 cast). Renuart took 35.1 percent (9,021) and McDonald took 12.7 percent (3,253).
For Renner, the results were even more impressive, though his opponents never posed a serious challenge: he won 70.2 percent of the vote across the three counties the district covers, or 5,968 votes out of 8,507 cast. Sanchez took 18.4 percent (1,561) and Anderson 11.5 percent (978).
Renner won 73 percent of the vote in Flagler, with Sanchez and Anderson each getting just under 14 percent.
Renner won 61 percent of the vote in St. Johns to Sanchez's 30 percent, with Anderson pulling in 8 percent. In Volusia, Renner took 79 percent of the 1,207 votes cast there, with Sanchez taking 12 percent and Anderson 9 percent.
Hutson now faces Democrat David Cox in the April 7 general election. Renner will face Democrat Adam Morley.