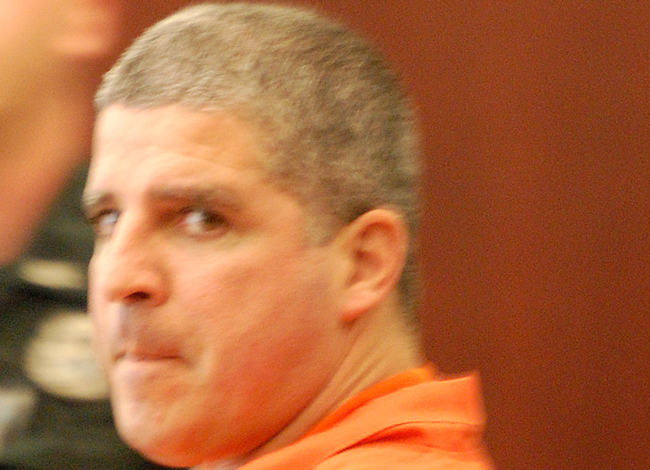 Three months ago, when Jeoy Calco, also known as Joe Milano, also known as the ex-owner of Goomba's Pizzeria in Palm Coast, was in a Flagler County courtroom, awaiting the verdict in his trial on a gun possession charge, he looked relaxed, full of smiles for his attorney, almost jovial. He bore the look of a man quick to laugh at his own jokes.
The look vanished with the verdict: guilty of gun possession as a felon, a crime that could net him 15 years.
This afternoon, Circuit Court Judge Kim C. Hammond sentenced Calco-Milano to 10 years in prison.
That's only the first resolution of a list of legal issues for Calco. The former hit-man used to live in Palm Coast, ostensibly in the federal witness protection program. He was on probation on a federal murder conviction. In 2004, Calco had been sentenced to serve nine years in federal prison for his role in a mafia family, though his removal from New York and entry in the witness protection program shortened that span. He blew his cover in January 2009. He was in an argument with two customers at his pizzeria. One of the customers was unhappy with a calzone he'd bought for his 11-year-old daughter. Calco leaped from behind the counter and pistol-whipped him. In front of his own surveillance camera.
---
Watch Calco Leap Over the Calzone Complaint[media id=87 width=300 height=200]
An investigation by Heather Scofield, then a reporter at the Daytona Beach News-Journal, unmasked Calco's true identity and his mafia past with the Bonanno crime family. His testimony and cooperation with federal prosecutors had helped convict several ranking mafia members in 2001 before landing him in Palm Coast. Calco operated Gommba's Pizzeria in the Publix Shopping Center near Town Center from 2007 until the calzone incident. He then quickly sank into a mire of new troubles. A year earlier, a female employee had accused him of sexually harassing her. (Scofield is now a reporter in the West.)
The prison sentence Calco received on Tuesday had nothing to do with the calzone incident. Rather, last February, when he was at home in Palm Coast arguing with his wife Kristy (she charged that he assaulted and threatened to kill her, but Calco was acquitted of those charges because of weak evidence, in Hammond's judgment), the police turned up and found him in possession of a gun. He would later claim that the gun was his wife's even though it was hidden under the bed they'd shared. The jury took just 40 minutes to deliberate before handing down a guilty verdict.
The trial resulting from the calzone incident is still ahead. So is a hearing later this week in St. Johns County, where Milano is being held in jail, on misdemeanor charges that he drove there on a suspended license and applied for two licenses under two different names. Since Milano violated his federal probation almost half a dozen ways, he's also due back in a federal courtroom in Brooklyn, where he'll face a different set of charges.