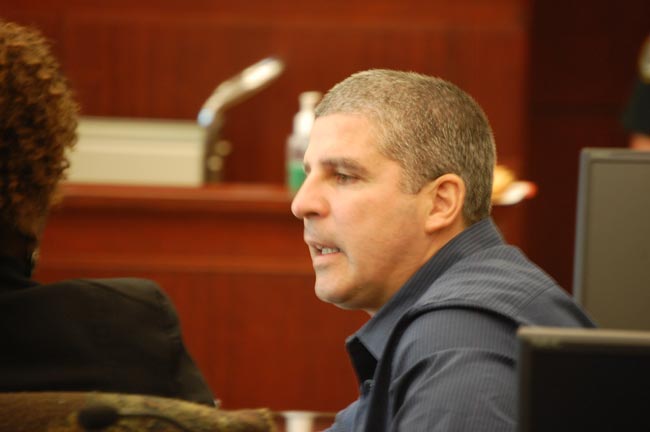 Joseph Milano, also known as Joey Calco, was found guilty of gun possession as a felon just before 3 p.m. in a trial that began last Friday in Circuit Judge Kim C. Hammond's courtroom in Bunnell. It was his second trial this week. He was acquitted on Thursday of charges that he'd assaulted his wife and threatened to kill her and her two young children on Feb. 15. (You can read a blow-by-blow, minute-by-minute account of today's trial, down to the reading of the verdict, by clicking on the arrow in the "Cover It Live" box below.)
The ex-mafia hit-man faces up to 15 years in prison. He'd been smiling and laughing just before leaving the courtroom, when the jury was sent to deliberate. The jury took less than 40 minutes to reach its verdict. When Milano was back in the courtroom, just ahead of the jurors, he was still smiling broadly. He looked at the jurors as they walked in, the smile by then wiped out. It never returned.
Milano looked on as the verdict was read, a look no less severe for being as creaseless as his crewcut: his lips, drawn tight, spoke volumes. He shook hands with his attorney before being led out of the courtroom. Unlike his appearances in pre-trial hearings, he was not shackled, nor was he wearing a jail-issued, flash-orange jumpsuit but black pants, black belt, black shoes, and a dark-gray collar shirt. The shackles came on and off in an antechamber next to the courtroom, so as not to prejudice the jury.
Sentencing was not set: it may be weeks before it is, as Hammond usually goes on vacation in July. The Public Defender's office, which represents Milano, will move for a mistrial based on "inflammatory" information presented at trial, among other motions intended to invalidate the verdict, and ask for a new trial. That's rather routine. But the Public Defender's office does intent to appeal if its motions fail.
Milano had been living in Palm Coast in the federal witness protection program and running Goombas Pizzeria until he blew his cover in January 2009 when he allegedly pistol-whipped a customer who'd complained about his calzone. That incident unraveled Milano's mafia past, book-ending his few incognito years and triggering a series of new, ostensibly unrelated incidents that landed him in jail, where he's been since spring.
Regina Nunnally, the public defender appointed to represent Milano in the present case, argued that Hammond should grant a mistrial and dismiss the firearm-possession against Milano because the evidence is insufficient: sheriff's deputies did not actually see Milano with the gun in question.
State Prosecutor Scott Westbrook counter-argued that the jury should make that determination.
"I conclude that this is a jury question, it should be resolved by the jury, and I deny a judgment of acquittal," Hammond said at 10 a.m.
The state, Hammond is telling the attorneys before the jury walks in, must prove beyond a reasonable doubt that on Feb. 15, 2010, Milano/Calco was a convicted of a felony, and that he "knowingly had in his care, custody or possession" a firearm. "Those are the elements that have to be proven." Guns include starter guns.
To make it easier, the remainder of the trial, at least through anticipated closing arguments, will be covered live below: you don't have to refresh your page to follow the trial, which will be transcribed live once you click below.