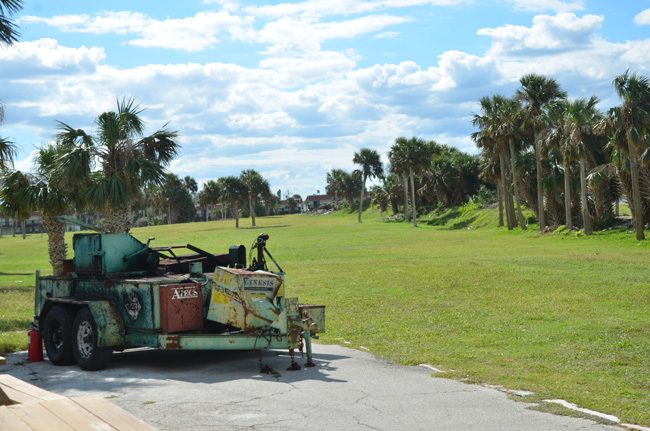 After four months of wrangles with the manager of Flagler Beach's Ocean Palms Golf Course, the city commission plans to declare Flagler Golf Management in default of its lease, end its relationship with Terry McManus and his associates, who have run the nine-hole golf course since reopening the course in June 2016, and seek either a new management firm or have the city run the golf course.
City commissioners Thursday evening were ready to set aside a proposed settlement that would have had the city pay Flagler Golf Management $22,500 and declare the company in default. They stopped short only because their city attorney, Drew Smith, held them back, insisting that the company's Terry McManus had to be given his due process first. Reluctantly, commissioners agreed to place the matter on their agenda in two weeks and give McManus a chance to speak. But they spoke of it as a formality. Their minds appeared made up, with even the course's biggest champion blasting McManus for, in her view, taking advantage of the city.
"Nobody wanted to see this succeed better than I did or more so than I did," Commissioner Joy McGrew said. "I don't like bending over, and we have. Very far." She then asked Smith why the city should justifiably pay McManus $22,500. The money was to have defrayed the losses the golf course presumably incurred due to the stormwater project interfering with its normal operations. Smith said it was a proposal resulting from the city commission's own direction, inviting McManus to submit a proposal. The settlement was negotiated between Smith, City Manager Larry Newsom and McManus. McManus had initially asked for double that amount. Newsom said no way.
McGrew was critical of McManus, a Palm Beach developer, for not showing up to Thursday's meeting to make his own case for the settlement. "If he cannot come to a meeting, he does not deserve to have a lease," McGrew said, brushing away Smith's caution. "You're the attorney, and I normally listen to you. I'm not normal right now."
"And I also don't normally speak to you as I am on this," Smith said, noting the property interest involved, and therefore the due process necessary before the commission took action.
"I don't like it, I don't like it," McGrew continued, "but if that's what it takes to move forward and to get the golf course back open, then whatever we have to do. But this is wrong. This is wrong. They've treated us wrong. I'm championing for a golf course that's going to be run like a golf course should be run."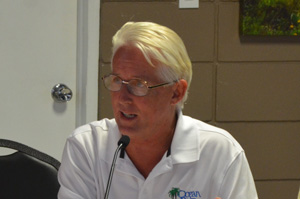 And hers were far from the harshest words commissioners and the manager had for McManus or Flagler Golf Management. (Contacted for comment, Craig McDaniel, who has managed the day-to-day operations of the golf course with his father Duane, deferred questions to McManus, who did not reply to an email.)
Newsom was particularly taken aback by what he said was McManus's demand that the city fulfill his punch-list for golf course fixes. "That's an insult and I will not tolerate that, I will not be bullied by the people that are leasing from the city," Newsom said, making a distinction between the stormwater project and separate repairs to the golf course, which are largely not the city's responsibility, although he said the city is spending between $35,000 and $40,000 on the course's irrigation system.
Of course, the city could also be posturing and hoping that McManus will back down, accept a much less generous settlement and somehow resume management of the course under the city's stricter terms. But based on five commissioners' separate approaches and that of the city manager, and the administration's frustrated experience with Flagler Golf's accounting practices, that seemed unlikely.
"The bottom line is the city did not close the golf course," Newsom said, Flagler Golf Management did, and now wanted to be compensated for it. While the city has paid the golf course $5,000 a month on average as a subsidy to defray the impact of construction, and was willing to pay the same sum for another four and a half months of time the course has been closed, the sticking point for commissioners was the terms of the lease. They said McManus was no longer in compliance simply by not submitting the required profit and loss statements.
"To me moving forward is potentially looking at potentially a whole different approach," Newsom said. "We still want to keep a golf course. But do we look at a different approach? Obviously there's going to be a disagreement with the punch list, this thing is going to drag on and on, and to be very candid about this, I don't have the time to deal with this. We tried to work it out. I don't have the time or the patience anymore to deal with this anymore. If the board wants to give me direction to deal with it then I lose on that one."
It did not. All five commissioners echoed McGrew in one way or another.
"We sent them a default letter on Nov 17 asking for profit and loss statements," Commissioner Rick Belhumeur, who'd sat in on a conference call with McManus during negotiations, said. "We just approved the minutes for our special meeting we had with the golf course owners." (Belhumeur was referring to a workshop in early November with McManus, intended to reset the relationship.) "He said we'd have that pretty much instantly. The only one we got back as far as a profit and loss was for November of 2017 which was when they were already closed, so how can you figure out anything from that? As far as I can tell, they're still in default of their lease by not having provided what we asked for in our default letter." Belhumeur added: "I don't know where you go from there but to terminate the lease because they're in default."
Commissioner Kim Carney wasn't interested in going further with Flagler Golf Management either. "I feel they're in default, I'm not going to vote for any settlement that looks like this, I'm not willing to give them $22,500," Carney said. "There's no basis for this number that he came up with, he threw some other stupid number out. We can't deal with this. I would like to move forward on whatever we have to do to get their attention that this lease is over or to be over. I think we've given them plenty, plenty of chances. Our staff cannot spend this much time on an issue that is making no money for us and is providing at this point no service to poor constituents."
The city attorney repeatedly insisted on a hearing for McManus to protect the city from a possible lawsuit. "They are claiming damages based on the construction. That's not part of the lease," Smith said. "I'm not saying they're right, but I am saying if they want to make a litigatable issue, that's the issue they've set forth."
"Clearly they can't get their books right, they're definitely not going to be able to get a course case together," Eric Cooley, a business owner and a candidate for the city commission's election in March, told commissioners.
Ocean Palms has had a troubled history. It thrived as a nine-hole course until the housing crash, when it closed in 2008, remaining closed until the city bought the property and leased it to McManus in early 2016. It opened in June that year. The course was open barely more than a year before it closed again last September, in part because of Hurricane Irma, and in part because of a city stormwater project on the property. It hasn't reopened since though a handful of players took to the course this week and a men's league is scheduled to play Saturday as managers gradually work toward reopening it.
So what happens next?
The commission will schedule the issue for a vote at its next meeting, on Jan. 25. McManus will be invited to make his case. If the commission rejects his proposal and ends the lease, Newsom said it'll be his responsibility to ensure that the golf course is operational. There are two options: one is to seek another management firm, which would be laborious and not guaranteed success, judging from past attempts. The other is for the city to adopt Palm Coast's model for the Palm Harbor Golf Course: take over management of the Ocean Palms Golf Course and run it with its own employees, or a limited number of contractors, such as for the restaurant.
"At the end of the day we're going to have a golf course. Once the board makes a decision my goal is to have something in place within 60 days," Newsom said. "As a golfer I'm going to work exceptionally hard to ensure that course is up and running. There will be a golf course. It will not be abandoned regardless who runs that golf course."