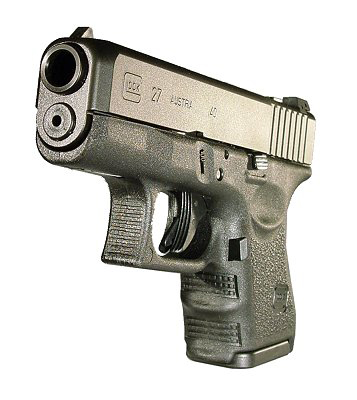 Jarrod Maxwell, a 27-year-old resident of Pine Crest Lane in Palm Coast–a single-family house off of White View Parkway–heard a loud car noise after 2 o'clock Wednesday morning, right in front of his home. He grabbed his gun from his bedroom closet, a Glock 27, and put in the small of his back.
When he looked out the glass pane of his front door–as he later described it to a Flagler County Sheriff's deputy–he noticed a man walking up toward the house, while the car, a dark gray, boxy vehicle with skinny rims on it, was turning around. The man he'd seen earlier walked to the back of the house, where there's a back door, and began turning that door handle in an apparent attempt to get in.
By then Maxwell told the deputy the car had stopped, and two more men had emerged and walked to his own car. All three men outside were white and wore hoodies. At that point Maxwell went outside to confront the men who were standing by the car. One of those men put his left hand inside his pocket and began walking toward Maxwell, who ordered him to get back. Maxwell took out his Glock. The man, according to Maxwell, took two or three more steps toward him.
Maxwell fired a shot. One shot. (There's a vacant lot across the street from Maxwell's house.) Both men ran back to their car and fled. It's not clear what happened to the third man, who'd been in back of the house.
Sheriff's deputies responded to the scene at 2:30 a.m.. The established a perimeter around the property and patrolled the area with a K-9 unit, finding neither men nor vehicle matching Maxwell's description of either.
Maxwell told deputies that he was sure his bullet hadn't struck either men. He turned the weapon over to a deputy, along with the shell casing of the fired shot. The bullet itself was not recovered. No blood or any other sign of anyone being shot was observed in the area, nor was any property damage observed–to house or car.
Maxwell was told he could recover his Glock in seven days.