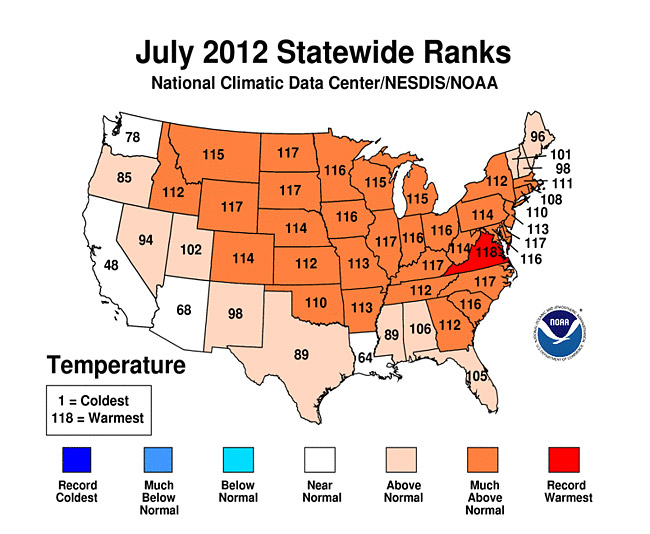 July 2012 was not a good month for the Lower 48s. Drought expanded to cover 63 percent of the nation, excluding Alaska and Hawaii. Wildfires burned 2 million acres, mostly in the west. And the average temperature was 77.6 degrees Fahrenheit, or 25.3 Celsius, 3.3F above the 20th century average. The previous, hottest July was in 1936, the year of the Dust Bowl.
July's temperatures contributed to make it the warmest first-seven month period in the nation's history, as well as the warmest 12-month period the nation has experienced since record-keeping began in 1895, according to the National Oceanic and Atmospheric Administration.
That report comes on the heels of a June report that showed the month to be the fourth hottest ever, globally, when land and ocean surface temperatures were combined. The global temperature average was 0.63°C, or 1.13°F, above the 20th century average of 15.5°C, or 59.9°F. Record keeping began in 1880. The Northern Hemisphere land and ocean average surface temperature for June 2012 were actually the hottest ever for June, at 1.30°C, or 2.34°F, above average.
The effects of global warming have been far more pronounced in the polar latitudes than closer to the equator.
The drought devastating the Midwest this year has been nearly as severe as that of the mid-1930s, though farmers have since developed numerous techniques to better cope, at least for a while, with the effects of the drought. Ten states had three-month precipitation totals among their ten driest, including Nebraska, Kansas, and Arkansas which were record dry. December 1958 was also similarly dry.
In Florida, where drought conditions had persisted for several years until this spring, wetter conditions have returned. Most of Florida's 67 counties, including Flagler, were no longer in drought conditions. Abnormally dry conditions were persisting in a couple of counties in the southwest, and in a dozen counties in the middle of the Panhandle.