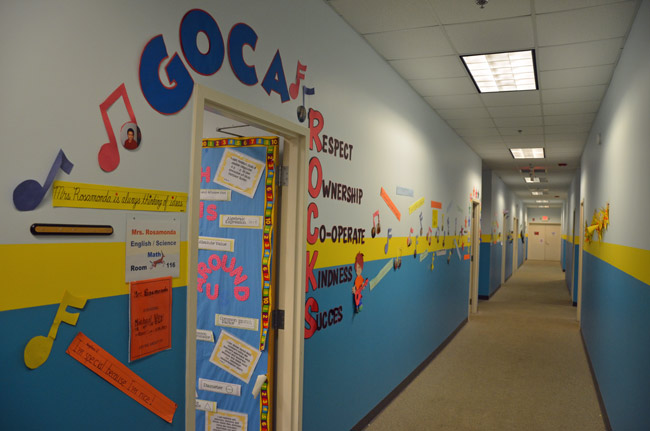 The Christmas decorations right from the entrance announce nothing but cheer, the poinsettias' reds still sparkling almost as much as the fresh paint on the walls, the blues and yellows there less than five months. The Children's faces beam from bulletin boards—the ballet kids, the violin kids—and classrooms this evening had the feel of a place ready to get busy again after the two-week break, but for a few telltale signs that it won't: closets have been emptied, a few desks cleared. This very evening some teachers had been by to pack up their stuff, and one parent had removed a child's portrait from a bulletin board.
Open less than five months, Global Outreach Academy, the charter school at the Flagler County Airport, won't open its doors when school resumes Wednesday morning. The school is short of money, and is behind on its rent due Flagler County government, which owns the building it's occupying.
Tuesday afternoon—on New Year's Day—school officials sent word to Superintendent Janet Valentine that they would not reopen, and that 122 students and their parents would, come Wednesday morning, have to make alternative plans for the rest of the year. Between one and two dozen people are losing their job.
"I have been informed that Global Outreach Charter Academy of Palm Coast will be closing its doors effective immediately due to severe financial constraints brought on by high rent and additional construction costs," Global Outreach Principal Kathy Stow said in an electronic message distributed to the school community this afternoon. Aside from not making rent, the school was required to build additional bathrooms and refurbish a hangar for school use, if it intended to use it.
The school's teachers also got word only today that they were out of a job, though they were aware that the school was in trouble when teachers accepted a 20 percent pay cut in November. Stow called some of the teachers personally to announce the closure.
Immediate Fallout
For the Global Outreach's parents and students, the sudden closure, even before the end of a grading period, is a shock on many levels. Many of the K-8 school's children will not understanjd why they cannot return to their classrooms Wednesday. Parents are being told to take their children to the public school for which they are zoned, where they would then be immediately enrolled, Valentine said this afternoon. Parents have the option of enrolling their children in a school of their choice, but if the school is out of their zone, the district will not provide transportation.
---
Principal Kathy Stow's Jan. 1 Message to the Global Outreach Community[media id=313 width=250 height=200]
For the school district, the change will require quick adjustment, because "122 students is a lot of students at one time to get them transitioned in and make sure we are meeting class-size" requirements, Valentine said. The change may require the hiring of a few teachers. Parents can also take their children to one of the county's two remaining charter schools, or to home-school them.
For the county, the loss of Global Outreach is yet another setback in what has been a series of ill-fated contracts with companies and schools the county lured to the airport, only to see the companies and schools either go out of business, abandon their contract or, in one case (involving the building Global Outreach was occupying) buying out the remainder of their lease, but also leaving the building empty as a result.
"I've been on the phone all afternoon calling parents," said Jolene Rosamonda, who taught several subjects at Global Outreach. "I felt we needed to be more personal so I've been trying to get in touch with the middle school students." She said teachers were not entirely surprised since the time when they were asked to accept a pay cut, but that pay cut had been accepted with some assurance that the school would operate through the end of the school year.
Tuesday evening, after some teachers had packed some of their belongings and left, only one staffer remained at the school–its IT director, among other things–who still held out hope that a last-minute deal might be possible, if investors looked favorably on the school. He later sent a text telling the story of a father who'd brought two of his children from Europe to enroll in the school, with Wednesday supposed to be their first day, "but here's the news that wasn't expected by this parent."
Early Signs of Trouble
The signs were there for the school district and the county that Global Outreach may have been somewhat of a risky bet.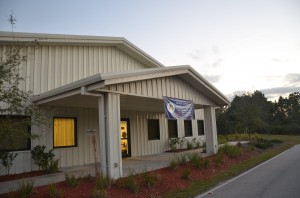 Jacksonville-based Global Outreach's arrival at the county's airport facility was preceded by months of harried hunting for a location that at one time or another had included the old Food Lion in Flagler Beach, the old Heritage Academy building in Bunnell, and Roma Court in Palm Coast.
The county, eager to have a viable business occupy its vacant buildings at the airport (on which it's paying sizeable debt after previous businesses or organizations for which it built them bailed), went out of its way to accommodate Global Outreach as the school was scrambling. Global Outreach actually missed the deadline set by the school board to have a lease in place, but the school board, too, was accommodating.
In July, the county approved a lease that would have charged Global Outreach $1,000 a month for three months, then $13,500 a month after that. On Dec. 3, aware of its financial difficulties, the county agreed to amend its lease with Global Outreach. It would raise the rent to $13,500 only for the month of November. But from December through July 2013, it would lower the rent considerably, to $8,000 a month. The monthly rent would then rise to $15,500 a month beginning in August 2013. That way, and despite the break for 2013, at the end of the three-year lease, the charter school would have ended up paying $4,000 more than it would have under the lease's original terms.
On Dec. 3, Sally Sherman, the deputy county administrator, described the "insurmountable amount of work" that went into accommodating Global Outreach, including securing the approval of the Federal Aviation Administration, because of the school's location—literally, adjacent to an airport runway. The FAA gave its approval only for three years.
At the time, the county's renegotiation of the lease was conducted under the impression that Global Outreach would make it. But the school still had safety improvements to make. And it had failed to secure a $250,000 one-time start-up grant from the Florida Department of Education that charter schools are eligible for.
Flagler County's Plagued Airport Deals
County commissioners were not happy about the deal. They accepted it grudgingly, but noted the difficulty of having contracts changing along the way. Commissioner George Hanns, burned frequently over previous airport contracts, even raised a question about what the county would do if, "let's say a year from now, they're still not where they'd like to be, and would like to back out." Hanns softened the hypothetical question by suggesting that Global Outreach might look for a different location. "How are we protected at all?"
"Basically," Sherman said, "what we can do is we can go after them for the full amount of the lease, if we choose to, and as you know we've done that before when we had the vacant facility come up." The county did that with that very building, but couldn't do so with a larger building, once occupied by the Ginn Corporation (the developer), which went out of business and left the county holding the entire bag—a $2 million obligation. Sherman said Global Outreach's assets were limited. "Staff's position has been at the end of the day that building has sat vacant for three years and this was an opportunity to get something in there," she said.
"Should they not succeed as a business, close up shop and open up under another name, there would be nothing to go after," County Commission Chairman Nate McLaughlin said.
That appears to be the case now.
Newly minted commissioner Frank Meeker was also only reluctantly accepting of the contract, but saw its limitations. "I understand the value of having a revenue-producing entity at the airport in a vacant building," he said. "I have a hard time in my own mind thinking that a school at that location is a great idea for a long-term use on a highly valuable piece of property."
The School District's Charter Bets
The school district hasn't had a good track record, either, with the schools it has itself chartered. Charter schools are run with taxpayer dollars, but by private concerns. The local school board is responsible for providing oversight, but under great pressure from the state Department of Education to approve charters. That places the local district in the often untenable position of getting none of the reward for a charter's success—which usually goes to the charter school itself—but all of the blame for its failure, as was the case when Heritage Academy closed last year, after accumulating two successive F's from the state: the school's staff and parents turned their wrath on the school board, which revoked the charter, as is its responsibility when a school fails.
The district has had better luck with Imagine School at Town Center, the only local charter school with a steady record of success. Palm Harbor Academy, the only other school still in operation locally, is struggling after earning an F last year.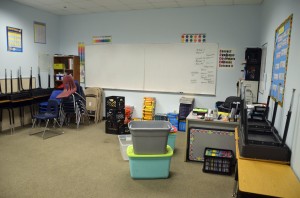 Nevertheless, it remains the school district's responsibility to ensure that a charter school's business plan is viable when submitted for approval to the school board. There were questions about Global Outreach when it submitted its plan, though the district went ahead and approved it.
"We just need to make sure that when we're taking a look at their application," Valentine said this afternoon, "that we see they have the up-front money, that they have good reason to believe they'd have the planning money from the Department of Education, or that they have some organization backing them with the dollars."
That had not been the case with Global Outreach, though the company "had other schools in Florida that had been successful," Valentine said—namely, one school in Jacksonville. "We did not anticipate their application not being funded," she added, referring to the $250,000 grant.
The school board has taken an appreciably harder line when faced with charter applications. Four such applications were submitted last year. Three withdrew before appearing before the school board. The fourth was forced to withdraw under tough questioning from School Board members Colleen Conklin and Andy Dance during an October meeting, even though the district administration had recommended approval.
Flagler Charter Academy of Excellence—a front for the Leona Group, a Phoenix-based for-profit corporation that runs some 60 charter schools in Arizona, Ohio, Michigan and Florida—had made an unconvincing case to the board, especially since its officials had secured no local involvement. The official said they would return to the board with a modified application later in the year. They didn't, pushing their return to later this year.
That means there will be no new charter schools in Flagler County opening next year.
All politics and business leases aside, it still leaves a group of 122 children and their teachers shocked out of a place to be Wednesday.
"We had a great group of kids," Rosamonda , the teacher, said. "I would say probably the best group of kids that I'd seen in a long time, and the parent support was phenomenal. They're at a loss, when I talk to the parents, they just don't know what to think."