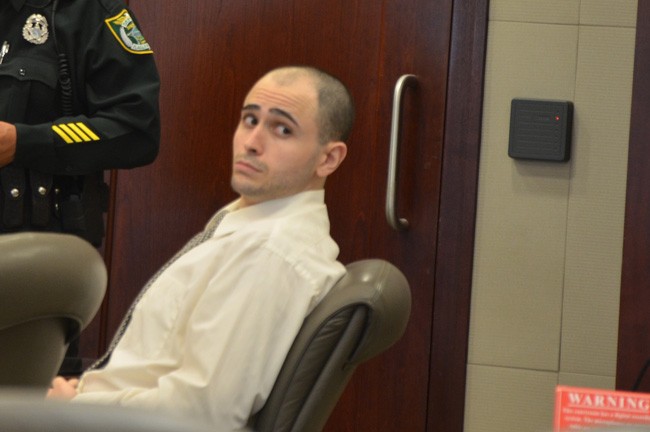 The jury took barely 50 minutes to reach a verdict of guilty on all five felony counts in the case of Giuseppe Verdone, the 24-year-old Palm Coast resident who two years ago was accused of assaulting and kidnapping the co-owner of a Chinese food restaurant in November 2013.
The clerk read each count and verdict: Count one, guilty of robbery with a weapon, count two, guilty of kidnapping with a weapon, count three, guilty of battery, county four, guilty of burglary with an assault or battery, count five, guilty of burglary while armed.
Verdone, wearing an off-white shirt and tie and staring ahead without visible emotions as the verdict was read, is now facing life terms in prison: four of the five convictions are on life terms. As a re-offender who was released from prison less than three years ago, he faces mandatory life in prison without parole regardless.
Still, Verdone's sentencing was set for July 15 at 3 p.m., because the prosecution must still prove, through a fingerprint analysis, that it was indeed Verdone who was in prison recently, and that it was Verdone who committed the previous crimes for which he'd been in prison. But that analysis is mostly a formality. It is almost certain that Verdone will be sentenced to prison for life. He will be at the Flagler County jail until then, before his transfer to a state prison.
The all-white jury of four men and two women was polled after the jury was read, then thanked for its service and escorted out of the courtroom just after 3:30 p.m. before the judge, the prosecution and the defense were to wrap up the case. The jury had gone into deliberations at 2:25 p.m. and knocked to inform a bailiff that it had a verdict at just past 3:15.
"I'm just glad he'll be accountable for the crimes he committed against the victim, and that justice was served," Assistant State Attorney Christy Opsahl said soon after the verdict, speaking to reporters. "The heinous crimes, how about we add that in there." Asked if she thinks Verdone would have killed the victim, she said: "Yeah, certainly the victim thought he was going to kill him."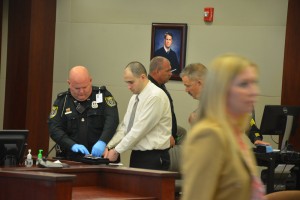 Verdone the night of Nov. 2, 2013, had planned to hijack Ming Gong, co-owner of King Palace, the Chinese restaurant, and looked up motels in Virginia, where he was planning to drive off with an underage girl. He was chased through Georgia and South Carolina, and arrested in South Carolina. After the carjacking, he'd handcuffed Gong and put him in the back of Gong's own car, which Verdone drove, in hopes of getting Gong to take him to Gong's house. Verdone along the way brutalized Gong with a Taser to keep him controlled. Gong then managed to open the car door and throw himself out of the car even as Verdone was driving it on Palm Coast Parkway, leading to Gong's head injuries and fractured skull–and a lot of confusion at first when Gong went to a Palm Coast fire station, where paramedics though, because of his handcuffs, that he'd escaped from cops.
Gong was not in court today, nor were any members of his family, or members of Verdone's family: the courtroom was empty except for two reporters and several members of the state attorney's office, including assistant prosecutors who had come in to see the verdict and congratulate Opsahl afterward.
Judging from the brevity of their deliberations, jurors had few questions about Verdone's guilt, and no reasonable doubts, though Public Defender Regina Nunnally tried to sow some doubt in their minds when, with Gong on the stand on Tuesday, she questioned whether he had identified Verdone as his assailant.
"Originally when you reported it did you say it was a Hispanic man?" Nunnally asked him. He answered in Mandarin, through an interpreter: ""Because in my memory people from other countries look more or less the same, their faces look more or less the same. I could not distinguish which country he was from It was a general statement." Nunnally also attempted to sow some doubts in the jury's mind about whether it was Verdone who had carried out the attack that night, as Gong had, at times, said that he hadn't been certain of the appearance of the man who'd attacked him.
But the prosecutor was quick to redirect the questions to more precise indictments. When Opsahl asked Gong whether it was Verdone who'd approached him that night, put him in handcuffs and attacked him multiple times with a Taser, Gong said yes.
---
Giuseppe Verdone Immediately After the Verdict