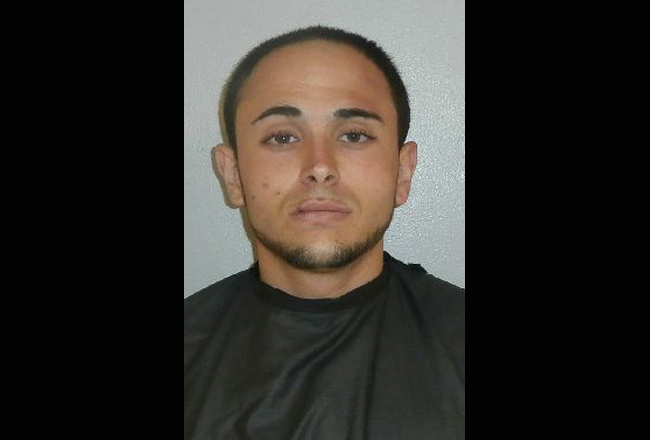 Swift detective work led to five felony charges against Giuseppe Verdone Jr.—who goes by "Joe"—the  22-year-old habitual Palm Coast offender accused of carjacking and severely injuring a Chinese-food delivery man Saturday before fleeing the state with a 15-year-old girl who had previously been listed as missing.
Verdone, of 64 Bannerwood Lane in Palm Coast, is charged with carjacking, kidnapping to inflict bodily harm, falsely impersonating a law enforcement officer, aggravated battery and felony interference with the custody of a juvenile. He has not yet been booked at the Flagler County jail.
Ming Gong, the 43-year-old co-owner of King Palace restaurant on Palm Coast Parkway, suffered a broken skull and internal bleeding in the brain after he was carjacked. Gong either was pushed out of his own car, which Verdone is accused of stealing, or managed to throw himself out of it as it was driving by the Palm Coast Fire Station on Palm Coast Parkway, near Clubhouse Drive. Gong was handcuffed behind his back at the time. He was unable to control much of his movements. He slammed onto the pavement, and was found by paramedics at the station before being taken to Florida Hospital Flagler, then transferred to Shands Hospital in Jacksonville.
The handcuffs he wore bore the engravings Verdone's own brother remembered seeing when Verdone had showed them to him before the carjacking—as he had to others as well.
The Flagler County Sheriff's Diego Morales was the lead detective on the case. Sheriff's news releases had indicated that the residence where Ming was making a delivery—78 Bayside Drive—was vacant. The arrest report, however, states that the house was, in fact, occupied, but that the residents there had not placed an order for Chinese food. The order ticket that Ming still had when he fell out of the moving car listed a phone number, which led Morales to a juvenile at a particular address. That juvenile had let Verdone use the phone (and Verdone had showed off his handcuffs to the juvenile). The King's Palace phone number showed up in the recently called list.
Verdone, according to Morales, had pre-planned the alleged robbery and car-jacking because he wanted to get some cash and a car to meet up with the 15-year-old girl. Morales interviewed members of Verdone's family at Verdone's house—which is under their own video surveillance, and which caught Verdone returning to the house in a car after the time when the carjacking is believed to have taken place. But the surveillance video was not of sufficient quality to identify the car.
Verdone's family members told Morales that he neither owns a car nor usually carries cash—but showed up with both Saturday evening at around 10 p.m.. The Verdone house is only about 200 yards from where the alleged carjacking took place.
When he got home, Verdone retrieved a laptop and spent some time in it. Morales looked up the search history. He found searches for a motel in Virginia, and immediately sent out a be-on-the-lookout alert on I-95. It wasn't long after that that Verdone was chased by police in Georgia and South Carolina. The chase lasted 45 minutes, and ended in Mardeeville, S.C., where he was arrested, driving Gong's Toyota. The 15-year-old girl was with him. Statements from Verdone revealed, according to the arrest report, that he knew her age, and knew she was missing.
According to a sheriff's office release issued Tuesday evening, Verdone remains in custody at the Jasper County Detention Facility in Hardeeville, S.C., where he faces additional charges and awaits extradition back to Flagler County.