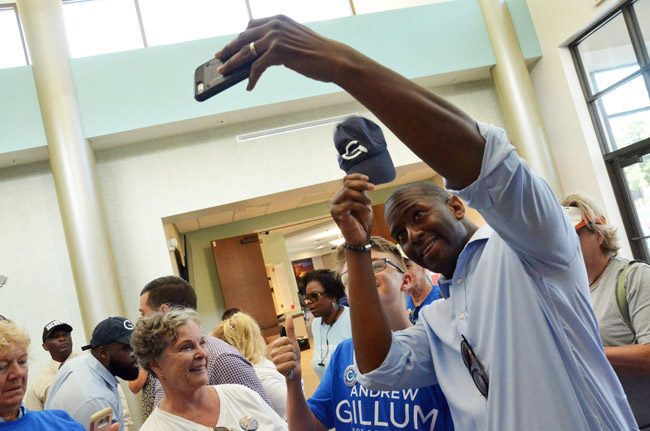 Mirroring fellow-Democrat Bill Nelson's lead in his race for U.S. Senate against Rick Scott, Tallahassee Mayor Andrew Gillum is leading ex-Congressman Ron DeSantis 52-46 percent in the race for governor with two weeks to go, according to a Quinnipiac University poll released today. The poll was conducted before the two men clashed in their first debate Sunday. They debate again Wednesday.
The customary "two weeks to go" marker is becoming outdated, however, as Floridians in most counties, including Flagler, have already started voting. Two-thirds of them will have voted by Election Day on Nov. 6.
Gillum is so far winning key demographics, with a seemingly insurmountable 18-point lead among independents, who usually decide statewide races. Gillum was expected to win among minorities: he has 99 percent of the black vote and 59 percent of the Hispanic vote, and he is not only winning big among women in general, with a 21-point advantage, but he's also winning among white women, with 50 percent to DeSantis's 47 percent. The only major demographic Gillum is losing is among white men, who back DeSantis 62-37.
Gillum is polling best in the Bay area, the I-4 corridor and the southeast of the state. DeSantis is polling better in the north and Panhandle area, and in the southwest.
DeSantis started his race against Gillum disastrously when he made a statement about Gillum with racist overtones, but has been gaining slight ground: the previous Quinnipiac poll had him down by nine points. He's also improved his favorability rating, albeit from 42 to 43, with his dis-favorability reduced from 47 to 43. But the poll also found that only 2 percent of likely voters remain undecided, which would suggest that minds are made up in a race that's not quite close at the moment.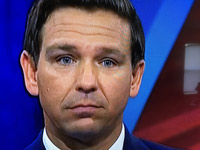 "Looking inside the numbers of the governor's race between Mayor Andrew Gillum and former U.S. Rep. Ron DeSantis, we see shining examples of the problems Republicans face this year, not just in Florida, but around the country," said Peter Brown, assistant director of the Quinnipiac University Poll. "The GOP has faced strong opposition from women and other anti-Trump voters. These defections have hurt GOP candidates around the country and made it difficult to attract the numbers of independent voters that are often major players in successful campaigns. Here in Florida that has translated into an 18-point Gillum lead among independent voters."
DeSantis since 2012 was the representative for the 6th Congressional District, which includes all of Flagler. He resigned to focus on the governor's race. The seat is now being contested by Democrat Nancy Soderberg and Republican Michael Waltz.
The Quinnipiac Poll is among the more reputable in a crowded field of pollsters, garnering an A minus from FiveThirtyEight. Bay News 9/Survey USA released a poll conducted almost at the same time as Quinnipiac, finding Gillum ahead by seven points. St. Pete Polls, a pollster that uses automated phone calls as opposed to live callers, found Gillum ahead by one point. The Real Clear Politics average of polls has Gillum ahead by 4.7 percent.
Quinnipiac University surveyed 1,161 Florida likely voters from Oct. 17-21, with a margin of error of +/- 3.5 percentage points.