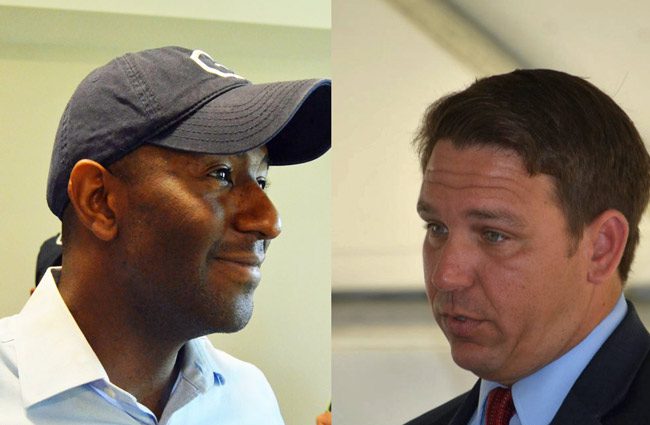 Six polls published Sunday and today show Andrew Gillum ahead of Ron DeSantis in the race for governor, and five of the six polls show Bill nelson ahead of Rick Scott in the race for U.S. Senate. Some of the polls show both Democratic candidates with majorities that are now outside the margin of error.
The two most reputable polls in the series–NBC News/Marist, and Quinnipiac University, which have an A and an A-minus rating in FiveThirtyEight's pollster rating–both give Gillum a 7-point advantage, well outside the margin of error, and Nelson a 4-point advantage, still within the margin by fractions.
In 2014, Quinnipiac's last poll before Election Day had Charlie Crist ahead of Rick Scott by 2 points, well within the margin of error. Scott eventually won by 1.1 percentage points. At the time, Quinnipiac called it too close to call, something it is not doing with Nelson and Gillum this time. No numbers favor DeSantis this time.
In the 2014 governor's race, Crist had a mere 7-point advantage among independents. Gillum now has a 13-point advantage among independents–the key to most statewide Florida races–a 14-point advantage among women, and he splits men 46-46. That last figure is notable, and bad news for DeSantis: in 2014, Scott was leading among men by 13 points. DeSantis would have a hard time winning without a solid majority among men and more inroads among independents. (Crist had the same advantage Gillum has among women.) His only advantage is among white voters, a demographic he leads by 13 points.
"Mayor Andrew Gillum and his challenger, former Congressman Ron DeSantis, are running exactly the same, 93 – 4 percent among self-identified members of each of their respective parties. But Gillum's 13-point margin among independents is the difference in the outcome," Quinnipiac's Peter Brown said.
Nelson's advantage over Scott mirrors that of Gillum's, with double-digit leads among women, independents and Hispanics, and a split in the vote among men.
"Candidates with double- digit leads among independents rarely lose," Brown said. "There is little difference in the two races. Both leaders ran up double-digit leads among women; whites went heavily for the GOP candidates while non-whites went even more so for the Democrats."
The Marist poll gives Gillum a crushing 20-point lead among independents (and 18 points for Nelson): if that sort of number holds, it would easily neutralize the advantage the GOP has been playing up in the past two weeks–its clear lead among the 4.3 million Floridians casting ballots in early voting. But the lead vanishes when Democrats' numbers are combined with those of independents.
Both the Quinnipiac and Marist polls showed Gillum and Nelson gaining since the last Marist poll, as was the case with Quinnipiac, suggesting that Donald Trump's rhetoric in the last two weeks of the campaign, much of it laced in lies about immigrants, has not resonated in the two Florida Republican candidates' favor. Trump's approval rating has also fallen in the period, the poll found. Marist found both Democrats to have higher likability ratings, while both Republicans have more unfavorable than favorable ratings in that regard: DeSantis in particular, at home behind a television camera, has had difficulty connecting with voters in person.
Other polls showing Nelson ahead in the past two days include St. Pete Polls, by 4 points, Emerson, by 5 points, and Gravis Marketing, by 3 points. Those three polls get a B-minus, a B-plus and a C-plus, respectively, from FiveThirtyEight's pollster rating. The only poll to show Scott ahead of Nelson is NRF/Harris (the conservative he Alliance of Automobile Manufacturers and National Retail Federation, which relies on HarrisX for its polls, conducted online. Harris Interactive gets a C-plus from FiveThirtyEight.)
For Gillum, even NRF/Harris shows a 3-point lead. Gravis gives Gillum a 1-point lead, Emerson and St. Pete both give him 5 points. In Real Clear Politics' combined average, Nelson leads by 2.5 points, Gillum by 3.1, numbers that, at this point, should seem insurmountable. But polling remains an inexact science, and early voting numbers suggest that past off-year elections, on whose data pollsters generally rely for their methods, are no longer a guide.