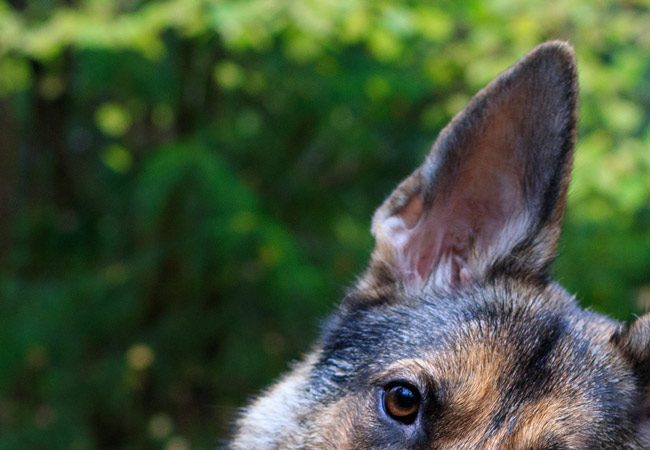 A 5-year-old German Shepherd mix called Caroline is dead from a gunshot to the head after allegedly attacking a man and his puppy walking in Palm Coast's W Section Sunday morning (July 1).
James Armes, 69, a resident of 21 Westchester Lane in Palm Coast, told a Flagler County Sheriff's deputy that he was walking with his puppy when he saw what appeared to be two German shepherds coming towards him and his dog on Westchester Lane "in an aggressive manner," according to the incident report. He turned to go home. But he said the two dogs came after him when he was in front of 33 Westchester.
"One of the animals then reportedly attempted to bite him and his dog," according to the report. Armes took out his Ruger LCP .380 semi-automatic (he has a valid license), "crossed his body with it and discharged the weapon at a downward angle into one of the dogs that was adjacent to his left calf," the report states. The other dog then reportedly ran away. Armes fired a Hornady Critical Defense jacketed hollow point bullet.
Armes returned home and called 911. Deputies took a photograph of his leg "due to the fact that he may have suffered a burn on his leg from having to discharge the weapon so close to his body," the report states, in the reporting deputy's words. "Upon examination of his leg, I did not observe any powder burns." Armes's wife and a friend the deputy spoke to said there'd been "previous instances with these animals where they were observed running loose and possibly acting in an aggressive manner."
The German shepherd was called Caroline. The owner of the dog, Michelle Wisher, 40, told deputies that Caroline got loose from the backyard at 7 Westcliffe Lane–an d had done likewise in the past. (It is illegal in Palm Coast for dogs to be loose, without a leash.) Wisher said her daughters ran out front to fetch the dog, and heard a loud pop in the area. But it was only when driving in the neighborhood that Wisher located the her dog in front of 33 Westchester Lane, killed.
The 79-year-old owner of the house in front of which the dog was located reported hearing something like a firecracker, and later seeing Wisher and her daughter–and "the dog laying in the driveway lifeless and bleeding from the head," according to the incident report.
After animal control formalities, the dog's owner requested that Caroline's body b e turned over to her, and it was.
The sheriff's incident report concludes: "After obtaining all parties statements and the prior history of Caroline getting loose and being aggressive, [Armes's] actions were being determined to be in self-defense. […] It is to be noted that no shell casings were located in the area at the time."