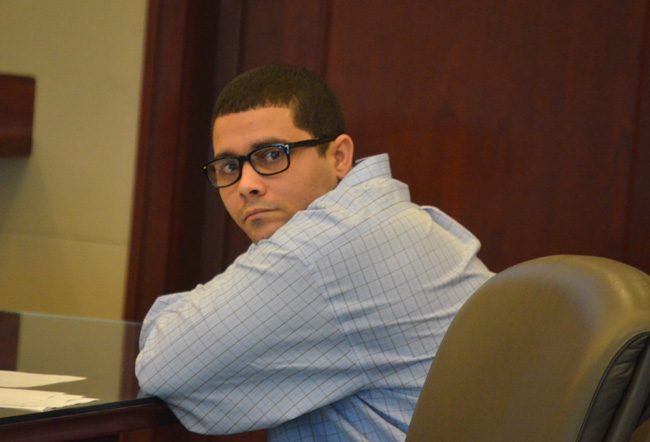 It's not been a week for Flagler County juries too inclined to deliberate. On Wednesday, a jury took 18 minutes to find a man guilty of 24 count of sex crimes that'll send him to prison for life. This afternoon, a jury of five women and a man took 45 minutes to find 31-year-old George Wood III of Palm Coast guilty of escape and three other crimes that expose him to 15 to 30 years in prison when he's sentenced on Jan. 30.
The sentence will be severe because Wood is a convicted felon 10 times over. Eleven, counting today. Should the judge tack on a "habitual felon" aggravator to his coming sentence, as the prosecution is asking, what would otherwise have been a 15-year term could double to 30. And he has yet to face two more trials: one in January on an illegal firearm possession and one later next year on an armed burglary allegedly committed during the Hurricane Matthew emergency in Palm Coast. If he's found guilty of that charge, his life as a free man, such as it's been–he's spent most of his adult life in prison or jail–is over: he faces life in prison.
But today's jury was not aware of his history nor of his coming trials, only of the incident of the night of January 31 at a Bunnell Circle K on State Road 100.
That night Wood walked away from a cop who wanted to talk to him in the parking lot of the convenience store. Flagler County Sheriff's deputy Diego Gonzalez, just past his rookie year at that point, had pulled up on word of a disturbance there. "What do I need to talk to you for?" Wood told him. Wood then threw something into a van, possibly the gun that'll be the subject of his next trial, jumped head-first into that vehicle and told the woman at the wheel to take off. Scared, she hesitated. Wood himself took command but threw the car in reverse, jumped a curb, struck a pole, got Tased and finally was detentained in back of Gonzalez's patrol car.
Wood may have had his own reason not to speak to a cop. It's not a crime not to do so, or even to walk away from one absent the commission of a crime.
"The dynamics of this incident changed the moment Mr. Wood threw something into the vehicle and jumped head first into the van," Assistant State Prosecutor Mark Lewis told the jury.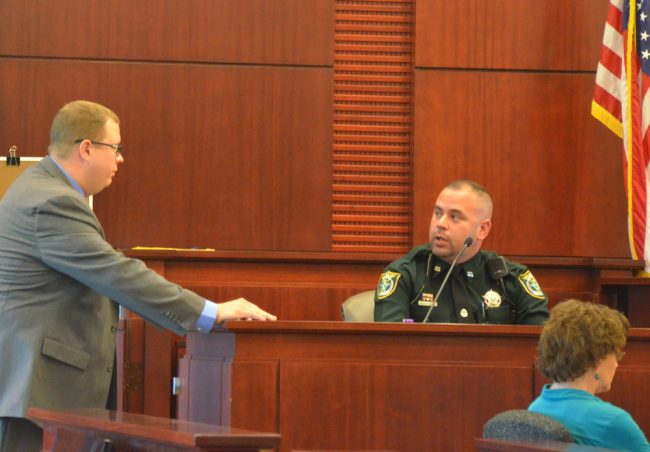 Not so, said Regina Nunnally, Wood's public defender. "In Mr. Wood's mind the situation is bullshit," she said, using Wood's own description of the situation. "In other words he's saying I didn't do anything wrong for them to come at me. So was he avoiding a lawful confinement? I would say no, because he was unlawfully confined, because they arrested him for something he had the right to walk away from."
Nunnally tried to make much of that occasionally abused gray line between lawful arrest and overzealous policing. Cops have been known to flash badges and handcuffs and scream "stop resisting" over aggrieved egos. But she didn't have much to work with: this was not just a case of a man legally exercising his rights, simply walking away and refusing to speak to an officer in a civil encounter and somehow deciding to slip from a vaguely defined detention.
Wood after his arrest managed to bust the patrol vehicle's cage even though he was handcuffed and ran, taunting the arresting officer along the way ("He yells 'Gonzo' and I see him running down North Anderson," Gonzalez said on the stand) triggering a foot and air chase. He somehow climbed up a tree two blocks away, apparently in the backyard of someone he knew, and hid out until a helicopter pilot's infrared sensor picked him out in the night and led Flagler County Sheriff's deputies and a police dog to the foot of his tree: part of the evidence the jury saw today was footage from the helicopter's infrared camera scanning Bunnell's blocks and zeroing in on the white body heat of a mass huddled in a tree on East Howe Street.
From there Wood tumbled, was arrested and, according to him, injured in the process. "They beat the fuck out of me," he told a woman in a phone call from jail after she'd asked about the blood-soaked sheets she'd seen at the hospital, where he was taken after his arrest.
---
Video clip of Air One's infrared scan of Howe Street as it led ground deputies to George Wood, the white silhouette within the trees.
He'd told the same woman that if things had gone his way, if a woman who didn't seem to know what to do hadn't been at the wheel of the car he jumped into, he'd have taken off and been far away from the scene, ostensibly free and clear. And–in one of three recorded phone calls from the jail–he said he should've never jumped out of the cop car to start with.
Nevertheless Nunnally argued that he had nothing to escape from. Cops had no reason to detain or arrest him in the first place that night at the convenience store, she said. He had just bought a beer in the convenience store and walked away from a cop asking to talk with him. There'd been no crime, no evidence of a crime, just a verbal argument earlier that had by then ended. Resisting arrest is often a bogus charge when slapped on an individual by itself–a red flag, in defense attorneys' view, that nothing criminal had taken place or warranted arrest other than interaction between an individual and a cop which, like a self-fulfilling prophesy, somehow leads to arrest.
"I need to talk to you, I need to talk to you. 'Bout what? 'Bout what?" Nunnally yelled, asking the question Gonzalez had asked Wood. Nunnally apologized to the jury for yelling, explaining that she's a preacher's kid. "When an officer asks you a question and you don't answer the question, it can be seen that the person is disrespectful, or that the person is hiding something, or as one potential juror said, being an asshole."
The escape, Nunnally argued, was the fruit of a wrongful arrest, so that while Wood may have committed a mischief in smashing his way out of the deputy's car (she conceded that he did, causing $30 in damages), he should not have been placed there in the first place.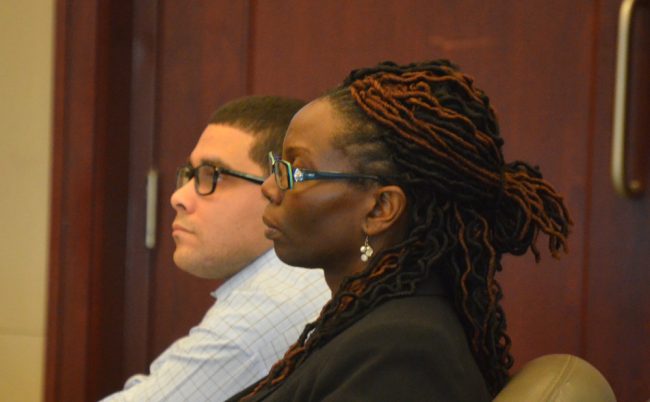 It was a valid argument to make in Wood's defense, as even Circuit Judge Dennis Craig agreed today, and she delivered it with her usual tone of incredulity and podium-banging indignation at a "totality of circumstances" she said gave Gonzalez no reason to be suspicious of Wood or to go after him.
But the indignation was more contrived than justified by evidence she presented, let alone evidence the prosecution presented: Nunnally's argument did not resonate with Gonzalez's long testimony, when the deputy, on the stand, maintained an unwaveringly neutral composure that gave no hint of chippy shoulders. Nunnally's argument weakened further when the likeliest reason for Wood running from cops came into play: he had a warrant out for his arrest from Louisiana.
So for all of Nunnally's impassioned defense, the context was jarringly off key: Wood was not the man to make these points for, Gonzalez did not have the demeanor of the goon she was making him out to be, and the jury was seeing through the contrivance. Wood was running not because he had a keen sense of his civil rights but because he did not want to be arrested again. He wanted to avoid returning to jail. "Is there really any other reason?" Lewis asked the jury wryly.
And there was another reason that likely impelled him to run: that alleged armed burglary three months earlier, charges he'd face while in jail in March. But the jury could not hear anything about that.
Gonzalez was not aware of the warrant out of Louisiana until Wood was in the back of his patrol car and he ran Wood's name through the usual law enforcement databases to check his background. But by then, even if Gonzalez had no reason to be suspicious of Wood at the initial point of contact, he soon would as Wood dove into the van: "All my senses are going off," Gonzalez said on the stand.
Other than a reporter, Gonzalez, who'd spent the day either on the stand or in the audience, was the only person in the audience when the verdict was read. (The jury had gone into deliberations at 3:45 p.m. It was done at 4:30 p.m., and dismissed just before 5, its weekend intact.) Wood looked straight ahead when the clerk read the first two guilty verdicts, then his head shifted, looking to the ceiling, the way younger people do sometimes when they're trying to beat back tears, though no tears were evident after he sat down and briefly spoke with Nunnally.
Gonzalez has been at the county jail since the night of his arrest in January on a now-combined $185,500 bond, though his bond in the present case was revoked. He is not likely to see freedom again.
Gonzalez–the September Employee of the Month at the Sheriff's Office for a heroic effort in helping a family of four out of a car that had crashed into a waterlogged ditch after Hurricane Irma–termed himself relieved by the verdict. He was in uniform, an hour from getting on the road for a 12-hour, 6 p.m. to 6 a.m. shift, assuming his supervisors did not give him the night off.