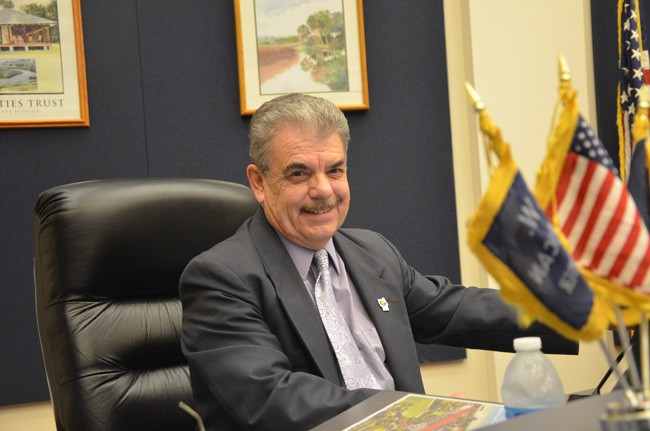 County Commissioner George Hanns, a past commander of the Veterans of Foreign Wars Post 8696 in Palm Coast, was awarded a certificate of appreciation for his work in support of the VFW's National Veteran's Service Program. It is unusual for elected officials to bring attention to their own accolades, but Hanns did so Monday, with a touch of testiness.
"The highlights of my life certainly have been being a veteran, a carpenter, a builder, an electrician and father," Hanns said Monday morning at the end of a commission meeting. "Being a county commissioner later in life is quite a bit rewarding. It has its ups and downs, it can be very thankless but for the most part we're able to affect a lot of people's lives in a positive way, and the majority of people appreciate that." He's in his sixth term as a commissioner.
Hanns, however, twice referred to a "news release" that Carl Laundrie, the county's communications director (who's retiring later this month) wrote about Hanns's honor. The commissioner didn't specify the papers he had in mind, but he chided them for not running the release. "It's not likely you'll read it in the local paper although it's sent to them," Hans said. Twice.
In fact, the "release" may not have been circulated to the media beyond the posting of a brief notice about the award on the county's website. Laundrie's releases are blasted to all media in the area in mass distribution. That release was not part of any such email blast last week (it was not sent to FlaglerLive) and may have been missed by the papers for that reason. Hanns sent the link to the county's posting of the item to FlaglerLive in an email of his own on Feb. 1.
A plaque was presented to Hanns, the notice states, and signed by John W. Stroud, the Commander in Chief of the National Veterans of Foreign Wars organization. "Only 3 percent of the population of the U.S. has served our country in the military and I am proud to be one of them," Hanns said in the release, comments he repeated this morning at the commission meeting. "I my opinion one of the highest honors in life is to serve one's country."
According to the Veterans Department, which maintains annual estimates of the living veteran population in the country, there were 22 million veterans at the end of 2014, or 7 percent of the population.