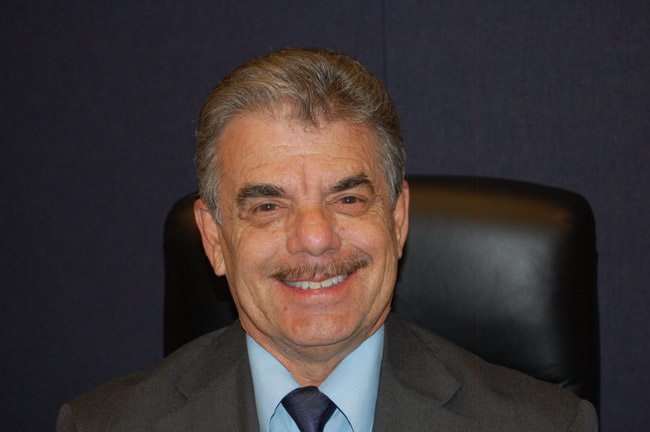 Five-term incumbent Democrat George Hanns is a candidate for the Flagler County Commission in the Nov. 6 election, facing Republican Herb Whitaker in the District 5 race.
Three commission seats were up this year. In August, Charlie Ericksen defeated incumbent Alan Peterson in the District 1 race. County Commissioner Milissa Holland had two years to go in her term, but she elected to resign on Nov. 6 and run for the newly drawn Florida House seat that, for the first time in two generations, includes all of Flagler County. That opened up the District 2 seat, which is being contested by Independent Abby Romaine and Republican Frank Meeker, who resigned his seat on the Palm Coast City Council.

Whitaker, a 69-year-old Realtor, and Hanns, a 66-year-old retired builder, faced off four years ago, with Hanns winning by four percentage points.
In both races, all registered Flagler County voters may cast a ballot, whatever their party, whatever their address: Commissioners represent specific districts, but they are elected by all Flagler County voters, including every city's voters.
A county commissioner is paid $48,061 a year. The salary is set by state law, based on county population, but paid out of local dollars.
FlaglerLive submitted 14 identical questions to all four commission candidates, who replied in writing, with the understanding that some follow-up questions may be asked, and that all exchanges would be on the record. Each candidate was also given the opportunity to ask his or her opponent three questions, which appear following the FlaglerLive questions. Follow-up questions, when necessary, appear in italics, and may be awaiting answers.

The Questions in Summary: Quick Links

Place and Date of Birth: Chicago, Oct. 5, 1946.
Current job: Flagler County commissioner.
Party Affiliation: Democrat.
Website:
1. What makes you qualified to be a county commissioner?
I am a regular, hardworking, dedicated family man. People who really know me will say, "George is like a guy I grew up with in the old neighborhood, you can always count on him." I am a lifetime volunteer with thousands of community service hours. I have the energy, dedication and desire to serve and represent all of the people. I have never let my constituents down in the twenty years I have served as a Commissioner and never will let the citizens down.
During my twenty years of service, I have helped play an active role in making our community a great place to live. During my tenure I had to deal with good economic times and bad. I have addressed a wide variety of issues and believe I am very qualified to meet the challenges that lie ahead.
Not to diminish your unquestioned qualities as a human beings, and understanding that most elected officials are, at a minimum, dedicated public servants, what specific abilities qualify you to remain commissioner? What skills do you bring to the tale that others may not?
In my two decades of service as county commissioner, I have strayed away from partisan bickering and maneuvering which never serves the public interest. I represent everyday people. I have no personal agenda nor will I be controlled by a special interest group. I won't dazzle you with my articulation, but I will get the job done. I use common sense and have a heart for every person in our community. My record speaks for itself.

2. Would you have supported the county's impact fee moratorium? If so, what is your evidence that such a moratorium can create a substantial number of jobs, and how do you explain to those who have paid impact fees that current builders and home-buyers won't have to?
I did support a temporary moratorium. I have no illusions that it will create a huge number of jobs. I viewed it as a way to promote our community and potentially a way to jump start us locally. I do believe it sends out a statement to everyone that our county is open for business and is willing to work with you. Although we cannot control many economic factors at the local level, I feel I have to continue to try to make a difference. If this action happens to put people to work, that's icing on the cake, and I am okay with it. I appreciate those who have paid impact fees, but if nothing happens as a result then no one really got away with anything and if things really pick up then hopefully they will reap the benefits of job opportunities, additional tax base to support community services and increased home valuation through new investment. Also keep in mind that this applies to business and industry and was supported by other cities (i.e. Bunnell/Flagler Beach) that charge the county transportation impact fee.
Again, what is your evidence that such a moratorium can create a substantial number of jobs?
We can't just sit back and do nothing, something had to be done. Everyone likes a bargain. i.e. Auto sales attract buyers with O percent interest and cash back people will cut out grocery coupons
to save. When we attract new home buyers I will say it worked, if nothing changes at least we tried.

3. Do you think a larger jail is needed? If so, what's your evidence that it is? And if you think it is needed, do you favor a new jail or an addition to the existing jail?
The need for additional beds, prisoner segregation, and various facilities is well documented and has been addressed by our jail commander, our judges, our prosecutors and public defenders and everyone else involved in the judicial system for our county. Our facility was built in 1990, over 22 years ago. During that time our county population has more than tripled and our criminal offenses also have tripled. We are over capacity. Our offender mix has changed and state and federal jail standards have changed. We have one half to one third the number of beds that surrounding counties have, including the smaller counties. This has been talked about at Board workshops, through studies, and through the Public Safety Coordinating Council which looks at these issues. Would I rather improve a park or pave a road or lower taxes? Yes, but our experts in the judicial system tell me we are letting out people that we shouldn't. I feel we have a responsibility to protect the public, as it doesn't do any good to arrest them and then the judge has to release them only to let them right back out to hurt someone's family.
Building a new jail would be a waste of taxpayer money when we can add on to the existing jail cells. We have asked staff to plan phased additions over time as the need arises. While all kinds of numbers and ideas are being discussed in the political "silly season," I believe we will see some real facts and figures in the next six to eight months that will be a reasonable solution to this issue and a plan for the future expansions as they become necessary.
Aside from anecdotal and verbal declarations at public meetings by various officials, what hard, documented, objective and written evidence have you seen that confirms what you've heard about the need for a jail–evidence that could, for example, be shared with the public without having to rely on anecdotal testimonies?
Every Monday through Friday I receive an email from the County Jail with an update on occupants. The jail is always over crowded and has been for several years.

4. What role do you think the residential construction market should play in the county's economic development? What role should tourism play?
I think a balanced approach to economic development is necessary for a successful economy. Residential development has a role, but it cannot be our main approach. On tourism, I have always been a big supporter. Tourism means increased traffic for our local businesses and often adds to the quality of life our residents enjoy. The other thing that tourism offers is that it is something we can impact locally. It is something we have some clear advantages with, and lastly it provides spin offs with people visiting and then choosing to buy a home or relocate their business here.
However, my main focus has been on base economic jobs that do not depend on the local economy to survive. These jobs are usually of a good wage with benefits, come with long term investments in our community and allow people to buy existing houses and support many other local businesses.

5. The county has been talking about economic development since the bursting of the housing bubble, and in 2011 established its own jobs council. Those efforts have yet to bear fruit. Evaluate the jobs council's performance. What measurable outcome would point to a successful economic development effort, and what do you intend to do, as commissioner, to get to that outcome?
Economic development is a marathon, not a sprint. We are not expecting a magic wand to make everything better tomorrow. Our Director has been on the job less than six months and the citizen Economic Opportunity Council has been active for less than a year. I am highly impressed with the people that currently volunteer to serve us in this capacity and those who have served us in the past and still help us today. I believe the citizen Economic Opportunity Council is off to a good start in a very, very tough economic environment. We are doing the things that we believe will allow us to be competitive in attracting businesses and to be ready when opportunity knocks. We have had some minor successes already with some relocation of jobs to our community and look forward to working with Sea Ray to expand jobs. I think jobs is our benchmark, but I also believe that is one that cannot be measured in the short term of a year or two, but over a longer term that takes constant work and investment after you have implemented.

6. To what extent would you support paying for beach renourishment with county tax dollars, in Flagler Beach and elsewhere along the Flagler coast, if that's what the U.S. Army Corps of Engineers recommends?
First, we need to clarify "county tax dollars" means "county tourism tax dollars" generated from visitor overnight stays and not property taxes. Secondly, I would say it is an appropriate use of a portion of tourism dollars to protect our number one tourism asset. I clearly support making these types of investments and protecting our beach no matter what form it ultimately takes. I also believe these types of investments go beyond just protecting our beaches and tourism, but also the protection of A1A, the environment, our local businesses, and not to be too dramatic, a way of life in our community. Communities throughout this state and across the country have decided it was wise to make these types of investments. Also, under current grant matching rules, for every twenty five dollars we spend the federal and state government will match it with seventy five dollars. Under this scenario, I believe it would be unwise for us to not invest a portion of our tourism dollars to protect our community and our number one tourism asset that generates the majority of tourism dollars.

7. Amendment 4 is the proposed constitutional amendment that would expand the homestead exemption to first-time home-buyers and cut in half (to 5 percent) the limit at which non-homesteaded properties may be assessed every year. The Florida League of Cities opposes the amendment, saying it will further reduce local governments' ability to raise revenue. Where do you stand on Amendment 4?
I believe in letting the people decide this issue for themselves, but for me I am against it for a couple of reasons. This is a tax shift, not a tax cut. There is a cost to providing local services and if this is adopted it will shift more of the burden on full-time residents. Everyone likes someone else to pay the bill, but that is not reality and in my opinion this will just make our property tax system more complicated and less fair. I hope people really do their homework because the impact will be felt next property tax season.

8. "Taxes are what we pay for a civilized society," Justice Oliver Wendell Holmes famously said. Do you agree? Do you consider local government taxes to be too high or too little? If there was one tax reform you could implement locally, what would it be?
Today we say it a little different, "There is a cost to provide services and a certain quality of life." The reality is that whether it is law enforcement, 911, public elections, parks, libraries, mandated Medicaid matches, or public records of mortgages, there is a cost to provide those services.
Whether we are too high or too low is relative to who you are asking. No one really wants to pay taxes or if they pay them, they do not want to pay more than their fair share. It all boils down to what type of services and quality of life the community expects. No one wants to let the bad guys out of jail, close a park or library or have the ambulance take twice as long to get their loved ones to a hospital. Many people have moved to our community because of the quality of services provided to them.
For a comparison on taxes, I look to how we rank with other counties. We are currently the 44th lowest in the state out of 67 counties. [Note: according to Florida Association of Counties data for 2012, Flagler was 54th lowest in property taxes levied.] A lot of people who moved here can recall how high their property tax bill was before relocating here. Also, in some cases they had to pay a city, county and state income tax on top of that.
We have little authority to affect the tax structure. This is Tallahassee's job and I have always supported our efforts to lobby the Legislature and Governor not to impose unfunded mandates upon our citizens. This includes the lawsuits we have filed against the state which I have voted to support over the years.
Still, the question to you remains: do you think taxes in Flagler are too high or too low–or just right? And understanding that the tax structure is Tallahassee's domain, what tax reform would you favor, if any?
Yes I know that taxes are fair in Flagler County and we have a quality of life that backs that up.

9. Has the county commission managed the taxpayer-funded Environmentally Sensitive Lands program well? Can you cite examples of good land acquisitions, and examples of not-so-good acquisitions? What is your definition of a good ESL acquisition?
I believe we have secured some key pieces of property over the years that today are enjoyed by many residents and new ones that will open over time. There are many that come to mind such as Princess Place, Betty Steflik Preserve and the River to Sea Park in Marineland, etc. More recently, the expansion of Bing's Landing which is already being developed through mainly grant funds with a canoe/kayak launch, a pavilion and a dock over the water. In addition, it is funded to add additional boat and car parking and a trail in 2013. Flagler County does not have any "not-so-good acquisitions."
The Board approved a formal land acquisition manual. It spells out the types of property we are seeking, what appraisals and review appraisals are necessary, our acquisition process, and how our citizen ESL (Environmentally Sensitive Lands) Committee reviews all the properties. All the new property that is acquired will be opened up to the public and will prove to be good acquisitions regardless of what someone states about them in the heat of the moment.
How was buying 980 acres of un-buildable land from the Ginn Co., at Pellicer Flats, in September 2010, a sound use of taxpayer money?
This acquisition was on the land acquistion board's radar for many years, it completed the Pellicer Corridor along with the Long Creek acquisition . There are uplands that are buildable. The county is also going through the process of selling salt water mitigation credits to developers in the Northeast Florida region.

10. Last May the Volusia County Council approved a domestic partnership registry, granting unmarried couples, including gay couples, the same benefits as married couples. That means partners can visit each other in hospitals and jails and can make funeral arrangements for each other. Would you be supportive of such a registry in Flagler County? If not, why not? If yes, would you be willing to lead the initiative from the commission?
To be totally honest, I am not familiar with the details of the action that Volusia County took regarding a registry, why they did so, and its implications. I do not know enough to take the lead on this item to generate the issue. However, if it were brought forward with detailed information I would approach it as I do all issues by weighing the pros and cons before making a decision.
I am also not sure that the rights described in the question were really granted by this Volusia action or for that matter did not exist already. For example, I am sure a patient can accept visitors from anyone in most hospitals and the same is true of inmates in our county jail (pending some criminal background check). As far as funeral arrangements, I am not aware as to whether or not a local government can grant that right.
Also, Volusia County is what is called a charter county which gives it additional legislative rights within incorporated cities. Flagler County, as a constitutional county, could not impose anything like this with the cities. Regardless of my personal views, I would weigh whether it is the role of local government to undertake this issue and whether it is wise for the 500 local governments in Florida to have different standards. This may be a better question for state legislators to address.
Let's put the question more directly: do you support an unmarried gay couple's right to make critical decisions for each other, such as being a surrogate for health care decisions or to provide consent, say, on a do-not-resuscitate order–rights that are not currently on the books for gay couples in Flagler County?
I always say to each his own, However I believe that only immediate Family has a right to make a decision during life and death situations.

11. Evaluate the performance of County Administrator Craig Coffee, listing strengths, weaknesses and areas of concern.
I have evaluated Mr. Coffey and I believe he has done a good job in carrying out the Board's direction and running the day to day operations of the county. He has faced over a 50 percent reduction in property values, had to lay off approximately 20 percent of our work force, and yet we have completed millions of dollars of capital projects on time and on budget. We have continued to provide quality services and win state and national awards. I have evaluated him for several years now and have gone over those evaluations and other feedback with him one on one. I will tell you, in my opinion, he has done a good job for the citizens of our county and I believe he is honest and hardworking. I do believe asking for an evaluation of his performance from candidates who have not worked with him is not fair to a candidate and somewhat unfair to Mr. Coffey as a professional employee of the Board of County Commissioners.

12. Evaluate the workings of the county commission: do you consider it an effective local government? Can you cite specific examples of its effectiveness—or areas of concern that you would deal with differently? Are you satisfied with the way the commission and its administration relate to the public?
I think we have been able to work well together on most issues.
You did not answer the question. Would you care to give it another try, including the way the commission relates to the public?
The county meetings are televised, Public service television broadcasts events, etc. The county also has a speaker pool available to address an issue with clubs and organizations. The county has an open door policy with the public, even the press. Examples of sharing with the public are the Ag Center, Citizens Academy, Air Show,Feed flagler, Carver Gym, ball fields, and many others.

13. Who, on the current commission, would you most closely model yourself after and why?
There are things that I admire about all of the commissioners that I serve with now and that I have had the pleasure of serving with in the past. However, in the end, I would model myself after myself. Not to say I am perfect because clearly I am not, but as I have served I have always had to be myself. I am not partisan or beholden to any political party or subject to any special interest group. I do not use my position as a stepping stone to other elected positions or to create a business. Although I appreciate the skills of everyone I work with and I hope they appreciate mine, in my heart I am a retired carpenter and veteran who thinks of himself as an average resident of our county living in Palm Coast.

14. Describe your temperament, including your best qualities as a member of a collegial group, and what's likely to irritate or frustrate your colleagues most about you?
I try to be very calm and very level headed at the meeting and believe I can get my point across by being civil. I try to avoid being rude or disrespectful to the citizens or my fellow commissioners and truly care about the issues and the people we work with. The best qualities I would say are my sense of humor, my knowledge of local history events and government history, and my common sense approach. I try to make reasonable compromises when the Board seems split during debate. As far as irritating or frustrating my colleagues, I do go off course with a point every once in a awhile, some of it is for humor or to lighten things up, but on the irritating or frustration side of things, I could think of a lot worse that might get in the way of good decision making by the Commission.
We have never known you to speak at any great length without displaying your unique brand of humor and colloquialisms. None appear here. Your answers above, and the contrasting tone and style of your answers below, which were sent in subsequent to your first answers, beg the question: have you received any assistance at all writing or editing your answers, and if so, from whom?
Yes, my answers may be boring, however my intent was to be serious. Sophie is a much faster typist than I am and she helped me with some of the wording. I have a 136 IQ and have the ability to retain facts over a long time period. Now if you were to interview me on on one I can assure you I would respond with the style you are accustomed to.

15. The following questions were submitted by the candidate's opponent, Herb Whitaker:
i) At the BOCC workshop on July 2, when discussing the placement of a half-cent sales tax on a ballot for referendum vote, you stated that you would support this action with a 15 year sunset term. And yet you cast the deciding vote to pass this tax, without referendum, imposing your ideas on the community without asking what their ideas were. How do you justify voting with the majority here, as you said you would at the workshop instead of allowing the voters a voice?

In a two month period ( July to September) new information becomes available on any given subject, and that is the reason the county commission has workshops, to openly discuss the merits of an issue. You see, county commissioners do not meet to discuss issues or plan strategies away from public meetings. A commissioner may express an intent at a workshop but must always be open-minded to amend his or her own thinking as new information becomes available during a discussion. The state requires counties to be responsible for providing a safe environment for inmates at our county jail. Our jail is vastly overcrowded and the state will not allow more judges in Flagler County. Refer to my response on question three above for the facts leading up to a vote by the county commission.
The residents of Flagler county know that I make sound decisions, there were only two choices that were available, to continue the sales tax (which everyone who makes a purchase in Flagler County pays) or raise the real estate taxes with the entire burden placed on taxpayers. I have been a Florida resident since 1972 and had to downsize like so many others just to make ends meet. I too feel the pain of every taxpayer.
For your information, In my two decades of service as a county commissioner, I have strayed away from partisan bickering and maneuvering which never serves the public interest. I represent everyday people. I have no personal agenda nor will I be controlled by any special interest group. I won't dazzle you with my articulation, but I will get the job done. I use common sense and have a heart for every person in our community. My record speaks for itself.
ii) During the forum at the Knights of Columbus on October 17 you stated that your mentor and good friend supporting you was Mr. Al Jones, former chairman of the County Commission. Contrary to that comment, Mr. Jones categorically denies these facts and has instead issued this statement: "Some twenty years ago, George Hanns won my reelection attempt – the people wanted change and that is what they got. Now is time for a change again – it is time for George to be replaced. I fully support Herb Whitakers campaign to be our new commissioner, and urge you to vote for him." Why did you mis-characterize your relationship with Mr. Jones?

Had you not avoided the draft during Vietnam or served in the military, you have no idea why or how I admire Col. Al Jones, an Army Intelligence Officer who served his country during World War II, Korea and Vietnam. I can only imagine how you brought this subject to Col. Jones's attention. Yes, Col. Jones was my mentor, in fact he appointed me to the Palm Coast Service District Advisory Board two years prior to my run for County Commission in November 1992, and 10 years prior to Palm Coast becoming a city. He taught me so much about serving with honor and dignity. I am proud to say that he was my mentor on the county commission and as far as whom he may support in this election Col. Jones knows what is politically correct. I will continue to respect Col. Jones as a decorated war hero regardless of how you think he will vote.
iii) At the Hammock forum you were vigorously reprimanded by the hosts at the Hammock Conservation Council about an egregious slanderous name you directed at me, knowing full well it was not the truth. Why would you invoke name calling into a campaign against your opponent, are you that desperate?

When people hire someone to serve they look at his or her resume, check out references, how often they changed places of employment, and what co-workers thought of their working relationships. When electing an individual the procedure is the same. In your case you have been very insulting of my dedication, record and many accomplishments during my years of service to the residents of Flagler County. Your decision to place false and misleading information on cardboard posters is not what people expect from a candidate who wants people to trust and respect him. Your decision to pattern your campaign after negative national politics is an insult to the highly educated residents of Flagler County. Yes I did upset your supporters when I said some people you have worked with referred to you as creepy, however I only reacted to your constant insults you have made about me and my Family and I apologized at a public meeting for over reacting, yes you baited me and I bit. I repeated a comment about you that was made to me in confidence.
The county commission gave you an opportunity to serve on the planning board in 2009. On Aug 11, 2009 planning board meeting pgs 3 of 8 to 7 of 8, On Sept 8, 2009 the planning board was dis-banded. You were removed and not reappointed because of your decision-making and responses made to the county commission during a county commission, reorganization meeting , where the county commission interviewed applicants on Sept 21, 2009 pgs 7 & 8. Nor have you been appointed to any county board since 2009. Located in the Official Minutes of the planning board, Aug 11, 2009, and county commission meeting on Sept 21, 2009.
I am a 66 year old senior citizen who is a retired Carpenter, Apprentice Instructor and Builder with 25 years of service. Between the the US Army 1963-69 (two years six months and 15 days, overseas) and The Flagler County Commission, 1992-present. Combined I've given over a third of my life serving our country and Flagler County.
I've served with many dedicated Elected Officials over the years and I must say that you are very unique when it comes to running a campaign. Like I told you before the election season when you were thinking about running for Supervisor of Elections. People don't take kindly to a person who is negative, hateful and has no history of community service that is not self serving. Negative people breed negative results and respect from the people is earned, not demanded.