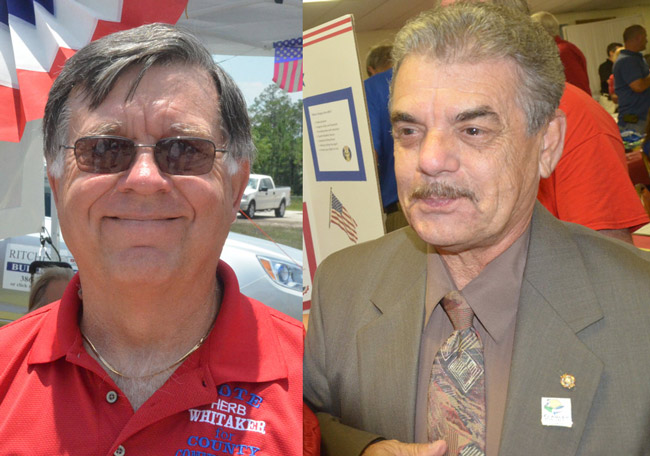 It was among the most inelegant moments in a generally inelegant election season. Flagler County Commission incumbent George Hanns, who's hoping to win his sixth election, was answering questions with his challenger, Herb Whitaker, at a candidate forum hosted by the Hammock Conservation Coalition earlier this month.
Whitaker has been bitterly critical of Hanns, calling him a part-time commissioner, criticizing him for not owning his own home and for never completing the Florida Association of Counties' certification courses for commissioners. Hanns has openly ridiculed Whitaker for furthering his education, saying—in open forums—that no one would hire him, being past 60 (Whitaker is 69, Hanns is 66), calling Whitaker's attacks orchestrated attempts to bait him by the local Ronald Reagan Republican Assemblies, and, at that Oct. 2 forum, going one insulting step further.
Hanns called Whitaker "creepy."
The audience was stunned. Hanns was booed. The microphone was taken away from him. Hanns never denied it. "What I actually said was, when you hire a person, you look at their resume and their background," Hanns said Tuesday morning, "and all I said was that people who have worked with him in real estate, particularly women, have said he's creepy. And what that meant, I don't know." What women? He wouldn't say. Who had reported the allegation? He wouldn't say.
The statement at the Hammock forum was stunning enough that Milissa Holland—like Hanns, a Democrat, and a fellow county commissioner—who had her own segment in the forum, felt obliged to apologize to Whitaker, as did Jim Manfre (the Democratic candidate for sheriff).
Monday evening, Hanns apologized to the commission, though he did not initiate the apology. Dennis McDonald, a Republican who'd lost a bid for the county commission in the August primary (and a member of the Ronald Reagan assemblies), had been at the Hammock forum. He addressed the county commission at the end of its meeting. "I saw the senior member of this commission make a number of different comments that I thought was absolutely outrageous," McDonald said, referring to Hanns. "I was not alone in that feeling. The commissioner was roundly booed, and I don't think I've ever been in a public forum where that's happened."
McDonald continued: "He made a comment that was blatantly age-discriminatory where he commented to the person he's running against, that it doesn't matter, you're over 60 years old, nobody is going to hire you anyhow. I just think this is an outrage, and even though we've got an election going on, we can certainly be civil about this. This commission spends a lot of time at the very beginning of every one of its meetings honoring people from this community, both individually and collectively, for bettering themselves, which betters our community, and I'm just saying that I would like to see Mr. Hanns apologize to you commissioners for that, and to the members of this community also."
Whitaker has made his late-blooming education part of his campaign. He only recently got his associate's degree from Daytona State Community College, then went on to earn a bachelor's of science from Embry Riddle Aeronautic University. He's now enrolled in a master's degree there.
Hanns blamed the political climate at large and what he perceived as personal attacks by Whitaker on his family, and his companion—Sophie Zabas, with whom he's been living for 20 years at a house on Belleaire  Drive in Palm Coast, and whose property taxes he says he's been paying for those 20 years. Hanns says he still owns property on the west coast.
"I've certainly never experienced an individual take an exception and criticizing my family, and myself for different things, and I regret that I was baited, and I bit, and I criticized the individual running against me," Hanns said, never mentioning Whitaker by name. Whitaker had been in the audience earlier in the meeting, and had spoken to the commission on a matter unrelated to the election.  "It seems like my better half Sophie is not able to handle the stress of campaigning as well as I do. She's under doctor's care. You all know she had quadruple bypass a few years ago. She's stressed out, she's in there doing the echograms and the treadmill and all this other stuff, and quite frankly when you care about somebody and they're struggling and having health issues over it, you tend to carry on a bit differently, so all I was doing was defending my family and I regret that. And I will say that I apologize because it's not my nature in the past 20 years to fall into that trap. But this individual has made so many false comments and statements against me and my family that I just overreacted, and I apologize."
Hanns acknowledged the bad impression he'd made at the forum. "It is true I heard that from a lot of personal friends of mine and I deeply regret that," he said. "However I got caught up in emotions with the signs of the times, and quite frankly I'm not used to not defending my family and their honor. So again, sorry."
Whitaker this morning disputed Hanns' claim that he'd ever attacked his family. "I don't know where he comes up with me insulting his family,"  Whitaker said. "I have met her and she was always a gracious lady."
Hanns says that while he's never heard direct personal attacks from Whitaker himself, he's heard them relayed to him—again, by unnamed sources—with Whitaker referring to Zabas as "that woman," which Hanns finds insulting.
After another forum Saturday, Hanns approached Whitaker's wife and had a pleasant conversation with her. But the commissioner says he would not sit down at the same table with Whitaker outside of a forum setting, and this morning went so far as to call Whitaker worse than the Soviets (Hanns was in army intelligence during the cold war, in Germany). "I've never seen them act like this guy does" Hanns said—another wild exaggeration, of course: the Soviets led a reign of terror for seven decades. Whitaker is a Realtor with an acid tongue.
Whitaker claims he's never made the race personal. That's not quite true. This morning during a phone interview, when he was speaking highly of Zabas, he said: "I don't know how she ended up with him." Whitaker immediately caught himself and asked that the comment not be repeated, and later apologized for it. "That was an egregious statement I shouldn't have made, but I did." And even though he'd said that "family is off the table," he brought Hanns' children into the equation. Hanns, Whitaker said, had criticized him for getting a college education, saying the army was the best education. "I guess his children didn't get the memo," Whitaker said, noting that Hanns' children are college educated.