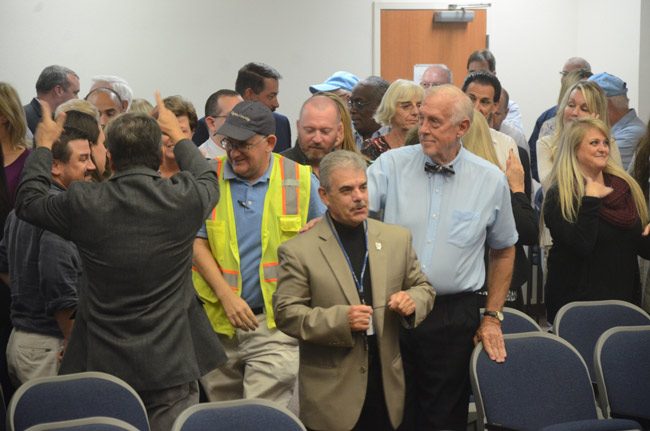 George Hanns has never been known for being short-winded. And for a moment there this afternoon, as the county commissioner was making his final speech at a farewell ceremony, there was a hint of the 24 years he was having difficulty punctuating with a period of his own. Anyone would excuse him: he'd put on a trooper's face through everyone else's farewells and thanks, and he could not so briefly cede the way to the fact that six successful elections and a quarter century of public service was coming down to a plaque, a photo collage, a baseball cap stitched with Flagler County FireFlight's logo, and a marble cake—"integrated," as Hanns put it. "I like that."
"You'll see me from time to time in different areas of the county, but my dream now is to have a veterans museum," Hanns said. "Actually I need somewhere to hang out. I certainly am not going to be coming to county commission meetings. I'm going to miss you all, but this is something that I'm honored to have been a part of, and if I'm needed I'll be here, if something ever comes up on the agenda, they're going to keep me posted on what's coming up just to keep up with current events, and if I can ever have any input I'll be happy to do that."
Nate McLaughlin, who'd started taking on the role of commission chairman even before the election—Barbara Revels, the actual chairman, has been on vacation abroad since her unexpected defeat on Nov. 8—gently attempted to get Hanns to turn around and cut the cake. Even that was unsuccessful. Hanns continued finding stories to tell from the hundred or so people arrayed in a semi-circle around him, or from the pictures from his career flashing on the big screens around the room (Hanns as a veteran, Hanns with lasagna, Hanns as commissioner, Hanns with the late Sophie Zabas, his long-time companion).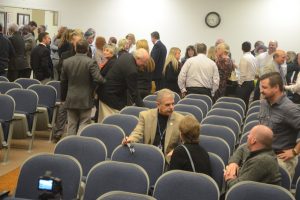 Several times he fell back on his favorite armor: the kind of one-liners that have so often broken tension or provided the only relief at difficult or interminable commission meetings through the years—"the emotions are running very high right now, I may need a pair of medics," he told Roy Longo, a medic on FireFlight who was offering him the crew's gifts. "Oh, here's a picture of me with black hair." And when McLaughlin, whose emotions can rival those of John Boehner, had to stop midsentence to collect himself during his farewell to Hanns, Hanns finished with: "I just got a little choked up because I didn't want Nate to feel bad."
He'd drawn an impressive crowd for his goodbye, consisting mostly of the political insiders he'd worked with: constitutional officers, past county commissioners or county commission candidates, Palm Coast council members past and present, Sheriff-elect Rick Staly, school board members past and present, and the only two other present commissioners: McLaughlin and Charlie Ericksen, who'd worked on a long and at times brutal roast of Hanns, Dean Martin-style.
"While I was writing this," Ericksen said to the assembly, with Hanns at his side, "I thought of and wrote down all of the many things George had done for us here in Flagler County, and there were many. The only thing I can't figure out is why I didn't vote for him." The man he had voted for, the man who defeated Hanns, Donald O'Brien, was one or two rows of people beyond Hanns, applauding from time to time and chewing gum. Not far from him was Dave Sullivan, who'd defeated Revels. Both are to be sworn in Tuesday afternoon, when Hanns is not expected to be present. Ericksen's slingshots went on: When George was created it showed God had a sense of humor." "Good things come in small packages." And so on.
County Administrator Craig Coffee had loomed around the semi-circle here and there but he had the 5 p.m. meeting of the commission on his mind—Hanns's last. In a brief interview he described Hanns' tenure as a "calming influence" that brought civility to the board, as reflecting "the common man's approach," and as providing an always-useful dose of humor.
Hanns proved it again this afternoon, saving one of his gems for last: "I must say when you do hear from time to time about people in elected positions, doing things improper, I have never experienced that in 24 years in Flagler County."
Soon after that he cut the cake, put his tripod and camera to work a few more times, assembling everyone for a parting shot, and ascended one last time to the dais for his final county commission meeting.