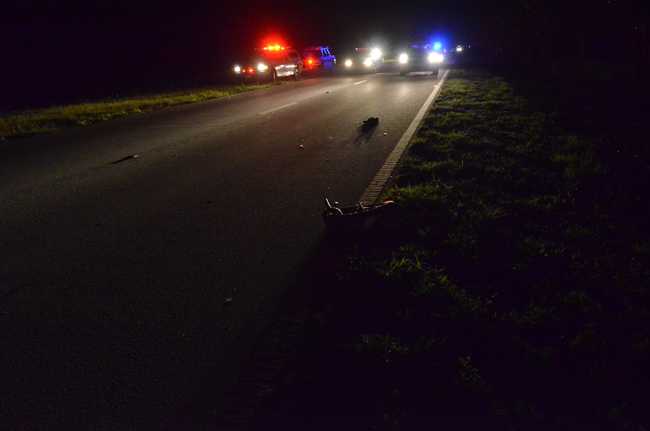 By Dede Siebenaler
Growing up, I learned that the necessities in life come before the luxuries.
The accident that occurred the evening of August 26, claiming the life of 15-year-old Kirt Smith, may have been avoided had the City of Palm Coast's council members found it within their budget to provide adequate lighting and travelways along the darkened road known as Seminole Woods Blvd. that hundreds travel day and night.
It seems Palm Coast has put such luxuries of a million-dollar tennis complex and re-beautification projects before any attempts at providing its citizens two necessities of a safe neighborhood: lights and sidewalks. If it had not been for federal stimulus dollars paying for the sidewalk along belle Terre Parkway–a roadway already served by a sidewalk on one side–that path would not have been built.
This doesn't make sense to me, nor would I feel safe in taking to the pathless and darkened streets in areas of Palm Coast.
From a personal standpoint, family and friends who live in Palm Coast have expressed their fear of going outside their front doors after dark, because there are no streetlights in their neighborhoods.
---
The Live Commentary
---
---
Unfortunately, not everyone is privy to taking a stroll or bike ride in the daylight hours. People have to work to support their families and pay their taxes to the county and city they reside in, namely Palm Coast. In areas as populated as Seminole Woods, it is quite disheartening for me to learn that if they want light, they must pay the utility company for the installation of them, and the monthly cost.
I say to the City of Palm Coast's Mayor Jon Netts and City Council members–Bill Lewis, Holsey Moorman, Mary DiStefano, Frank Meeker–it is time to light up your city in all populated sections, and provide safe travelways for your bicycle and pedestrian traffic, so that your residents can feel safe, not only in their homes, but on the streets as well. We shouldn't have to guess, Mr. Meeker, if the child who was taken from his family much too soon would have used the pathway had it been provided, but to be positive and assume that he would have.
I appeal to you, as a resident of a neighboring (and better-lit) city, and as a member of society with familial and friendly ties to Palm Coast, who was raised by the standard that necessities in life come before luxuries. Please, do not let another life be lost in your city, because of the lack of proper lighting and travelways.

You may sign the Light Up Palm Coast here.
Dede Siebenaler can be reached by email at [email protected].