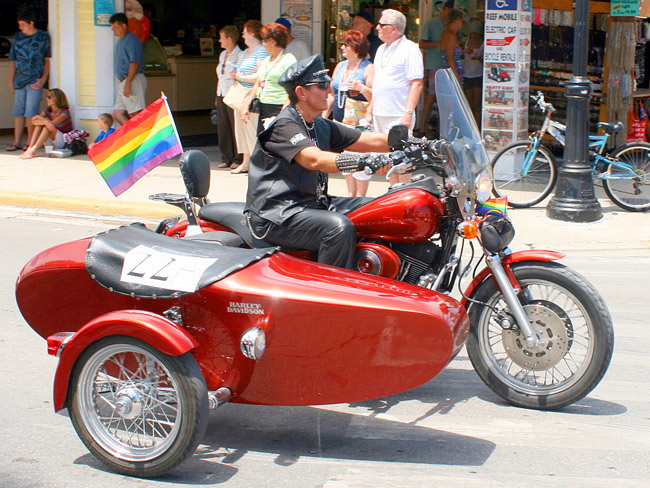 Opening another front in the fight against Florida's gay-marriage ban, eight couples have filed a federal lawsuit contending that the state is violating the rights of same-sex couples married in other parts of the country.
The plaintiffs in the case, filed late Wednesday in federal court in Tallahassee, are Florida residents who were married legally in New York, Washington, D.C., Massachusetts and Iowa. They argue that a 1997 Florida law and a 2008 constitutional amendment deprive them of legal rights extended to heterosexual married couples.
The lawsuit lists numerous examples of alleged disparate treatment, such as the state retirement system providing benefits to the surviving spouses of dead public employees who were in heterosexual marriages. Such benefits are not available to surviving spouses in same-sex marriages. Other examples include issues such as the identification of spouses on death certificates; inheritance rights when a spouse dies without a will; and protections against spouses being required to testify against each other in court cases.
"By denying plaintiffs and other lesbian and gay couples the ability to have their out-of-state marriages recognized, the state discriminates against lesbians and gay men on the basis of their sexual orientation by denying them significant legal protections," said the lawsuit, which also names as a plaintiff the advocacy group Save Foundation Inc.
The lawsuit was filed nearly two months after six couples filed a case in Miami-Dade County circuit court, alleging that the state ban on same-sex marriage violates federal constitutional protections against discrimination. That case is pending.
But state Republican leaders have repeatedly expressed support for the 2008 constitutional amendment banning same-sex marriage. Also, Florida Family Action, Inc., a group that helped lead efforts to pass the constitutional amendment, has signaled it will fight to defend the ban.
In a document filed last month seeking to intervene in the Miami-Dade case, Florida Family Action said that a successful challenge to the 2008 constitutional amendment would "undermine the societal norms and social goods arising from the institution of marriage and destabilize the foundational family unit upon which society depends."
The new lawsuit, filed on behalf of the plaintiffs by the American Civil Liberties Union, seeks an injunction directing the state to recognize same-sex marriages that took place in other states. It alleges violation of due-process rights under the Fourteenth Amendment to the U.S. Constitution.
In a prepared statement, ACLU of Florida Executive Director Howard Simon pointed to a U.S. Supreme Court ruling last year that struck down a federal law known as the Defense of Marriage Act. That ruling has led the federal government to take steps to recognize same-sex marriages.
"The time has come for Florida to end its discrimination against same sex couples, including those whose marriages are legally recognized elsewhere in our country and by the federal government," Simon said in the statement.
The lawsuit names as defendants Gov. Rick Scott, Attorney General Pam Bondi, state Surgeon General and Department of Health Secretary John Armstrong and state Department of Management Services Secretary Craig Nichols. The Department of Health oversees issues such as death certificates, while the Department of Management Services oversees state-employee benefits.
–Jim Saunders, News Service of Florida