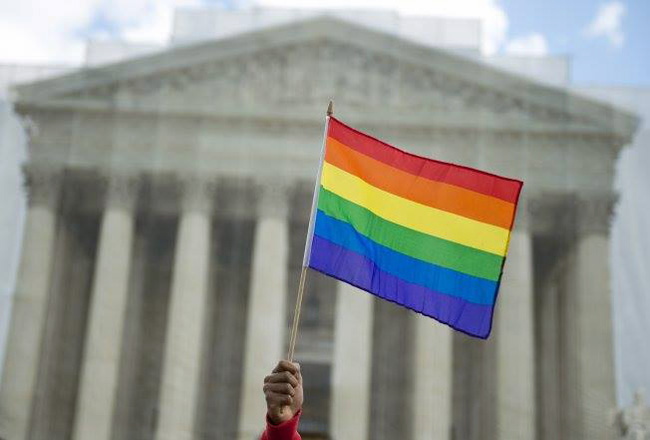 With the U.S. Supreme Court clearing the way for same-sex marriages in 11 other states, gay-rights supporters said Monday they will ask a federal judge to follow suit in Florida.
U.S. District Judge Robert Hinkle in August struck down Florida's ban on same-sex marriages, but he also placed a stay on the ruling while cases from Virginia, Oklahoma and Utah were pending at the U.S. Supreme Court. Justices declined Monday to hear those cases and similar cases from Indiana and Wisconsin, giving victories to gay-marriage supporters who had won in lower courts.
The American Civil Liberties Union of Florida, which represents plaintiffs in the challenge to Florida's ban, quickly said it will ask Hinkle to lift the stay on his August decision. In a prepared statement, ACLU attorney Daniel Tilley said "we are now one step closer to the day when every Florida family can have the respect, protection and responsibilities that come with marriage."
"We are preparing now to take the necessary steps to ask the court in our case to lift the stay and allow Florida couples who are married out of state or who wish to be married to have those marriages respected by their home state as soon as possible," Tilley said.
Hinkle's decision finding Florida's voter-approved ban unconstitutional was similar to rulings by state circuit-court judges in South Florida. Attorney General Pam Bondi, whose office is defending the gay-marriage ban, has pointed to the U.S. Supreme Court's consideration of cases as a reason to put on hold at least some of the Florida legal battles.
Whitney Ray, a Bondi spokesman, gave little indication Monday how the attorney general might respond to the justices' decision against hearing the cases.
"We are reviewing the impact of these decisions, as well as other cases around the country," Ray said in an email.
But John Stemberger, president of the Florida Family Policy Council, which helped lead efforts to pass a 2008 constitutional amendment banning same-sex marriage, disputed arguments that the Supreme Court's decision resolves the issue in Florida. Stemberger said it "has no legal effect in Florida and is only legally binding in the five states where the appeal was brought."
"Unless and until a federal appeals court over Florida issues an adverse ruling, then Florida's current valid marriage laws should continue to be upheld by the attorney general and Florida judges alike," Stemberger said. "Further, no same-sex marriage licenses should be issued, and any decision otherwise by a Florida court or a clerk of court, would be irresponsible and illegitimate."
Hinkle, who hears cases in Tallahassee, issued a strongly worded ruling Aug. 21 in favor of plaintiffs in two combined lawsuits challenging the gay-marriage ban. The plaintiffs included Florida couples who were married in other states where same-sex marriage is legal, a couple seeking to get married and the surviving spouse of a same-sex couple married in New York.
But while Hinkle found that the ban interfered with the couples' constitutional rights, he also issued a stay that at least temporarily blocked same-sex marriages from taking place.
"There is a substantial public interest in implementing this decision just once — in not having, as some states have had, a decision that is on-again, off-again," Hinkle wrote at the time. "This is so for marriages already entered elsewhere, and it is more clearly so for new marriages. There is a substantial public interest in stable marriage laws."
In the order, Hinkle tied the length of the stay to the Virginia, Oklahoma and Utah cases, which had been filed in the Supreme Court.
Justices on Monday did not explain the reasons for not hearing those cases. But the decision could have ramifications for other states, along with Florida. In his statement, Tilley, the ACLU attorney, described legal same-sex marriage as a "clear historical inevitability."
"We said that marriage equality is coming to Florida," Tilley said. "After today's message from the nation's highest court, we know that it is coming even sooner."
–Jim Saunders and Dara Kam, News Service of Florida