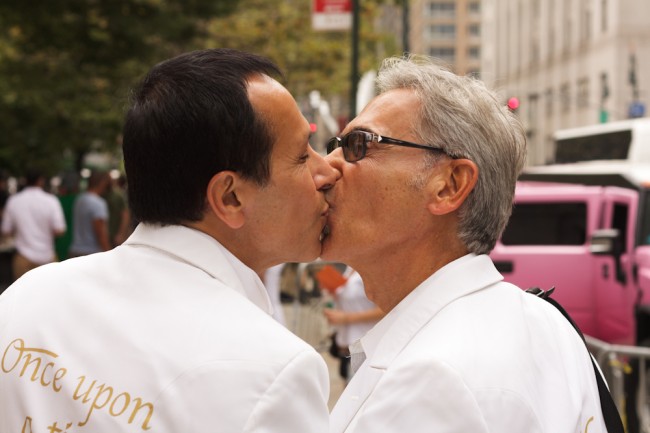 The United States Supreme Court today declared the Defense of Marriage Act unconstitutional. That means legally married same-sex couples cannot be denied federal benefits such as Social Security survivor benefits otherwise available to heterosexual couples.
Bill Clinton had signed the measure into law in 1996, after it was approved by large majorities of a then-Republican Congress. The law was known by its acronym as DOMA.
"The history of DOMA's enactment and its own text demonstrate that interference with the equal dignity of same-sex marriages, a dignity conferred by the States in the exercise of their sovereign power, was more than an incidental effect of the federal statute. It was its essence," Justice Anthony Kennedy wrote for the majority.
"The federal statute is invalid, for no legitimate purpose overcomes the purpose and effect to disparage and injure those whom the State, by its marriage laws, sought to protect in personhood and dignity," Kennedy wrote. "By seeking to displace this protection and treating those persons as living in marriages less respected than others, the federal statute is in violation of the Fifth Amendment."
The court's 5-4 decision is the biggest victory for gay rights to date. The conservative Kennedy joined the liberal wing of the court–Stephen Breyer, Elena Kagan, Ruth Bader Ginsburg and Sonya Sotomayor–to provide a bare majority, and continue a pattern of sharply divided opinions on fundamental matters during this court's term. Chief Justice John Roberts and Justices Antonin Scalia, Clarence Thomas and Samuel Alito Dissented.
"It is enough to say that the Constitution neither requires nor forbids our society to approve of same-sex marriage, much as it neither requires nor forbids us to approve of no-fault divorce, polygamy, or the consumption of alcohol," Scalia wrote in his dissent.
In a separate opinion, the court ruled, also 5-4, that opponents of gay marriage did not have standing to appeal a decision that overturned a ban on same-sex unions. That means the lower court's decision legalizing gay marriage is affirmed. But it also means that the decision has no bearing beyond California: all gay marriage bans passed by statute or through constitutional amendments, as in Florida, remain in effect.
"For those of us who live in state's like Florida where our marriages are still not recognized, today's rulings are a reminder that we cannot wait for justice to be handed to us, we are going to have to get engaged and fight," said Nadine Smith, executive director of Equality Florida, in a statement. Equality Florida is the state's largest civil rights organization dedicated to securing full equality for Florida's lesbian, gay, bisexual, and transgender (LGBT) community. "A majority of Floridians support the freedom to marry, and this is our moment to stand up and get engaged on the right side of history."
In 2008, 62 percent of voters in Florida approved a constitutional amendment banning gay marriage. With today's decision, California becomes the 13th state in the nation where gay marriage is legal.
"Today," Smith continued, "our rights as Americans are not based on our shared citizenship, but upon our geographic location. More than 86 million Americans, nearly one-third of the country, live in states with full marriage equality, with the state and federal protections families need. Today the Supreme Court has said we can go states like Minnesota or Iowa and get married, but we return to Florida legal strangers in our home state."
Californians passed Proposition 8, banning gay marriage, also in 2008, with 52 percent of the vote. Proponents of gay marriage sued. A court struck down the measure as unconstitutional under the due process clause of the Constitution as well as under the Equal Protection clause of the 14th Amendment, prompting a challenge by opponents of gay marriage.
NBC News reported late Wednesday morning that President Obama placed a phone call from Air Force One to the two gay couples who had originally challenged Proposition 8, and told them, "We're proud of you guys."
The 5-4 breakdown in the Proposition 8 case was along diffeernt lines than the DOMA case. In the Proposition 8 case, Chief Justice John Roberts wrote the majority opinion and was joined by Scalia, Ginsburg, Breyer and Kagan. Kennedy wrote the dissenting opinion, joined by Thomas, Alito and Sotomayor.
"We have never before upheld the standing of a private party to defend the constitutionality of a state statute when state officials have chosen not to," Roberts wrote for the majority. "We decline to do so for the first time here."
Kennedy, in his dissent, was bitterly critical of the court's refusal to defer to the initiative process in California. "In the end, what the Court fails to grasp or accept," Kennedy wrote, "is the basic premise of the initiative process. And it is this. The essence of democracy is that the right to make law rests in the people and flows to the government, not the other way around. Freedom resides first in the people without need of a grant from government. The California initiative process embodies these principles and has done so for over a century. […] In California and the 26 other States that permit initiatives and popular referendums, the people have exercised their own inherent sovereign right to govern themselves. The Court today frustrates that choice by nullifying, for failure to comply with the Restatement of Agency, a State Supreme Court decision holding that state law authorizes an enacted initiative's proponents to defend the law if and when the State's usual legal advocates decline to do so. The Court's opinion fails to abide by precedent and misapplies basic principles
of justiciability."
Scalia used the word "diseased" in one of his dissents, albeit in reference to what he called "an exalted notion of the role of this court in American democratic society." Scalia chooses his words carefully. The word was no coincidence, in the context of the subject at hand: Scalia is a bitter opponent of gay marriage.
In the Defense of Marriage Act case, the justices ruled in favor of Edith "Edie" Windsor, who sued the federal government for failing to recognize her marriage to her partner Thea Spyer after Spyer's death. Windsor and Spyer met in the early 1960s. Spyer was diagnosed with multiple sclerosis in 1977, and Windsor helped her through her long battle with the disease, which eventually left Spyer paralyzed. Windsor and Spyer, who were a couple for 44 years, were married in 2007. When Spyer died in 2009, she left all of her property to Windsor, including the apartment that they shared. But because DOMA prevented the federal government from recognizing the marriages of gay people, Windsor was forced to pay $363,000 in estate taxes that she would not have owed if she had been married to a man. Windsor's attorneys argued that DOMA denied her, and other gay and lesbian married couples, the equal protection of the law guaranteed by the U.S. Constitution.
"DOMA violated the fundamentally American principles of fairness and equality," said Windsor. "Because of today's Supreme Court ruling, every child born today will be able to grow up in a world without DOMA – a world where the federal government won't discriminate against their marriages no matter who they are. I know Thea would have been so happy and proud to see how far we have come in our fight to ensure that all gay and lesbian couples are treated with the dignity and respect that they deserve."
"This historic ruling recognizes how unfair it is to treat married lesbian and gay couples as though they're legal strangers," said James Esseks, director of the American Civil Liberties Union's Lesbian Gay Bisexual Transgender Project. "Edie and Thea were there for each other in sickness and in health like any other married couple. It's only right for the federal government to recognize their marriage and the life they built together."
"This is truly a day for the history books, one that will be marked by future generations as a giant step forward along our nation's continuing path towards equality," said Roberta Kaplan of Paul, Weiss, who argued Windsor's case at the Supreme Court. "DOMA was the last law on the books that mandated discrimination against gay people by the federal government simply because they are gay. The days of 'skim milk' or second-class marriages for gay people are now over."

Supreme Court Decision Declaring Defense of Marriage Act Unconstitutional (June 26, 2013)