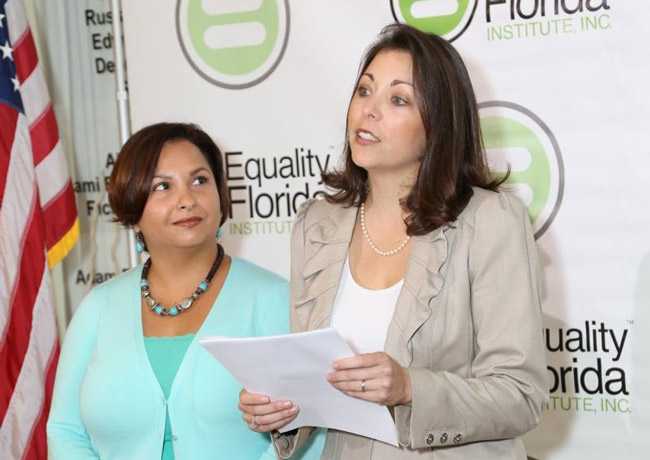 Eight days after a Monroe County judge declared a ban on same-sex marriage illegal, a Miami-Dade circuit court judge late today struck down the ban in Florida, but stayed her decision until the results of an appeal.
Today's decision was issued by Miami-Dade Circuit Judge Sarah Zabel in a 36-page ruling. (See it below in full.) The case was brought in January by Equality Florida Institute and six gay couples. Zabel heard oral arguments on July 1. The couples argued that Florida's ban on marriage equality cannot stand in light of the United States Supreme Court's ruling in June 2013 that the federal "Defense of Marriage Act" violates the federal constitutional guarantees of equal protection and due process. She rested her reasoning on the 1967 Supreme Court case–Loving c. Virginia–that declared the ban on interracial marriage unconstitutional.
Calling the state's refusal to acknowledge that case "disingenuous" (the state was an active party in opposition to same-sex marriage in the case), Zabel said, "this Court finds that the only distinction between Loving and the instant case is that the instant case deals with laws that deny the fundamental freedom to marry based upon people's sexual orientation rather than their race. Because this denial is the denial of a fundamental right, it would have to be narrowly tailored to serve a compelling governmental interest in order to be valid. The statutes and constitutional amendment at issue do not meet this standard, nor do they meet the rational basis standard which only requires them to be rationally related to a legitimate governmental interest.
"For the reasons stated below, this Court finds that Florida's statutory and constitutional restrictions on same-sex marriage violate the Due Process and Equal Protection Clauses of the United States Constitution. They improperly infringe upon the Plaintiffs' ability to exercise their fundamental right to marry the person of their choice, and upon their liberty interests regarding personal autonomy, family integrity, association, and dignity. They also unlawfully discriminate on the basis of sexual orientation."
Every court to consider these federal constitutional claims since last summer's Supreme Court decision has ruled in favor of the freedom to marry, including federal and state courts in Utah, Ohio, Oklahoma, Arkansas, Kentucky, Idaho, Illinois, Indiana, Michigan, Oregon, Pennsylvania, Tennessee, Texas, Virginia, and Wisconsin.
Attorney General Pam Bondi appealed the Monroe County decision, which means same-sex couples there could not marry until the case is heard in the higher court.
While Zabel ordered that six same-sex couples who sued Miami-Dade County Clerk Harvey Ruvin for marriage licenses in January should be allowed to wed, she also stayed the decision. "Although this Court recognizes that a person should not be denied a fundamental right for even one day," the judge wrote, "it feels the uncertainty that could arise if same-sex couples were to marry pursuant to an order that is subsequently reversed on appeal warrants a stay."
National Center for Lesbian Rights Legal Director Shannon Minter applauded the decision. "Today's decision affirms the fundamental principles of equality and fairness and the common humanity of gay and lesbian people," she said in a statement released by Equality Florida. "As the Court recognized, these families are part of Florida's community, and equal protection requires that they be given the same legal protections and respect as other families in this state. The Court's ruling is a victory not only for the courageous couples who brought this case, but for everyone who cares about freedom and fairness."
Catherina Pareto, who has been in a committed relationship with her partner Karla Arguello for 14 years–the couple is raising a 15-month-old son they adopted in July 2013–addressed the ruling Friday: "It means so much for a court to recognize our family and say that we must be treated equally. We love this state and want nothing more than to be treated as equal citizens who contribute to the community and help make Florida an even better place for everyone who lives here. Today's ruling means that we can finally have the same legal protections as other married couples and the security of knowing that our family is legally secure."